HGTV designer Taniya Nayak has compiled what she believes will be the hottest home decor trends  in 2013. The 2013 trends are all about adding personality and a unique touch to your home decor with patterns, textures and unexpected accents!
1. Patterns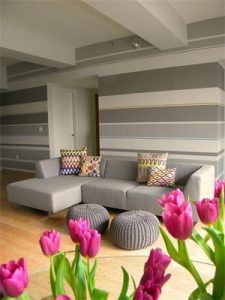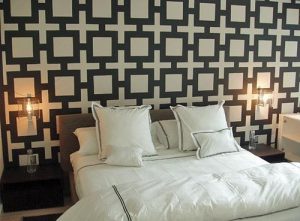 "Everyone wants their home to showcase their unique personality," says HGTV designer and television personality Taniya Nayak.  "The easiest way to infuse your style – while being on-trend – is with an impactful pattern."  According to Nayak, there are a few prints to be on the lookout for in 2013:
Chevron: a bold, dramatic, V-shaped pattern
Geometrics: graphic, colorful shapes, delivering a vintage-modern look and feel
Ombré: subtle color gradation of similar shades that's extremely versatile
Ikat: tribal, swirls anddiamonds reminiscent of tie-dye
Moroccan: culturally-inspired,timeless and exotic motifs
"These powerful patterns can be easily achieved with a fresh coat of paint and a premium painter's tape, like FrogTape® Multi-Surface and Delicate Surface," she added.
2. Mixed Materials
"The key to updating your home with the latest trends is finding a balance," says Nayak.  "It's all about making it personal and adding elements that fit your lifestyle and design personality, without breaking the bank."  Another trend for 2013 – that can make a big impact on a small budget – is to mix materials, creating a blend of polished and raw in a room with modern and industrial elements. "The rustic look will be extremely popular in homes in 2013, as it's elegant and comfortable," adds Nayak.  "It provides a feeling of richness and warmth, while still being comfortable to actually live in the space."
Mixing materials can also mean utilizing different finishes throughout a room.  In the kitchen, using contrasting materials makes your space look personalized and custom.  Try a mix of wood and painted finishes for a more layered and collected feel.  By resisting the urge to perfectly match every piece, you'll have a space that looks current and works nicely together.
3. Unexpected Treatments
The final trend Nayak predicts for 2013 is re-imagining how to use materials.  "Just because a product is made for a specific purpose, doesn't mean you can't use it in a different way," says Nayak.  "For example, placing flooring materials on a wall can be breathtaking. Wood planks or concrete panels, featured vertically and not just on the ground, add richness and texture, keeping your look fresh and stylish."