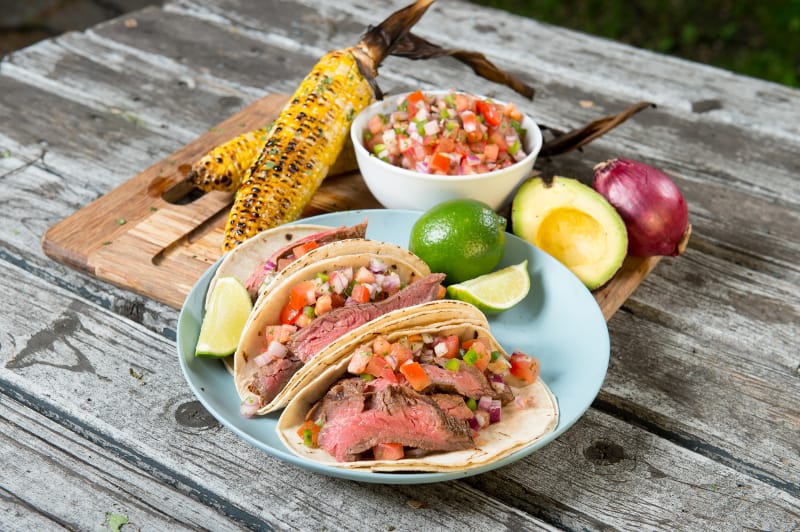 "Great as an appetizer, snack or main course."
MARINADE INGREDIENTS
1 Tbsp cumin
2 tsp smoked paprika
2 tsp ancho chili powder
¾ cup olive oil 2 limes, juiced
4 serrano chilies cut in half
4 cloves garlic
1 ½ tsp salt
1 ½ tsp black pepper
2 bunches cilantro, chopped including stems
MARINADE DIRECTIONS
1. Combine the cumin, smoked paprika, ancho chili powder, olive oil, lime juice, serrano chilies, garlic, salt, and black pepper in the jar of a blender and purée until smooth.
2. Add the cilantro, blend until the cilantro is in small pieces.
TACO INGREDIENTS
3 lbs skirt or flank steak, cleaned
1 cup salsa or pico de gallo
2 limes, sliced into wedges
8-12 warm corn or flour tortillas (depending on size)
STEAK DIRECTIONS
1. Rub the meat generously with the marinade. Place in a resealable plastic bag. Refrigerate for 8-12 hours.
2. Heat grill to medium-high heat.
3. Lift the steaks from the marinade and wipe off excess marinade.
4. Discard the marinade.
5. Grill each side until desired doneness.
6. Transfer to a cutting board, let rest for at least 5 minutes, slice against the grain into thin strips.
7. Serve on tortillas, garnished with pico de gallo, cilantro and a lime wedge.
Photograph by Tara Miller