I am truly inspired by the current decor trend of the 'sophisticated casual' feeling of design these days. The sense of subdued luxury, like a woman who spends hours getting that 'out of bed look', it is a carefully thought out composition of elements from nature as well as man made, craftsman quality elements.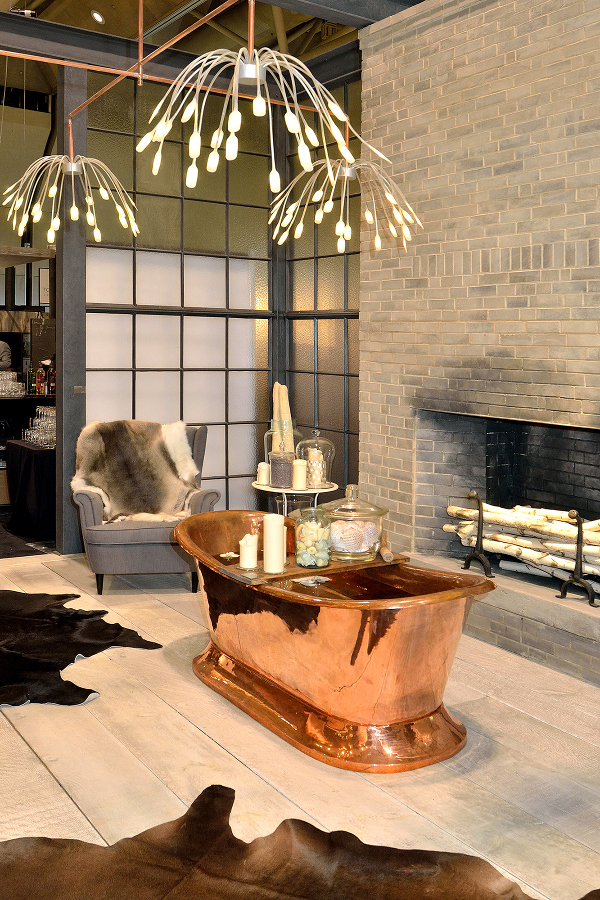 This image from the IDS show of the Ikea booth display is a perfect example. The mix of wide plank distressed wood, simple brick fireplace which resembles that of an old cabin and cowskins as rugs really play off the very contemporary light fixtures which are hung off copper plumbing pipes above.
This look seems easy to put together, but it really does require some thought and planning so that it does not look like a mish mash from a garage sale. Keep it simple and monochromatic to keep the look from being kitchy.
Photo Credit: Arnal Photography
The following two tabs change content below.

Evelyn Eshun has been providing creative Interior Design solutions for her Residential Clients in the Toronto area for over a decade. Principal Designer at
Evelyn Eshun Interior Design
, Evelyn has participated in various Television programs over the years in addition to her Design business. With a passion for design and travel, Evelyn has translated her extensive and various experiences into a design philosophy which puts the Client's needs and functional needs first. Always striving for a unique and personalized solution for each Client, Evelyn prides herself on creating interiors which will stand the test of time. Whether transforming an old and tired property into a vibrant home or simply finishing a home with the decorating touches which make a house a home, the goal is always to collaborate with Homeowner, Trades and Suppliers to finish the project successfully.

Latest posts by Evelyn Eshun (see all)