In This Issue
DIY - " from Drab 2 Fab"
Spring Inspired Projects: Our Editor-in-Chief, Marc Atiyolil has compiled his favourite projects from the Marc Atiyolil Show to help turn your home from Drab to Fab this Spring. pg 18
Décor Galore
Save or Splurge: Whether you have one thousand, ten thousand or one hundred thousand dollars to spend on a design project, we have a look for you! Designer Natalie Marshall shows us how easy it is to mix and match luxe items with cost effective ones. pg22
Get the Trend for LE$$: Designer Glen Peloso gives us some tips on how we can create a luxurious look on a budget. pg26
Spring Fling: Are you afraid to commit to a new design style or colour? Designer Laura Stein shares with us low commitment design ideas to add personality in your home. pg29
Refreshing Ideas for your Home: Sharon Grech, Benjamin Moore's Colour and Design Expert explains how transforming your space with paint is a budget friendly way to update your interior. pg33
6 Step Bathroom Makeover: Our Editor-in-Chief, Marc Atiyolil offers simple styling tips to create a stunning bathroom. pg36
How-to Style a Room: Designer Jennifer Brouwer explains the importance of planning the little details in our homes. pg39
Trend Finds
Design Boards: Our design contributors, Erica Gelman and Eileen Marshall, have put together a guide to the ultimate living room. They have searched the country and found the best living room furniture and accessories. pg42
Best Bang for your Buck: Our Editors have put together a selection of high quality products that are sure to make great investment pieces for your home. pg44
Design Advice
Get Organized: With spring comes a rush of energy to freshen our spaces. It's traditionally a time for deep cleaning and jettisoning out worn or broken items, but this spring, why not take it a little deeper? pg50
One-of-a-Kind: A look inside the world of "Upcycling." pg52
The Cottages on Osoyoos Lake: Waterfront living for retirement or vacation. pg54
Friday Night, Porch Night: Gwen Prince, General Paint's Colour Stylist, shares wisdom on how we can keep our decks in tip top shape. pg56
Designer Spaces
Style and Comfort: Designer Andrea Johnson shows us how to create a stylish, yet comfortable space through the art of decorating. pg61
A Well Planned Home: Lisa Ferguson talks to us about the importance of proper space planning. pg65
Bold Statement: Designer Erica Gelman shows us how to use bold colours to create a daring design that's sure to wow. pg69
Breaking the Shell: A pearl oasis just for the girls. pg72
Colourful Family Home: Designer Lori Steeves talks to us about the challenges of designing her home. pg75
Open Concept Living: Designer Evelyn Eshun creates a beautiful space on a budget. gp78
Office Luxe: Custom fabrics, exceptional lighting, and gloss finishes create an alluring home office space. pg84
Food
Gourmet Recipes: Delicious recipes for a spring inspired dinner that can be enjoyed with friends and family. pg91
Our Idea Book
Curb Appeal: Put your best door forward! Create curb appeal by updating your front door and complementing it with proper accessories. A stylish rug, a hanging lantern, a door handle, a bench and freshly painted trim are great ways to give your home a fresh look. pg98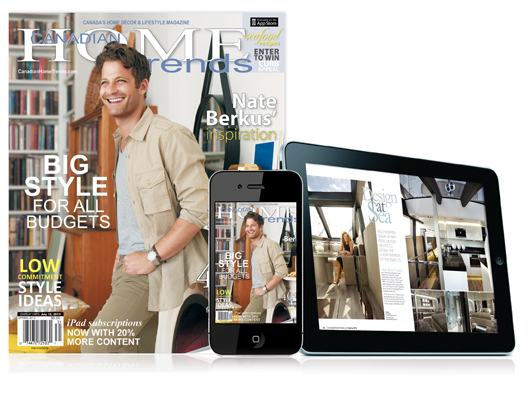 Editor's Notes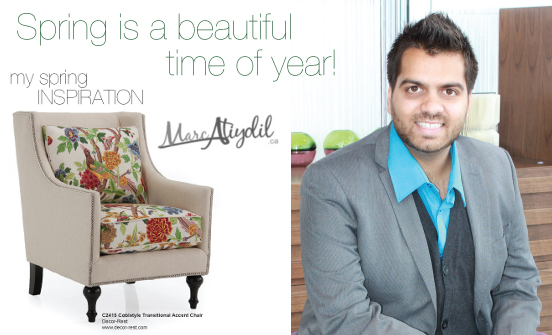 The snow melts, the trees and plants resurrect from their deep sleep and the temperature rises to a bearable luke-warm.
As Mother Nature awakens from her winter hibernation, she is eager to change nature's landscape to reflect vibrant hues and textures that exude vitality. With all these changes taking place outside, it is only natural that we have the urge to revamp our interiors. (See Spring Fling on page 29)
With the many furniture and accessory options available today, it can be overwhelming to plan a design project. Where do we start? And more importantly, when do we stop?
Some of us are working on a tight budget, while others have saved up a nice nest egg to splurge on the finer things in life to outfit their homes. (See Save or Splurge on page 22) Whether your budget is big or small, we've scoured the country and have carefully selected furnishings to help in your design process. (See Design Boards on page 42)
During our search for fabulous furnishings we decided to ask the internationally acclaimed designer, Nate Berkus, to share his secrets to a successful design project. For aspiring designers, we even slipped in a little career advice from a man who has built a design empire in less than two decades. (See Nate Berkus Interview on page 46)
Other noteworthy designers have also contributed in this issue of our magazine. We have some of Canada's top designers (fifteen to be exact!) that have been hard at work compiling the best design advice to help make your home fabulous this Spring!