Have you ever wondered how top kitchen designers would style a dream kitchen of their own? Jack Creasy, Senior Designer at Bloomsbury Fine Cabinetry recently shared some of his must-have design choices for the perfect custom kitchen!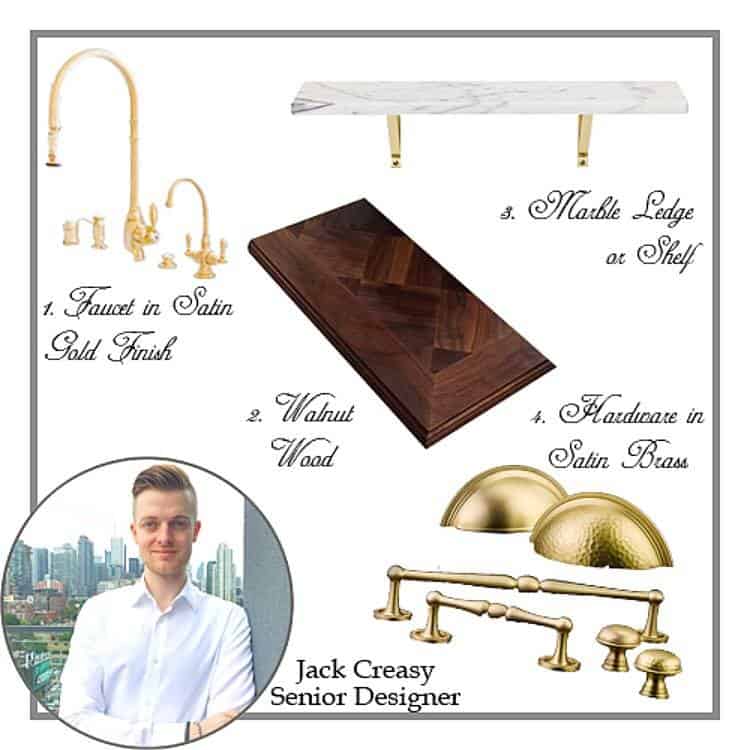 Jack's Design Choices Explained:

1. Waterstone Faucet in Specialty Satin Gold Finish
I love the Quality and Finish of the Waterstone faucets; the perfect compliment to the detailed craftsmanship of a Bloomsbury Kitchen. They also come in 30 different finishes and have all the coordinating accessories to make the perfect faucet suite for your kitchen!

2. Schaub Atherton Collection Hardware in Hammered Satin Brass
The detail and proportions of this hardware are a perfect pairing with the clean, classic, English furniture style of our Bloomsbury framed inset cabinetry. I especially like the Hammered Cup Pull & Knobs for an added level of detail with an organic twist.
3. Walnut Wood
Whether it's a walnut herringbone wood countertop or walnut butler's serving trays or a walnut island, the warmth and richness of this wood creates a perfectly inviting space. Distressed for a more rustic vibe or pristine to set a more formal & elegant tone
4. A Marble Ledge or Shelf to Display Art
With so many hard surfaces in the kitchen, it's nice to break it up a bit with some artwork, decorative finds & layers of lighting (sconces, pendants, etc.). A marble ledge or shelf provides the perfect opportunity to do so, while keeping these treasured finds up off the work surface and out of harm's way.
You can find more inspiration from the talented team at Bloomsbury Fine Cabinetry on our Facebook page!