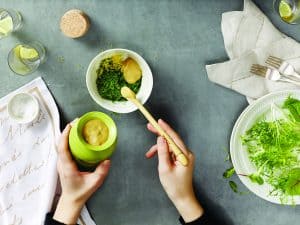 Have you ever laboured in the kitchen only to find that a meal you've made is left wanting a little something more? Harry Lalousis, mustard sommelier at La Maison Maille, the oldest mustard brand in the world, suggests adding some pizazz by making your own flavoured mustard.
"Start with a cup of Maille Dijon as a base," instructs Lalousis, "then add a custom blend of fruit, vegetables, herbs or spices, mashing with a mortar and pestle to blend the flavours." Try making some of his most popular blends at home:
Strawberry Basil Mustard.
For a sweet mustard, add 1/2 cup strawberries, 1 teaspoon honey, and 1 teaspoon fresh basil.
Roasted Garlic Mustard.
For something savoury, blend in 4 cloves of roasted garlic, 1/2 teaspoon dried basil, and 1/2 teaspoon dried oregano.
Maple Syrup Mustard.
For all-Canadian decadent mustard, start with Maille Original or Old Style Mustard, and add 1 teaspoon of maple syrup and 6 blueberries.
Check out more mustard-based recipe ideas at maille.ca.
www.newscanada.com