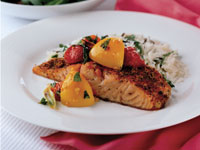 Winter signals a time when finding local, fresh fruit becomes increasingly limited and more expensive. How can you ensure you and your family are still getting all the necessary essential nutrients?
A great option is canned fruits like canned California cling peaches.  They are not only nutritious, but a versatile addition to many recipes. We often associate them with dessert, but canned peaches also provide a nutritious boost in salads, appetizers and main dishes.
Here are some common myths:
Myth: Canned peaches are less nutritious than fresh peaches.
Fact: Canned peaches are more nutritious than their fresh and frozen counterparts.  A study at Oregon State University found in comparison to fresh peaches, canned peaches levels of vitamin C were 3.5 times higher; they had 10 times more folic acid and 1.5 times more antioxidants.  California cling peaches are picked at the peak of ripeness and canned within hours allowing them to retain their high nutrient levels throughout their canned life.
Myth: Canned peaches are full of sugar.
Fact: Canned California cling peaches have no added sugar in the juice or water that they are packed in, other than the natural sugar in the raw product.
Myth: Canned peaches lose their flavour and colour through the canning process.
Fact: Canned peaches retain their flavour, colour and firmness even when cooked or baked in entrees, appetizers or desserts.
To learn more about canned peaches and for delicious, peach recipes, please visit www.calclingpeach.ca
www.newscanada.com