Manage or Renew your Subscription Online. It's Fast and Easy!

Log in using your subscriber number (found on magazine label or renewal letter) and postal code and check your account status, change your email or mailing address, renew your existing subscription or email support
NEW FAST & EASY WAY TO RENEW YOUR SUBSCRIPTION!
Renewal Instructions:
1. Enter your Subscriber # in the form below. Subscriber numbers can be found on the label on your magazine or on any renewal letter.
2. Enter your postal code. Note that if you have moved and have not updated your mailing information, the old postal code is required at login.
3. Click "Login"
4. Scroll to "My Subscriptions" and click on the "renew" radio button in the "Renew" column.
5. Select your subscription renewal preferred price and length
6. Process your payment.
To Find Your Subscription Number, Check the Label on Your Most Recent Copy of Canadian Home Trends Magazine or the Label of your Renewal Letter.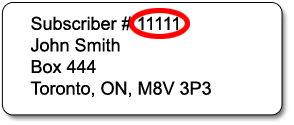 Click here to open this form in a secure window