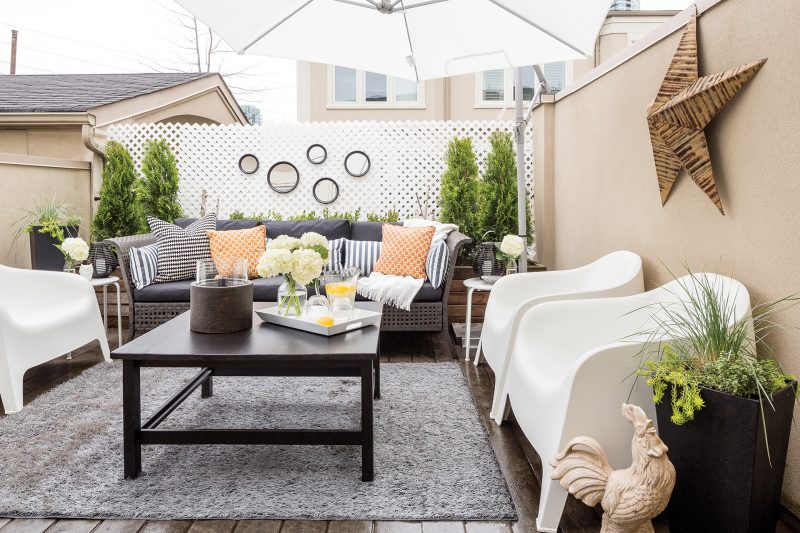 Jo Alcorn's Tips
1. Less is More
In small spaces don't add too many colours using plants and décor. Keep it simple so that it is easy on the eyes and gives the viewer the illusion of a larger area.
2. Create Privacy from Neighbours
When designing a balcony in a city, privacy is always an issue. I found this great white lattice at The Home Depot. I turned it sideways, attached it to the balcony railing and added greenery in front, creating an intimate and functional privacy screen. I also added an umbrella, not to block the sun, but to block the view of the neighbours above me, taking away that fish bowl feeling and creating a relaxing room.
3. Drown Out Noise Pollution
For that extra touch, I added a water fountain to drown out road traffic and give the illusion of being near a lake. It is also a nice visual and conversational piece.
Patio Designed by Jo Alcorn, Photography by Jason Hartog, As Seen In Canadian Home Trends Magazine Summer 2014
The following two tabs change content below.

Canadian Home Trends' Style Editor, Jo Alcorn, Design Specialist and Founder of
Whitewash & Co
, has developed a diverse client base and is most proud of being able to provide style and continuity for a range of personalities and decor preferences. Jo's passion for design has been showcased on a handful of films and many tv programs including HGTV, Discovery Channel, CBC Steven and Chris, Breakfast Television, CityTV, Rogers Stations, Global Morning Show and more. Jo has used her design skills to develop her own line of locally made, high quality, stylish, environmentally friendly furniture, a lighting collection for Artcraft and even her own paint colour! Jo also serves as a teacher at Humber College North Campus.

Latest posts by Jo Alcorn (see all)