You don't need to be an interior designer to devise a killer color palette for your space, you just have to know the basics of the color wheel. Perhaps you remember studying the wheel in grade school, or maybe you need a refresher; either way, we've rounded up the basics for you below.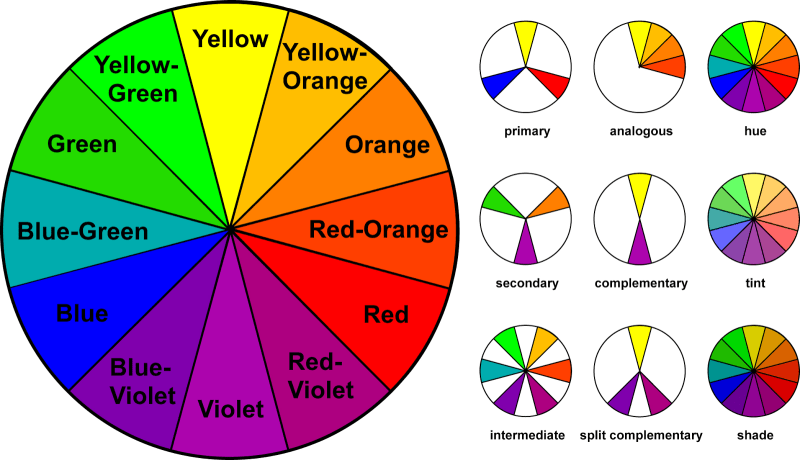 Complementary 
Inarguably the most basic of the bunch is a complimentary color scheme, which requires you to select two colors on opposite sides of the color wheel. The idea with a complementary scheme is that one hue will act as the dominant and one as an accent. When you're working with a complimentary color scheme, you're usually working with two bold hues, so it's important not to overwhelm a room with too much color. Select a palette of neutrals, which will provide a backdrop to showcase the dominant and accent hues in a way that's not overkill.
Split Complementary 
Similar to the above mentioned color scheme, the split complimentary scheme uses the two colors adjacent to the complimentary hue, dividing your wheel into three sections, rather than two. In general, split complimentary tends to be the safer choices simply because you are working with more colors, which will lend a sense of balance to your room, without relying too heavily on neutrals.
Photo Source: Beauti-Tone
Analogous
This color scheme typically calls for two or three secondary colors and one primary; (perhaps a mix of the two). On the color wheel, these three colors will appear one after the other. An example of an analogous color scheme is a monochromatic one, using black, white and grey; (black and white being the primary examples and grey being the combination of the two: the secondary example).
Photo Source: Beauti-Tone
Triadic
As its name suggests, a triadic color scheme calls for three colors on the wheel, all within equal distance from each other. An example of a triadic color scheme would be the three primary colors, red, yellow, and blue, which are a high contrast combination, best suited for a young child's bedroom or a playroom.
Tetradic
There are two types of tetradic color schemes, one that forms a rectangle on the color wheel, and one which forms a square.
The rectangle scheme focuses on two pairs of complimentary colors, typically two warm hues and two cool. The square scheme is similar in that it calls for four hues, however, it focuses on hues that are evenly spaced throughout the color wheel, directly opposite from one another. The square scheme is generally comprised of one primary, one secondary and two tertiary hues.
Still not sure where to start? Visit your local Home Hardware and talk to one of the Beauti-tone Colour Experts!
The following two tabs change content below.
Zakiya Kassam
Zakiya is a freelance writer/editor based out of Toronto. You can follow her on Twitter: @zakkassam
Latest posts by Zakiya Kassam (see all)