Designer Linda Mazur transforms a condo with personality, whimsy and lively pops of color.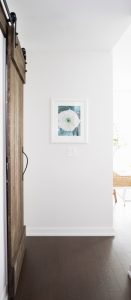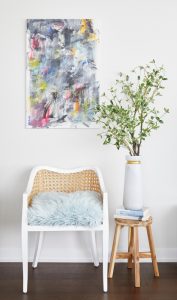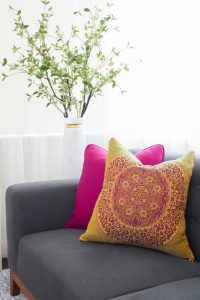 THE NEIGHBORHOOD OF CORKTOWN is best known for its up-and-coming potential, and a swelling number of refurbished work studios, professional offices, and condominium lofts. Location-wise, you can't beat it. This fact isn't lost on a young professional couple and their small dog, residing in a bright three-bedroom corner suite in the east end of the burgeoning community.
The 1,200 square foot condo is anything but boring. It boasts personality and whimsy via lively pops of pink, orange and green, and a veritable palette of textures. According to Designer Linda Mazur, designing this small space was all about embracing the unexpected. The homeowners didn't have a specific design vision, but they knew they were looking for something a bit less conservative that would take into consideration the bright and airy feeling of the condo.
In keeping with their ideations for the condo, Linda formulated the color scheme, opting for a uniformed fusion of color and natural light. "In the kitchen, we kept everything very tone-ontone," says Linda. "Though the kitchen is very white, the beautiful marble backsplash not only becomes a focal point in this space, but also highlights some of the warm gray tones that have been used throughout the condo." She continues, "It's a small space that opens right into the main living space, and as such, we wanted to maintain a sense of cohesion in the design while still allowing each specific area to have its own personality."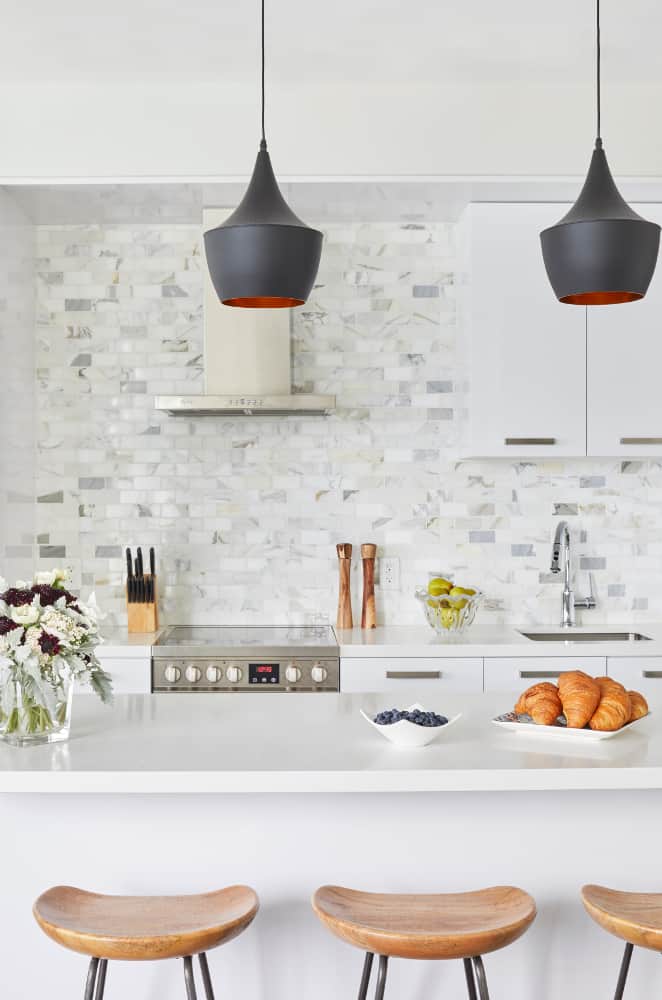 Linda painted the kitchen pure white to complement the light gray that she chose for the rest of the home. "It's very warm with a slight gray undertone and works as a lovely neutral, complementing the various colors, wood tones, and the white of the kitchen," says Linda.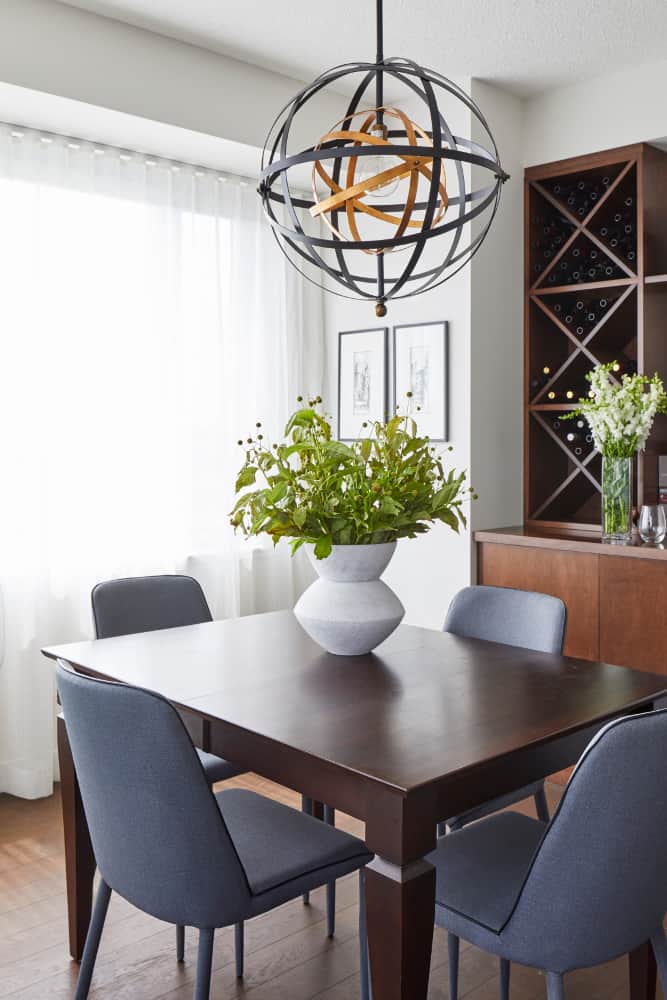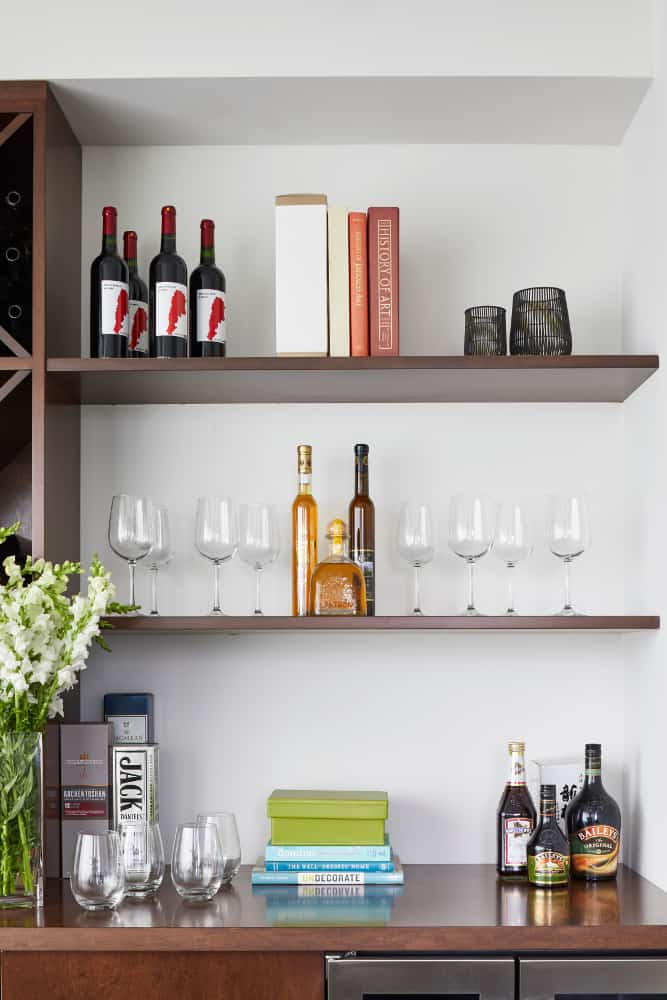 Wood tones were generously incorporated throughout the space, at the request of the homeowners. "We designed a custom built-in wine bar for the dining area, which is great for entertaining but also provides a great storage solution for them," says Linda. "This balanced beautifully with the custom barn door we had made in similar tones." The custom wine bar and barn door are splurge items and the costs are countered by less expensive furnishings, accessories, and lighting.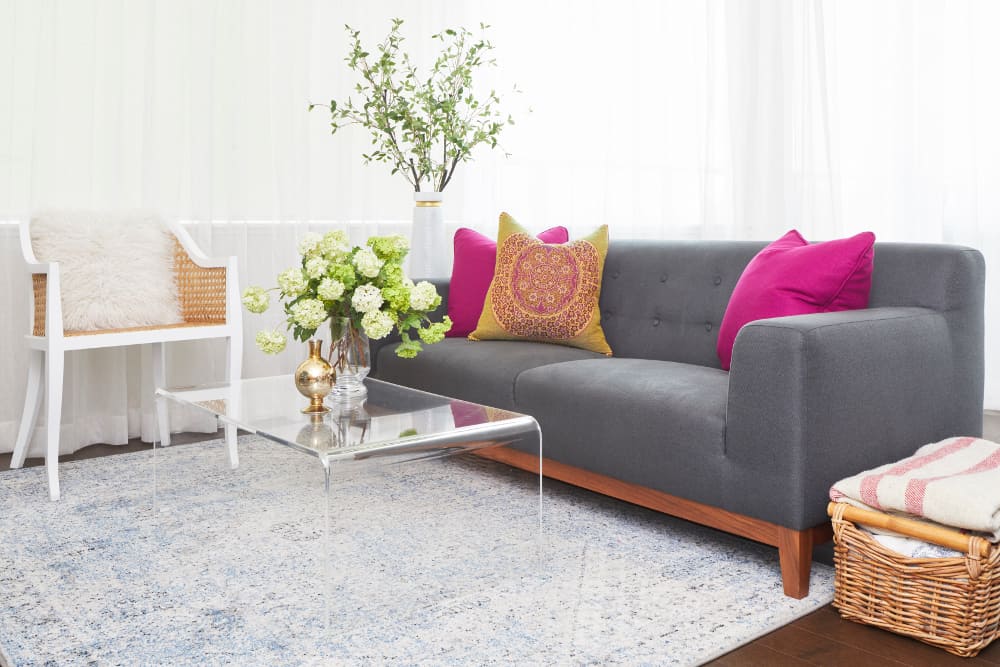 "I really like playing with textures and patterns, especially in a smaller space such as this," says Linda, referencing the rattan chairs and the alpaca throw pillow. "The alpaca throw pillow is such a fun addition, it adds a bit of whimsy and softness to the space."
When asked about her experience designing a small space, Linda divulges that this project was right up her alley. "I design a lot of small spaces, both condos and houses in the city. As space is at a premium, you really need to put thought into the items that are essential," says Linda. "Working in lighter colors is often favorable in smaller spaces, but don't shy away from introducing bold colors, texture, or patterns into your space to add character and personality."
Sources:
The following two tabs change content below.
Zakiya Kassam
Zakiya is a freelance writer/editor based out of Toronto.
Latest posts by Zakiya Kassam (see all)