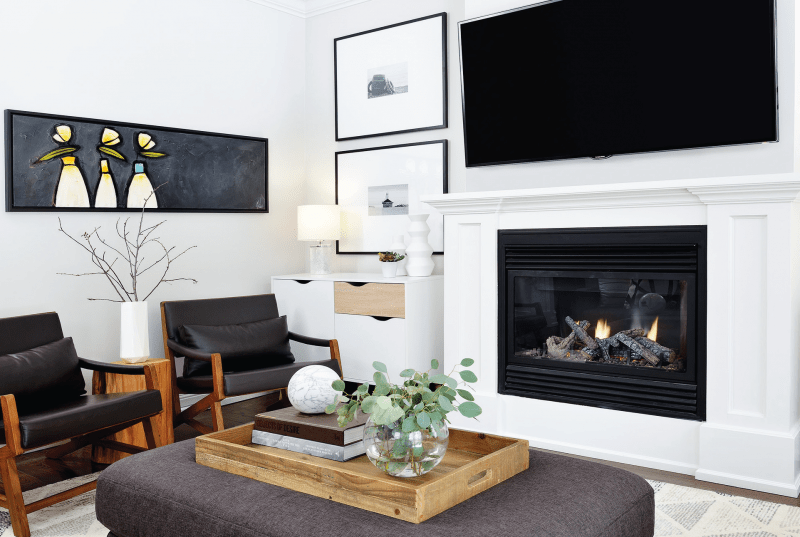 A YOUNG COUPLE WITH 2 SMALL CHILDREN REDESIGN THEIR HOME WITH DESIGNER YVONNE WHELAN. – Photography by Larry Arnal
CANADIAN HOME TRENDS CAN YOU TALK ABOUT THE SPACE'S DESIGN?
YVONNE WHELAN The family room is where the homeowners spend most of their leisure time hanging out and watching TV. It had to be cozy, comfortable and kid resilient. We chose furniture pieces to give them lots of seating, maximizing the sofa and adding lounge chairs for extra seating. We decided to keep the palette very neutral but warm and added lots of textures and prints to keep the room interesting. We included these retro-looking cabinets to flank each side of the fireplace providing ample storage for TV equipment, toys and board games. The living room is the first room you see when you enter the home so the homeowners wanted it to be glamorous and beautiful. The chrome and glass of the coffee table adds just the right sparkle while the art and credenza help bring some color to the room.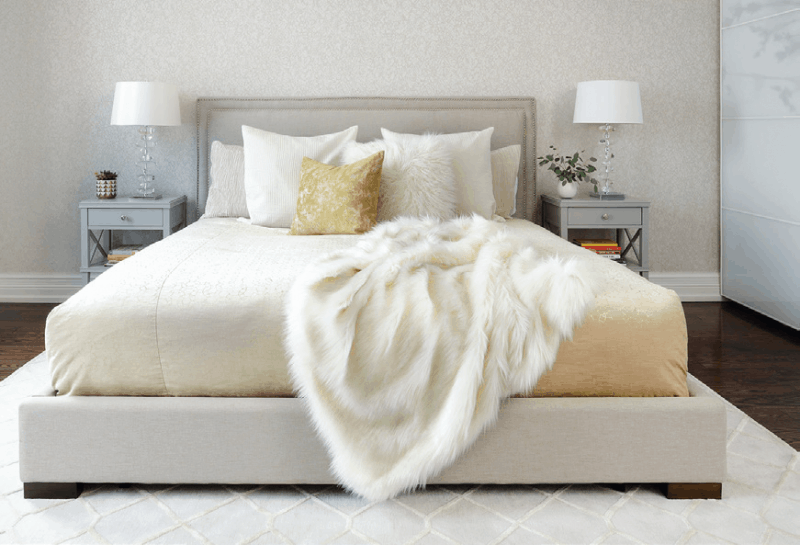 In the master bedroom, we worked with warm neutrals and rich textures to create a sophisticated zen vibe. The jumping off point was the textured gold wallpaper that really gives a high-end look to the room. We chose a warm upholstered bed in an oatmeal color, lined with nail head detailing to give it some punctuation. The dresser and nightstands are timeless pieces lacquered in warm gray paint. The linens are a combination of different materials and textures that give a beautiful pop even though they are neutral. Finally, the patterned rug pulls the room together and adds a warm spot for cold feet in the morning.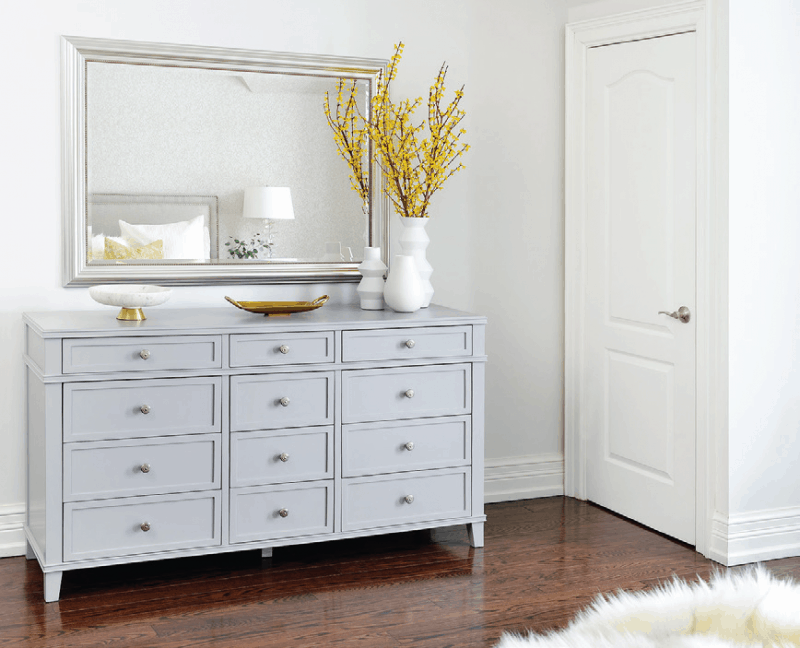 CHT WHAT IS A COMMON MISTAKE PEOPLE MAKE WHEN DESIGNING THEIR SPACE?
YW A common mistake people make when decorating is not having a plan. Most of the people I meet with have exceptionally good taste but struggle with pulling a room together. Another mistake people make is impulse buying. They see something they like and purchase it but it often doesn't work in the room. Have a plan and follow it!
CHT WHERE DID YOU SAVE AND SPLURGE?
YW We splurged on all the larger pieces of furniture. We customized the upholstery as it had to be comfortable and perfectly sized to fit into the space. Accessories and some of the lounge chairs and cabinets were quite the steal at local big box stores. – Yvonne Whelan, www.yvonnewhelandesign.com