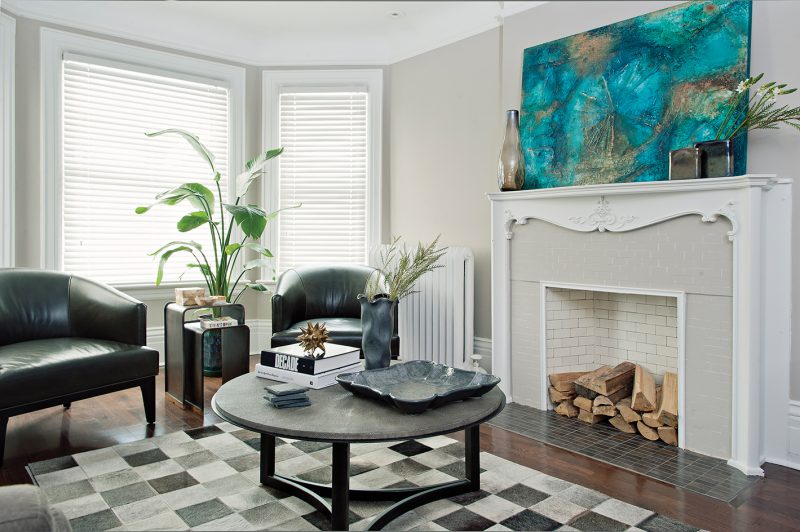 Inspired by the heritage of the house and their love for art, the Morino family brought an Indie vibe into their urban contemporary living room.
After having designer Enza Ricco of FIG Interiors work on a number of different rooms for them, the Morino family knew she was the right person for the project. "They wanted to create a living space that is comfortable, inviting and family friendly," said Ricco.
"We wanted to make it a more practical space that we can actually use," added Morino. Using their existing décor pieces and some new furniture additions, Ricco was able to brighten up the room making it more practical and inviting.
An interestingly unique focal point in the space is the custom-made wooden tree installation crafted by the Brothers Dressler in Toronto. After seeing a chandelier crafted by them at the Boehmer restaurant in Toronto, Morino got a similar chandelier for the dining room and later asked them for this unique custom designed tree. " We wanted to carry the same element into the living room," said Morino.
Another focal point in the living room is the home's original wood burning fireplace. "Although it's no longer working, we wanted to make use of its elegant look," said Morino. It was Ricco's idea to update the fireplace rather than change it completely.
The soothing colour palette of greys and taupe throughout the space allows for a timeless design. Bursts of colour found in the artwork above the fireplace by artist Sarah Phelps, embellish the space and set the blue accent colour throughout. The same rich blue tones are used for the cushions on the grey sofa.
"The teak bench is also quite the statement piece," said Ricco. "The re-purposed bench had a sentimental value to the homeowners," she added. That's why Ricco decided to integrate it into the design.
Wanting to add visual interest through the use of different materials, Ricco also included
the ultra modern wire chair by the teak bench. It was an interesting addition to the urban and edgy style of the space. "It's great because its airy look still allows you to see the wooden tree from behind," said Ricco.
The straight lines of the modern sofa mix well with the curves of the barrel-shaped leather chairs to blend a masculine and feminine feel throughout the room. This helps make the room more comfortable for the family.
When it came to implementing the design concept, Ricco had it all figured out. "Enza was very good at working with what we had and understood our taste while staying within our budget," said Morino.
After all, this project was all about nicely blending a mix of current pieces with existing
styles. "It was important for the homeowners to modernize the space while staying true to the original character of the home," said Ricco.
Text by Alaa Yassin, Photography by Still Moments Photography, As Seen In Canadian Home Trends Summer 2014
Sources:
Space Designed by FIG Interiors, www.figinteriors.ca;
Sofa, Conrad, Van Gogh Designs, www.vangoghdesigns.com;
Two Leather Occasional Chairs, Kafka Barrel Chairs (Smoky Grey Leather), ELTE, www.elte.com;
Metal Accent Chair, Adelaide Arm Chair, ELTE, www.elte.com;
Cocktail Table, Milo Shagreen Coffee Table, Dwell Studio, www.dwellstudio.com;
Floor Lamp, Robert Abbey REAL SIMPLE Boom Floor Lamp (Deep Bronze Powder Coat Finish Over Steel), Prima Lighting, www.primalighting.ca;
Artwork Above Fireplace, 'Superluminal' by Artist Sarah Phelps, www.sarahphelps.ca;
Wood Tree Installation, Custom Design, Brothers Dressler, www.brothersdressler.com;
Accent Cushions on Sofa, ELTE, www.elte.com;