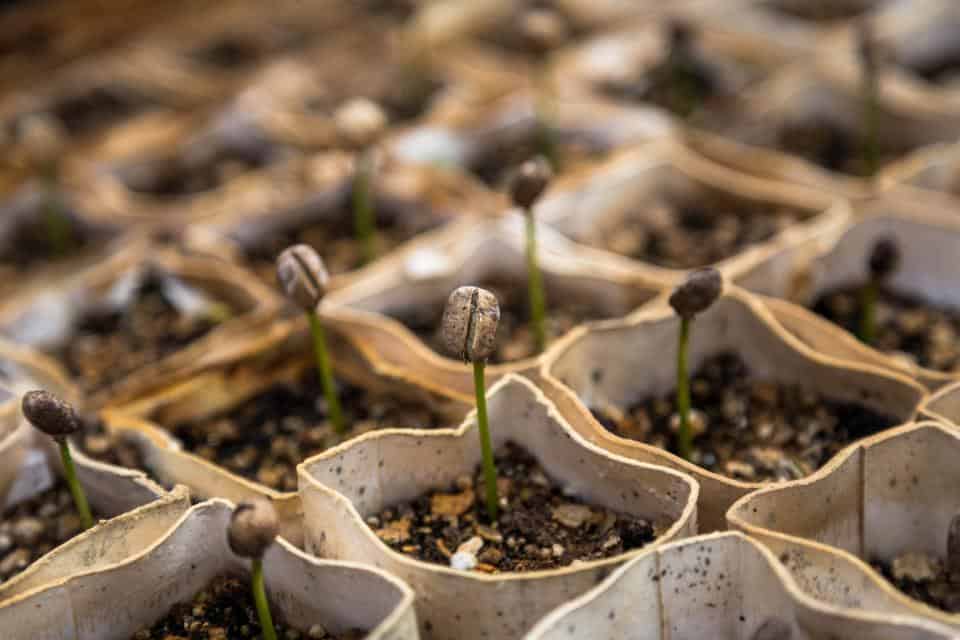 For those who have been blessed with a green thumb, consider yourself amongst a lucky minority. For the rest, we've got a hack — (or four) — for you. Keep reading for DIY ways to hack your garden into the best shape it's ever been. 
Let Your Tools Self-Sharpen
Garden tools, perhaps more so than your average screwdriver or hammer, tend to experience a fair amount of wear and tear. Think about it: they spend their spring and summer days being heartily exposed to outdoor elements, such as dirt, rain, and sun, and their winters sitting unused, (and perhaps not properly cleaned), in the garage, where they are prone to rust. Give your gardening tools some well-deserved TLC this planting season with a DIY self-sharpening system. Simply fill a terracotta pot with a combination of mineral oil and sand, and store your tools in the abrasive mixture when you're not using them. 
Nurture Your Seedlings Indoors
As is the case with human or fur babies, the earliest stages of life for plants tend to be most critical. And while it may be tempting to start planting your seedlings as soon as the last of the snow melts, you may end up losing more than a few to inclement weather, when they are simply not strong enough to survive. Instead, nurture your plant babies indoors, using leftover citrus peels or eggshells as mini planting pots, and transition them to your garden when they are bigger and stronger. Your seedlings will love all the extra nutrients they get from their "pots."
Enlist the Help of Plastic Cutlery 
If in springs and summers past you've struggled with critter problems in your garden, (rabbits, squirrels, and possums, oh my!), this slightly off-beat hack might be for you! To safeguard your garden, simply plant a collection of plastic cutlery, handle-side down, alongside your buds and blooms to keep the pests and rodents far away. 
Sprinkle Some Cinnamon 
On the topic of safeguarding your blooms, and off-beat hacks … 
In addition to smelling nice, cinnamon has anti-fungal qualities that can extend past your kitchen; (all the way to your backyard). Sprinkling a little bit of cinnamon on seedlings can stop fungi in its tracks and prevent it from spreading to the rest of your plants.
The following two tabs change content below.
Zakiya Kassam
Zakiya is a freelance writer/editor based out of Toronto. You can follow her on Twitter: @zakkassam
Latest posts by Zakiya Kassam (see all)