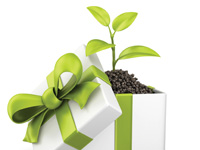 If everyone in Canada wrapped just three gifts in reused paper or gift bags, it would save enough paper to cover 45,000 hockey rinks.* That's a lot of paper! When wrapping your gifts this holiday season, consider making your own recycled or reusable wrapping paper.
"From old scarves to baskets, there are many common items around the house that make great wrapping for your gifts, all it takes is a little imagination ," says Mary Desjardins, Executive Director, TD Friends of the Environment Foundation. "Not only will Mother Nature thank you, but your loved ones will appreciate the originality and your effort."
TD Friends of the Environment Foundation (TD FEF) offers the following ideas for making your own gift wrapping this year:
• Recycle artwork—Save your child's colourful paintings and drawings throughout the year and turn them into holiday gift wrap for grandparents and other family members.
• Photos—Make your presents picture perfect by pasting photos of family and friends on old shoe boxes or reusable bags.
• Wallpaper & newspaper—Leftover wallpaper is easy to work with, is durable and adds a pop to presents. Add some ribbon or beads for a finished look. Do you have a friend or relative who is always telling jokes? Use the comics section of your newspaper for wrapping.
• Fabric—Pick some of your most colourful scarves, festive tea towels or old clothing and get to work. Perfect for wine, any boxed item or clothing, fabric creates a beautiful and simple way to wrap presents. Secure ends with a safety pin, button or knot, and top with a bow or sprig of holly or pine for a seasonal touch. Your fabric wrapping can either be part of your gift (like a tea towel) or be used to wrap presents year after year.
www.newscanada.com
Save
Save
Save