This week I had the pleasure of interviewing Sally Weatherley, RESA Member and owner of Exit Stage Right. Sally shared some of her favourite aspects of her 1919 West Coast home, talks about training with Matthew Finlason and her love for travel and travel-inspired decor and shares some of her favourite before/after transformations. Read on to see what Sally had to say. – Crystal Williams
Sally At Home
Have you always had an interest in home decor?
I've always been interested in home décor and textiles. I remember redecorating my bedroom when I was about 14 years old. I painted the walls orange, and stripped my dresser and stained it a dark wood stain. Very '70s!
How would you describe your personal decor style?
I tend to lean more towards a transitional décor style. I like to throw a little bit of whimsy into the mix, by adding some object that's a little unexpected or quirky. I'm a huge Francophile, and try to slip an Eiffel Tower in my designs whenever I can.
What one room in your home would you say is your favorite and why?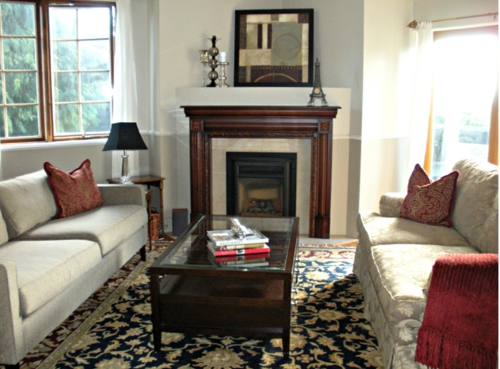 My home was built in 1919; not very old by Eastern Canadian standards, but very old for the West Coast. There's no "open concept" where I live, but I enjoy having a separate formal dining room and living room. The room that melts my heart is the living room. We replaced an ugly, old, wood burning stove with a reproduction turn-of-the-century fireplace and mantle, more in keeping with the age and elegance of the home.
If you could pick one room in your home that needs to be redone, which room would it be and why?
As a Home Stager, I have to store huge amounts of inventory, such as accessories, artwork, cushions, bedding and faux plants. My finished basement has become my storage area for many of these items. One day, I would like to reclaim this space and have it set up as a proper recreation room. No doubt, that will be when I'm ready to sell!
If you could have a designer come into your home, who would you pick and why?
I'm a huge fan of Matthew Finlason, one of the stars of the locally produced HGTV show, The Stagers. I was fortunate to take an advanced staging course taught by Matthew. He's turning the staging world on its head. The word "safe" does not exist in Matthew's staging vocabulary. I would hire Matthew in a nano second to design my home. I love his style, enthusiasm and his fearlessness when it comes to design.
If you could pick one piece in your home that would be your favorite, what would it be?
I recently purchased a very eclectic mannequin for the Master Bedroom. I love the industrial chic feel of this piece.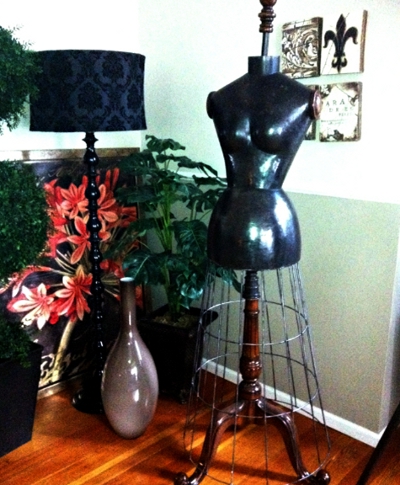 Sally on Home Trends & Inspiration
Where do you find inspiration?
As a former Flight Attendant, I was fortunate to travel the world. I have a great affinity for Europe, and love anything French or British. With the recent Royal Jubilee and 2012 summer Olympics, London is very "au courant" right now, and anything that is "cool Britannia" is hot. One of the greatest motifs of our time has to be the Union Jack, and I've been incorporating this look into my work. Also, did I happen to mention how much I love the Eiffel Tower?…
What current home decor trends do you love?
I'm loving the current industrial, European, slightly worn look that's very current. Things like Belgian linen cushions with French faded writing, or coffee tables made from old barn wood and iron wheels really excite me.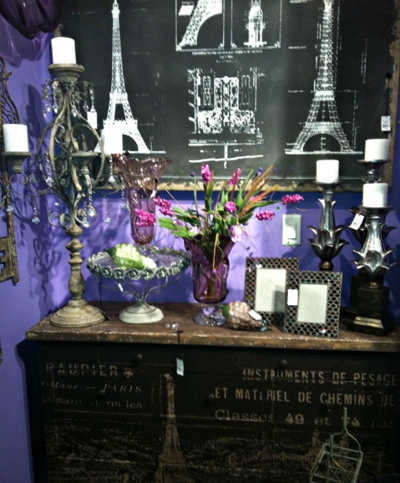 What current home decor trends do you think should go?
The Parsons dining room chair has had its day, and it's time to retire. I have used the Parsons chair in my past staging designs, but now I much prefer a bentwood dining chair or the Tolix® French café chair for a more interesting look.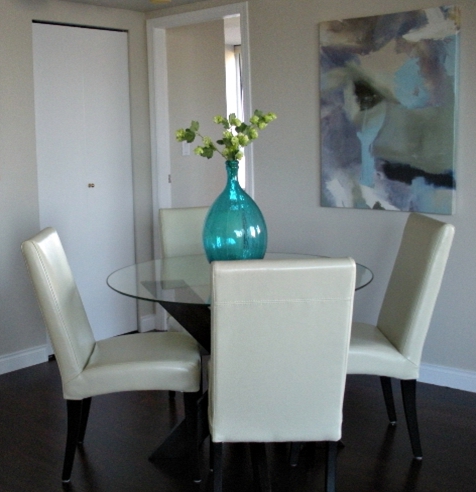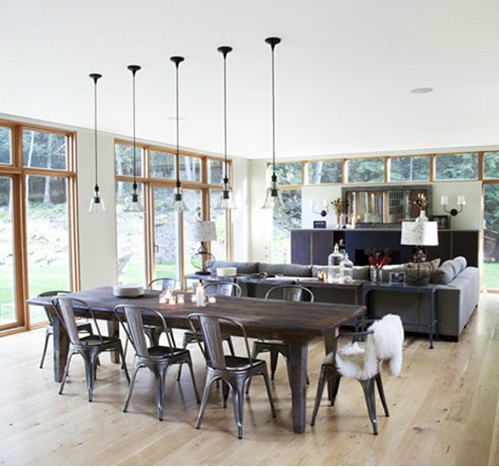 If you could pick the next big trend or hot colour, what would it be?
I love a green and blue combination. I find it fun, fresh and youthful. "Blue and green should never be seen except in the washing machine" is old school.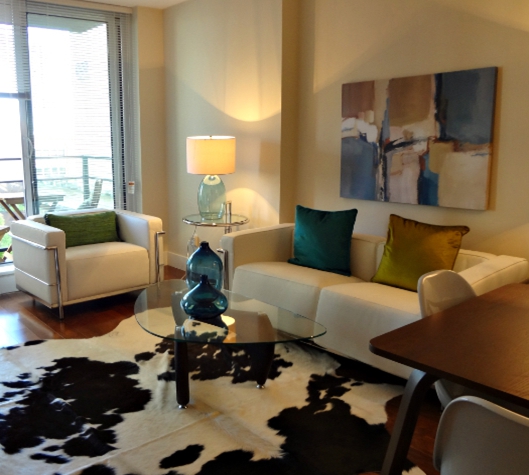 What are your five favorite websites/blogs for design inspiration right now?
Sally at Work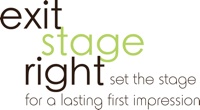 How did you get involved in the Home Staging industry?
I was originally training to become an Interior Designer. However, when my History of Furniture instructor mentioned home staging, the light went on. I could do hands-on design without all the hours involved in drafting – perfect! I completed my Management Certificate in Interior Design at BCIT, and then went on to complete a five day staging course.
Can you share before and after photos of one or two of your favorite staging projects and tell us a little about them?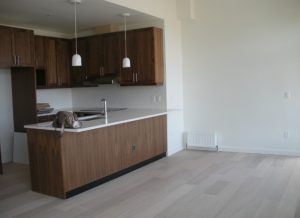 My favourite stages are those involving vacant properties. There's something about starting with a clean slate. This is a display suite for a newly built condo development in North Vancouver. The 'before' photo shows a cold, empty space, whereas the 'after' photo shows the same room, but injected with warmth and personality. Home owners may have been scratching their head before, wondering how to place their furniture. A staged room can show you how your furniture can be placed, and what size piece of furniture will fit.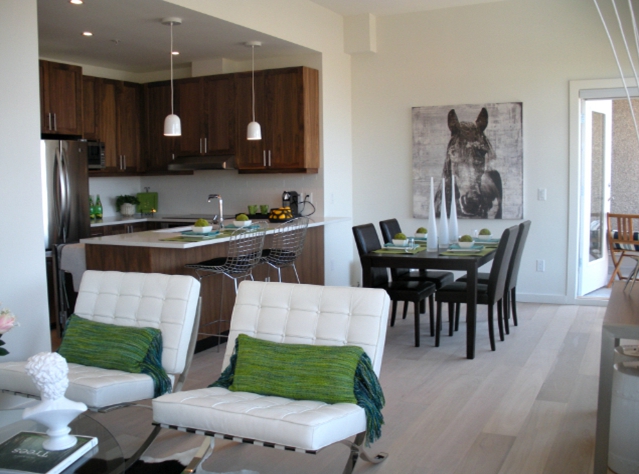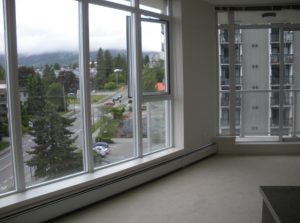 This vacant condo had a very strange layout. The building jutted out like a triangle on one side, across from the fireplace. It was very confusing to know exactly how to place furniture in this space, considering the odd floor plan. We showed home buyers that by ignoring the triangle, and lining the sofa up with the fireplace, all made sense. This condo sold very quickly. We chose colours and decor that complemented the mountains and ocean in the background views. Again, this previously cold space was now inviting.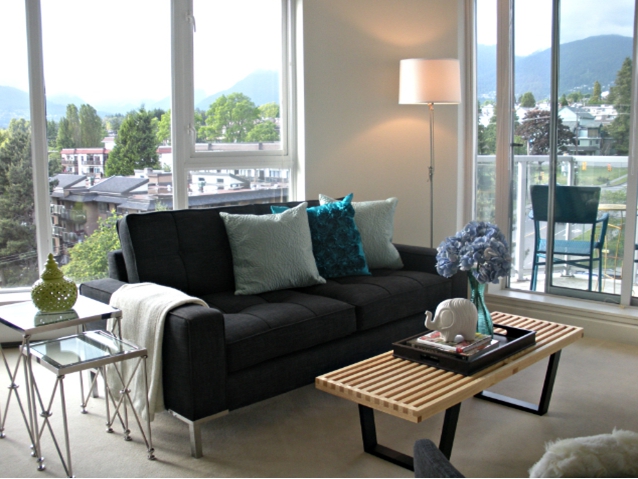 What is the biggest thing you have learned about design as a home stager?
The design elements and principles learned in Interior Design are key when staging a home for sale. Above all, a design needs to be appealing to the viewer, in this case, the homebuyer. Also, the stage needs to emotionally draw the buyer in so that the homebuyer connects on an emotional level with the home. This is the magic of home staging.
What is your favourite part of the staging process?
My favourite part of the staging process has to be the big reveal. It's just like those moments you see on t.v., where the home seller or REALTOR® sees the transformation for the first time. The transformation can be quite dramatic and we really do see tears of joy. It feels so good to help people move on with their lives.
The following two tabs change content below.

Crystal Williams
As Online Editor for Canadian Home Trends Magazine, Crystal has a passion for design and decor. She enjoys browsing the web to find new, exciting decor ideas, DIY projects and unique products to share with her readers. With formal training in graphic design and a background in the event planning/design business, Crystal looks at design from all angles to give readers a fresh perspective.

Latest posts by Crystal Williams (see all)