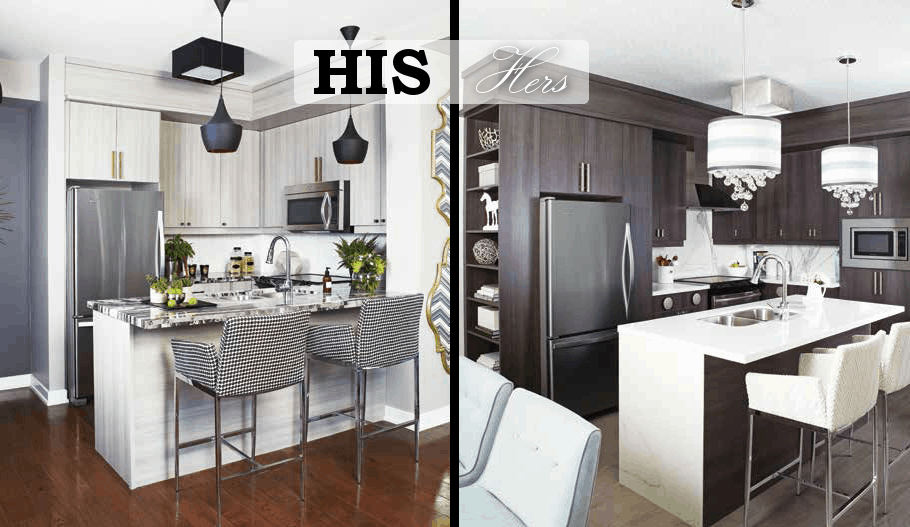 When asked to design two individualized condos, one feminine, one masculine that appeal to young city dwellers, Jennifer Brouwer happily accepted the challenge. Both condos, mirrored suites, had to appeal to their target buyer while staying on budget.
MARS
The Buyer: A busy, male downtown professional seeking location investment and convenience.
The black, grey and gold colour scheme is hip and cool. This palette is much more modern for a bachelor pad than the traditional beige and dark wood pairing.
The patterned fabric on the stools mimics the deep contrast found  in the granite and creates a masculine inspired look.
The peninsula acts as a barrier from the entrance to help camouflage clutter or mess from an unexpected visitor.
 VENUS
The Buyer: A professional woman seeking a place where she can entertain in style.
The grey, winter white and mint green colour scheme is reminiscent of a spa or sanctuary.
The stools are covered in a winter white, textured chenille. This fabric is durable and washable.
The island creates the ultimate layout for traffic flow while entertaining, buffet style, or mingling while standing with a glass of wine in hand. The integration of an island also increased storage space in the kitchen which is on every woman's wish list.
Kitchens Designed by Jennifer Brower, Photography by Valerie Wilcox
SOURCE LISTS
Mars:
Lighting, Union Lighting and Furnishings, www.unionlightingandfurnishings.com;
Console, Loyal Contracting, www.loyalcontracting.com;
Console Design, Jennifer Brouwer Design, www.jenniferbrouwerdesign.com;
Wallpaper, Crown Wallpaper and Fabrics, www.crownwallpaper.com;
Furniture, Jennifer Brouwer Design, www.jenniferbrouwerdesign.com;
Paint, Benjamin Moore, www.benjaminmoore.ca;
Hardware, Du Verre Hardware, www.duverre.com;
Back Splash, Olympia Tile, www.olympiatile.com;
Kitchen, Cartier Kitchens, www.cartierkitchens.com;
Mirrors, Cyan Design, www.cyandesign.biz;
Flooring, Sterling Tile, www.sterlingtile.com;
Art, Renwil, www.renwil.com
Venus:
Lighting, Union Lighting and Furnishings, www.unionlightingandfurnishings.com;
Custom Shades, Jennifer Brouwer Design, www.jenniferbrouwerdesign.com;
Wallpaper, Crown Wallpaper and Fabrics, www.crownwallpaper.com;
Furniture, Jennifer Brouwer Design, www.jenniferbrouwerdesign.com;
Paint, Benjamin Moore, www.benjaminmoore.ca;
Custom Cabinet, Loyal Contracting, www.loyalcontracting.com;
Carerra Finish, Amanda Immurs Fine Art
Flooring, Sterling Tile, www.sterlingtile.com;
Mirror, Uttermost, www.uttermost.com;
Carpeting, Kane Carpet, www.kanecarpet.com;
Counter Top, Cambria, www.cambriacanada.com