Looking to give your yard a sweet and simple facelift just in time for summer? A great idea to spruce up your lawn is designing your very own garden pathway. Most garden pathways can be a fun DIY project, so long as you have the space, a clear, concise idea in mind and the right materials for the job. Check out these seven pretty pathway ideas and invoke some yard-jealousy this summer season.
Pebbles.
Dress up pebbles with shrubbery and flowers lining the perimeter of your path
Stone Lined.
A stone lined pathway can be paired with another method, like pebbles, gravel, or wood planks.
Log Stumps.
What could be more quaint than wood stumps artfully scattered across your lawn.
Wooden Steps.
This method works particularly well if you're dealing with a backyard that has a significant slope.
Paver stone/Flagstone.
Fill the gaps between the stones with moss or pebbles.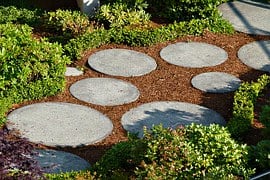 Wood Planks.
If you opt for this method, try to used reclaimed wood or old fence slats and save a tree or two.
Bricks.
With brick you get the added bonus of laying out a unique pattern. Juxtapose the harshness of the brick with plushy grass or colourful flowers.
The following two tabs change content below.
Zakiya Kassam
Zakiya is a freelance writer/editor based out of Toronto. You can follow her on Twitter: @zakkassam
Latest posts by Zakiya Kassam (see all)