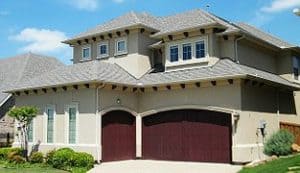 Update the doors
Not just your front door, though it doesn't hurt to do that that too, but your garage door. Your garage door represents up to 40 percent of a home's curb appeal, based on size alone. There's nothing that will distract from the appeal of your home more than a garage door with peeling paint, dirt or other visual inconsistencies.
Framed windows
Framing your windows will lend elegance and quaint charm to your home's exterior. And while you're at it, frame your doors using leftover crown moulding from your last home reno.
Faux stone paneling
Faux stone paneling has swiftly become a popular alternative to vinyl or wood siding, because of it's durable and affordable nature. You can also do the installation on your own, as a weekend DIY, leaving you with a classic and rich end result.
Statement house numbers
If you're looking for a way to showcase your personality on the exterior of your home, updating your house numbers is a great way to do just that. Take a look at these fun and creative DIYs if you need some inspiration.
Contrasting colours
Add accents to your home's exterior that contrast with the colours in your yard. This simple upgrade will make your home stand out in a good way. Use a contrasting statement colour on your front door, front porch furniture or planters.
The following two tabs change content below.
Zakiya Kassam
Zakiya is a freelance writer/editor based out of Toronto. You can follow her on Twitter: @zakkassam
Latest posts by Zakiya Kassam (see all)