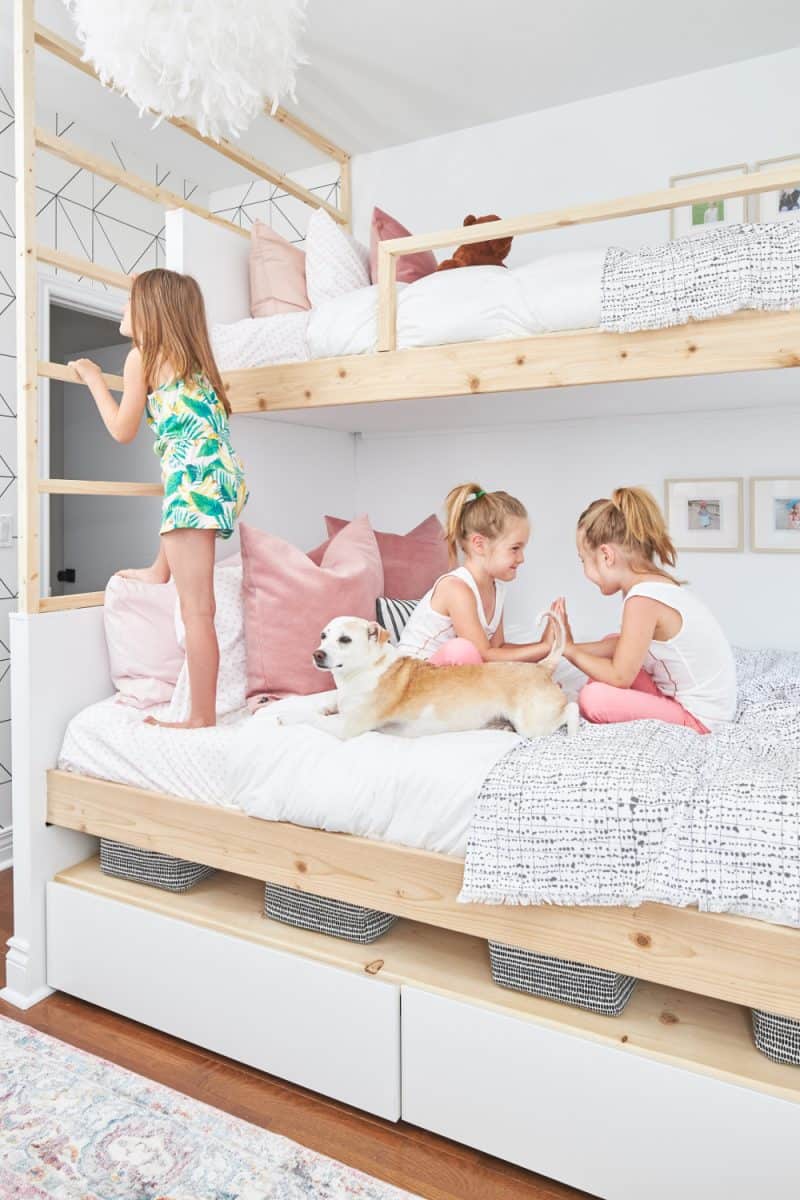 Three Girl Bedroom Decor. I love working on bedrooms. They come in all shapes and sizes so a cookie-cutter approach doesn't work, especially when the space is small and/or awkward. That sums up my spare room, which I was challenged with turning into a home away from home for three little girls under the age of six.
With toys, clothing and gadgets for three little girls, I had to come up with unique sleeping arrangements and lots of storage to make the best use of the space.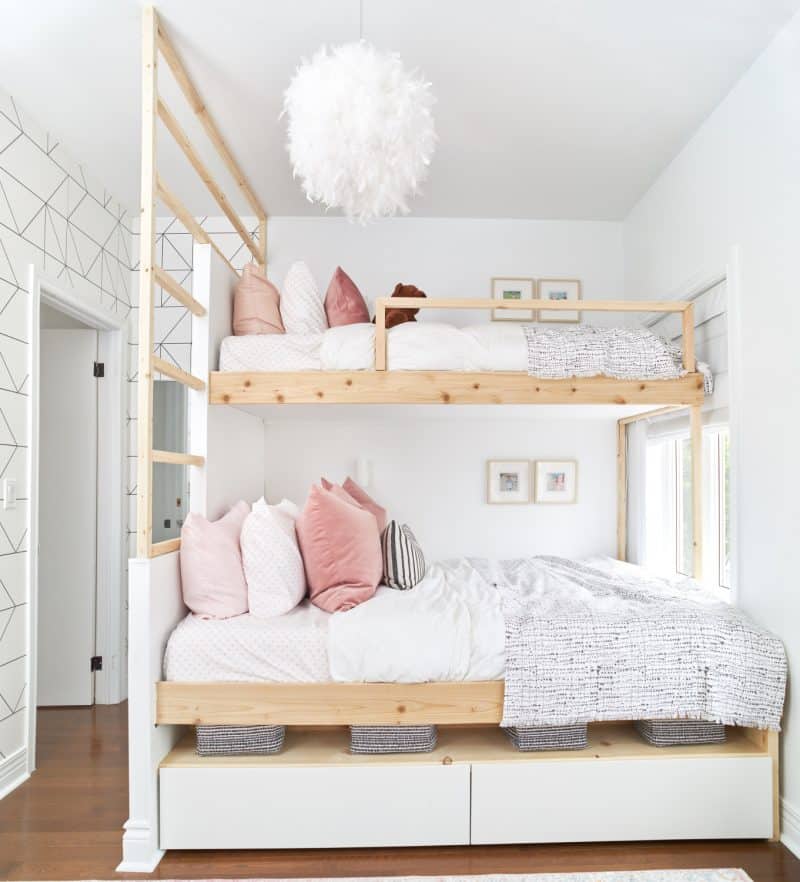 Fitting three girls bedroom decor into a small space certainly made bedding a challenge. My only option was bunk beds and, with tight space restrictions, I had to take it a step further and have custom beds created. In order to have them fit into this small, square room, I had to get really creative! First I turned the hinges on the bedroom door so it would open in the other direction. Then I built in a wall, creating a pseudo hallway inside the room. That wall was able to serve as a headboard and I mounted the bed ladder right on the wall, making use of every square inch of space.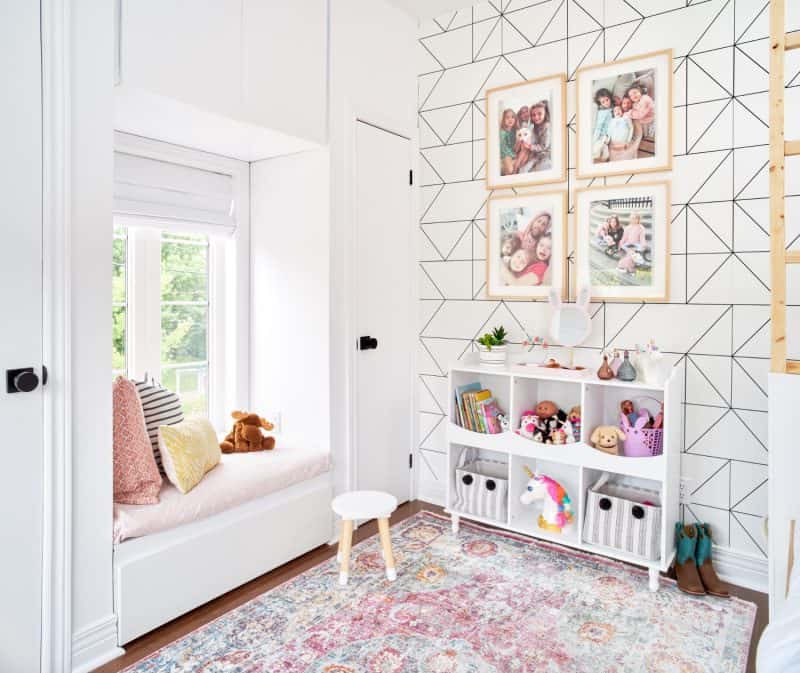 Because little girls have A LOT of stuff, I embedded drawers on wheels under the bed and added an open shelving area for additional storage. In this three girl bedroom decor, we also tucked a window seat into the wall and surrounded it with storage too. I wanted to add texture and a modern twist by changing the closet doors to Masonite's Melrose Safe 'n Sound door, from Metrie. I went with their Safe 'n Sound core option for the weight and feel of the door, and most importantly, to keep the noise down.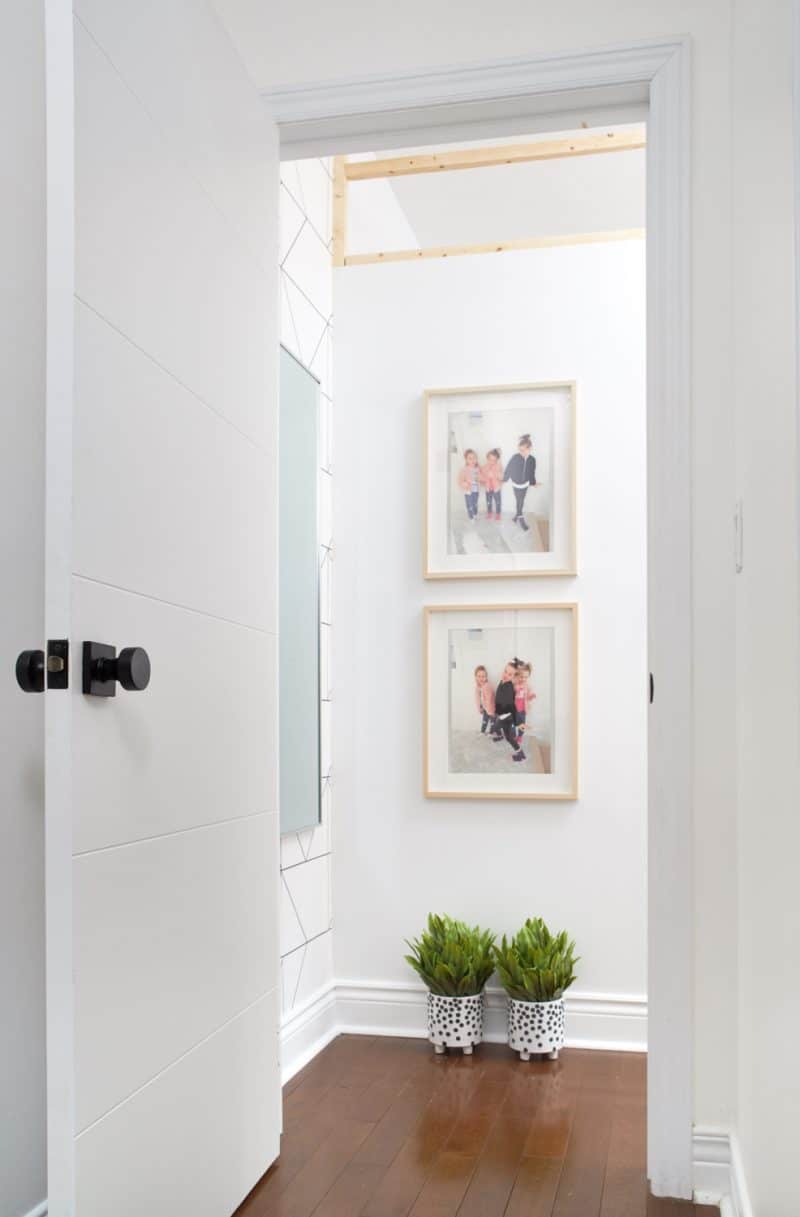 I added wallpaper in a geo shape from Wayfair to create a feature wall. Originally I was going to wallpaper the entire room with this pattern, but it was in limited stock when I ordered it. So, having fallen in love with the design, I decided to use it anyway in a smaller space – hence, the feature wall! I also used stylish black-out blinds from Wayfair in all white; their soft, cascading design made the space seem larger and more airy.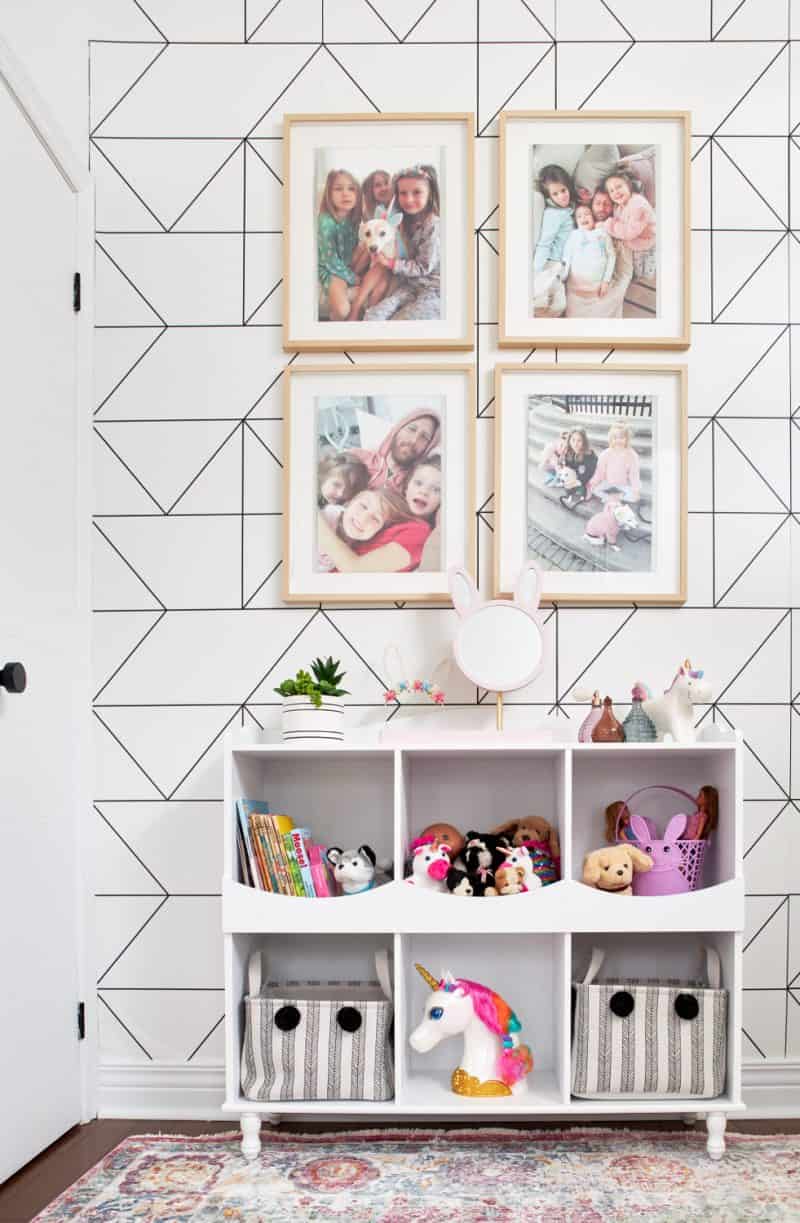 I added soft colors to the room – through a patterned rug from Wayfair and the polka-dot sheets – which keeps the room soft, clean looking and fun all at the same time.
I added hypoallergenic, dust mite control, fully washable pillows and bedding from my own line called Alcorn Home. I cannot stress enough the importance of "washable" with little ones! These beauties pop right in the washing machine – cover, filling and all. Finally, I added some pink velvet pillows (also washable), and a black and white throw blanket to balance off the wallpaper at the end of the bed.
(For something fun, see these glow-in-the-dark blankets.)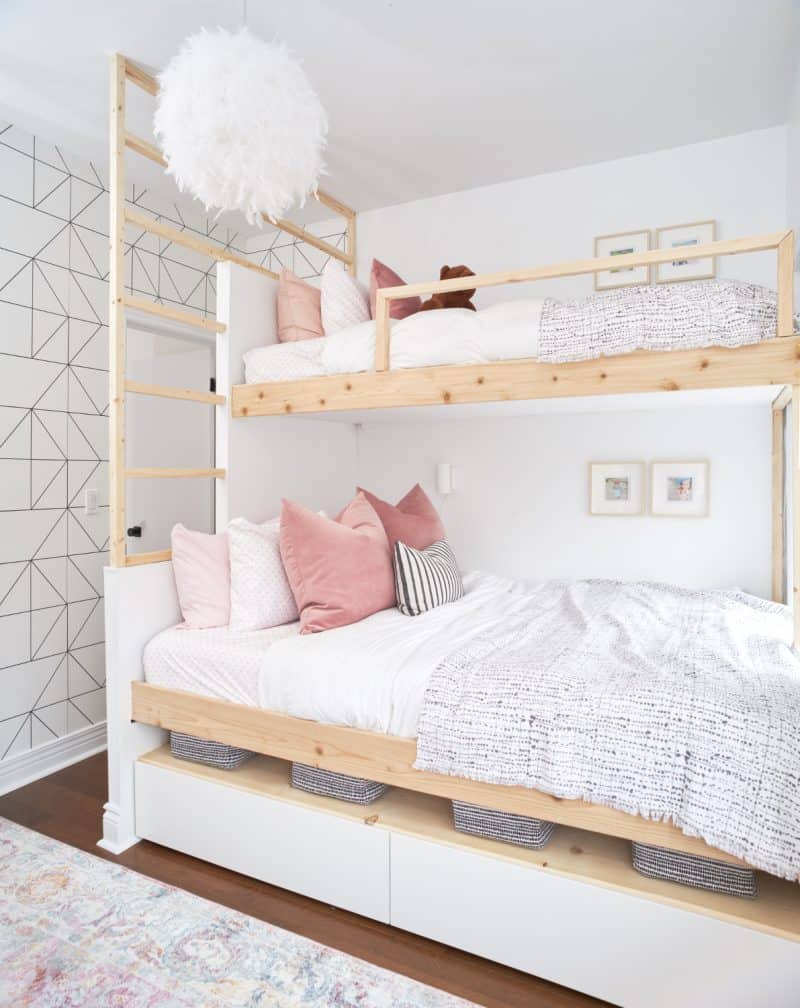 The artwork is another source of color and pattern. By enlarging and hanging cute family photos, it added personality and a sense of belonging for the kids.
A full length mirror at the end of the hall is functional and created a runway for play time. There was enough floor space for the girls to get out their doll houses and other toys, and still have room for everyone to enjoy whatever they were doing at any time.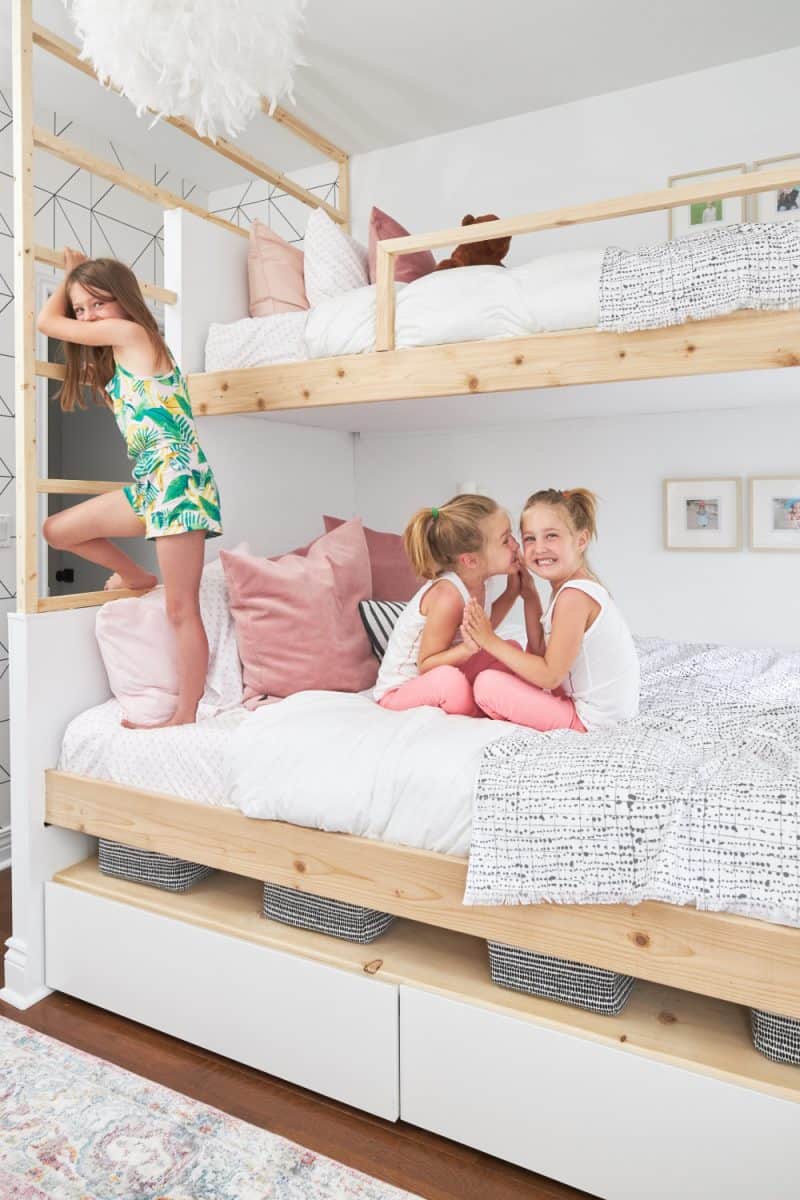 The biggest lesson to learn from this makeover is that sometimes you really have to think outside of the box – literally! If I had of stayed with the square room, as it began, it wouldn't have the wonderful personality and function this room has now.
I love how this space turned out and the kiddos love it too – which is most important. I look forward to many sleepovers here and know this is a space that will easily change with them as they grow up. Just hoping it's not too quickly!
For more inspiring ideas, click here.
For more unique items for your home, click shopCHT.com.
The following two tabs change content below.

Canadian Home Trends' Style Editor, Jo Alcorn, Principle Designer and Founder of
Alcorn Home
. Jo has over 15 years experiences as a celebrity interior and home product designer, expert instructor, corporate ambassador, TV personality and a strong female entrepreneur, Jo has created a fabulous fan following. To add to credentials, she is a style editor & writer for multiple publications and blogs, a public speaker, and an avid animal/environmental advocate.

Latest posts by Jo Alcorn (see all)