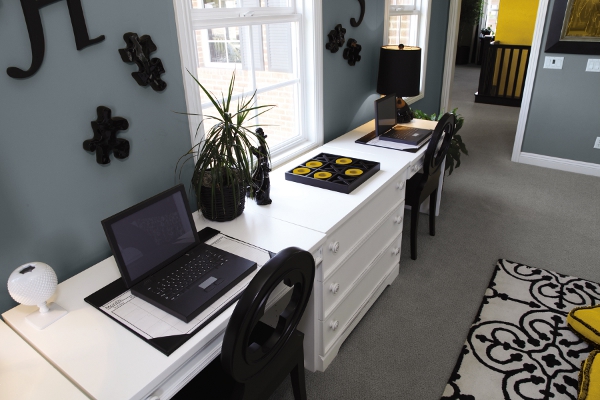 Many of us dream about being able to work from home. We envision a calm, relaxing day sipping coffee with our feet up while we answer emails and complete work at our leisure. The reality is not always quite so pleasant. Working from home brings with it a new set of challenges – distractions are everywhere. Creating a space that will promote productivity, concentration and motivation is a must. The good news is that this can be as simple as choosing the right paint colour! Here are some great tips on choosing home office colours from C-I-L spokeswoman, Alison Goldman.
1. Set The Mood:
The right mood for one home office may not be the right mood for another. Before choosing a colour for your office, consider a little colour psychology.
Blue can be calming and may lower the pulse rate while increasing productivity
Green creates a serene, soothing atmosphere, which can relieve stress
Red and orange promote excitement and enthusiasm
Purple is thought to promote artistic creativity
Yellow is cheerful
Light browns and greys deliver a feeling of serenity, while darker browns provide a stoic, earthy atmosphere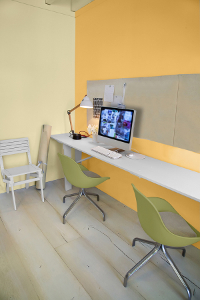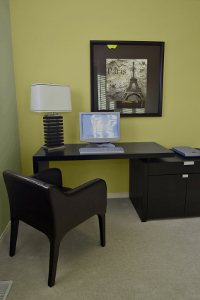 2. Consider the Job:
The atmosphere you wish to create will vary depending on the job. A business professional will be looking for colours that empower and energize (yellows, oranges, bold greens). A massage therapist is going to be looking for colours that sooth and relax (soothing pinks, purples and blues). A lawyer on the other hand will be looking for a studious environment that encourages concentration (deep brown, burgundy).
3. Take Stock of the Space
Take time to consider the space where your home office is located.
What level of natural lighting does the space receive during working hours? Offices that receive a lot of natural lighting will accommodate almost any colour scheme but a office that receives little natural lighting can be brightened up using shades of yellow, yellow-green or off-white.
What size is the space? Home offices are often smaller spaces that can feel cramped and uncomfortable quite quickly. Lighter shades are a good choice for small offices – they will feel more spacious.
Where is the office located within the home? If you office space is visible from other rooms of the house, choose a neutral that will blend will with the other visible spaces.
Still not sure? Goldman says when in doubt, pick green. "Green is the most popular home office colour. Considered to be the most balancing hue on the colour spectrum and the easiest on the eye, green is restful yet rejuvenating. Whether soft sage, sea green or deep hunter shades, green stimulates the thought process while promoting feelings of harmony.
To help achieve the right feel for your home office, CIL's online mood test at www.cil.ca guides users through the process of choosing a fail-proof colour scheme.
The following two tabs change content below.

Crystal Williams
As Online Editor for Canadian Home Trends Magazine, Crystal has a passion for design and decor. She enjoys browsing the web to find new, exciting decor ideas, DIY projects and unique products to share with her readers. With formal training in graphic design and a background in the event planning/design business, Crystal looks at design from all angles to give readers a fresh perspective.

Latest posts by Crystal Williams (see all)