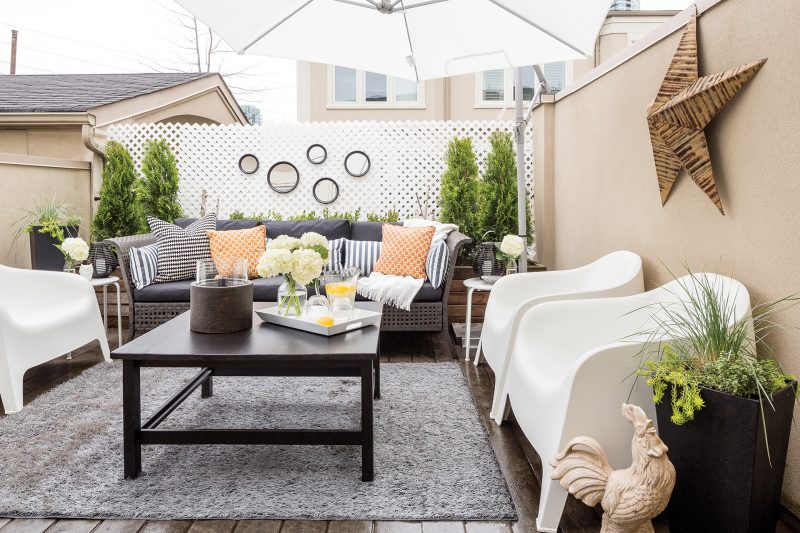 Jo Alcorn's Tips
1. Less is More
In small spaces don't add too many colours using plants and décor. Keep it simple so that it is easy on the eyes and gives the viewer the illusion of a larger area.
2. Create Privacy from Neighbours
When designing a balcony in a city, privacy is always an issue. I found this great white lattice at The Home Depot. I turned it sideways, attached it to the balcony railing and added greenery in front, creating an intimate and functional privacy screen. I also added an umbrella, not to block the sun, but to block the view of the neighbours above me, taking away that fish bowl feeling and creating a relaxing room.
3. Drown Out Noise Pollution
For that extra touch, I added a water fountain to drown out road traffic and give the illusion of being near a lake. It is also a nice visual and conversational piece.
Patio Designed by Jo Alcorn, Photography by Jason Hartog, As Seen In Canadian Home Trends Magazine Summer 2014
The following two tabs change content below.

Canadian Home Trends' Style Editor, Jo Alcorn, Principle Designer and Founder of
Alcorn Home
. Jo has over 15 years experiences as a celebrity interior and home product designer, expert instructor, corporate ambassador, TV personality and a strong female entrepreneur, Jo has created a fabulous fan following. To add to credentials, she is a style editor & writer for multiple publications and blogs, a public speaker, and an avid animal/environmental advocate.

Latest posts by Jo Alcorn (see all)