Holiday entertaining is a great way to bring family and friends together, but the stress of decorating one's home for the holidays can be a bit much to bear. If you are looking for ideas on how to turn your home into an inviting, festive hearth without tapping into your gift budget, we have some great tips to help you dress up your home without breaking the bank:
Chevron is a hot trend for 2013 that looks stunning on placemats,  serving trays and more.  Since chevron never goes out of season, you can reuse your creations for future dinner parties!
Festive walls are impressive, but not everyone has the time or money to repaint an entire room. Borders are a good alternative that won't take much time or materials. Simply choose the holiday color scheme for your walls and paint crisp stripes (or the pattern of your choice) with FrogTape® along the top or bottom perimeter of your entertaining room.
No need to get new decorations each year—update plain ornaments by painting new patterns on them with the help of FrogTape® Delicate. The adhesive has durability to stick to the ornament, yet gentle enough to combat peeling of the original covering.
You  may fear going overboard with your decorating, but well-placed accent pieces can make any room feel festive without tons of trimmings. Use FrogTape® to outline a festive pattern on pillows or curtains to have a well-rounded theme.
Here is an example of a simple, low cost DIY project you can do to create a one-of-a-kind decor piece for your home that adds style and personality to your Christmas decor!
DIY Christmas Chevron Reindeer Sign
This fabulous DIY project is the brain child of Roeshel of DIY Showoff. She used FrogTape® to create a Chevron pattern. Originally, she started with a blue background and her intention was to paint the uncovered areas green and then remove the tape to create the pattern but once the tape was in place, she decided to leave it in place.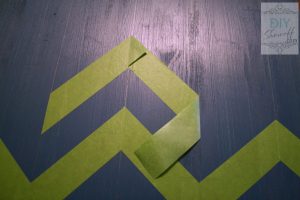 For more detailed instructions for creating your own Chevron pattern and complete instructions to make your own DIY Reindeer Sign, visit DIY Showoff.
Tips & Images provided by FrogTape®
The following two tabs change content below.

Crystal Williams
As Online Editor for Canadian Home Trends Magazine, Crystal has a passion for design and decor. She enjoys browsing the web to find new, exciting decor ideas, DIY projects and unique products to share with her readers. With formal training in graphic design and a background in the event planning/design business, Crystal looks at design from all angles to give readers a fresh perspective.

Latest posts by Crystal Williams (see all)