I was originally introduced to Pamela Beattie and the old world flare of Venetian Decor through Facebook. A Vancouver-based designer, Pamela creates beautiful furniture and decor pieces with french flare and vintage inspiration. This week I had the opportunity to talk to Pamela about her personal design style, where she finds inspiration, her favorite designs, a signature dish she likes to cook up and more. Read on to see what Pamela had to say. – Crystal Williams
Pamela At Home
What does a day in the life of Pamela Beattie look like?
Rise and shine between 6:00 -6:30 am – the early bird gets the worm! After a quick shower, I share a quiet coffee with my husband before everyone in the house is up. After that, the excitement never ends. I might be working in the studio on a new design or dealing with the manufacturing of our creations with Neto Leather in Vancouver. Other days you can find me helping my husband Dale with drafting and changing designs or working with his clients at First Choice Quality Homes. Every day is a new day. It's like a book – you never know until you turn the page what's going to happen next!
What room in your home would you say is your favorite and why?
Can we discuss this one next year? We are currently designing our new home and hoping to break ground this summer. I'll keep you posted but I think it will be my kitchen! I love to cook and entertain .
If you had to choose one room in your home to redesign – which room would you pick and why?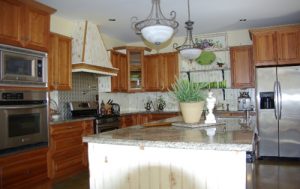 My kitchen!  I am excited about a few changes we have planned for the new house. I will have a wood burning cook stove for baking bread in the middle of winter. Warm fresh bread and a pot of warm soup ready for guests at any moment is at the top of the list for my husband and I. I am also planning to have an industrial main stove.
If you had to pick one furniture or décor piece in your home what would be your favorite?
My dining room table  is my favorite piece of furniture. It features ornately carved legs and rich wood tones. I'm not a fan of the chairs. I plan to replace them with white leather chairs from Ikea in the near future.
You mentioned that you like to cook and entertain. Do you have any special recipes that you will be cooking up for Easter this weekend?
I have a dip I make that everyone enjoys! I call it Pam's Signature Dip.
6  large vine ripened tomatoes seeded and chopped
4 large ripe avocado's chopped
4 large cloves of garlic finely minced
1 small red onion finely chopped
1 package of fresh basil chopped
Fresh cilantro  optional
Fresh squeezed lime juice
Fresh ground pepper  and salt too taste .
Mix well in a serving bowl add enough olive oil and balsamic reduction too cover the ingredients.
Refrigerate  for at least a few hours before serving  with your favorite bake bread or crackers.
This recipe can be adapted to make any amount you would like. You are the chef so customize to your taste and enjoy with family and friends.
If you could work with one interior designer of your choice to redesign a room in your home, who would you pick?
That's a tough question. I would have to choose either Samantha Pynn or Jamie Herzlinger. I love Samantha's style and Jamie and I seem to have the same glamour inspired design sense.
Pamela on Inspiration & Trends
Where do you find inspiration for your design?
I'm finding that I seem to gravitate  more and  more to fashion for design inspirations. I'm very captivated by Chanel & Dior's Spring and Summer collections this year so we will see what happens!
What is your current favorite design trend?
I really love the industrial chic loft style meets rustic country. This is the design style we chose for our new country home currently being built on 17 acres here in BC! It helps when your husband is a contractor. I'll keep you posted on the process.
If you could pick the next big design trend or hottest colour, what would it be?
If I had to pick the next big design trend can I pick myself! For colour it would be our Venetian Décor signature Champagne Pink.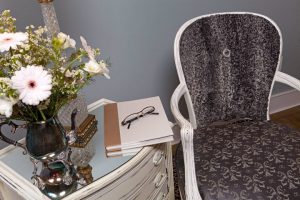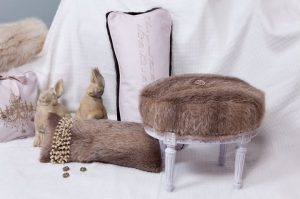 Pamela at Work
How did Venetian Décor come to be?
I believe I was always meant too start my company. I knew for many years what I would name it. It's very strange to hear I know but it's true.  With my passion for heirloom fur coats, French furniture and vintage rhinestone buttons I wanted to capture and retain a little piece of our history who we are and where we came from. I come from three generations of milliners, furriers & shop owners. With a heritage steeped in fashion it seemed to magically inspire my creativity. I created the signature brand in March of 2008 with a historical "old world with a new twist" mantra. To capture the essence by preserving the glamour and heirloom treasures of our past. My dream is to create a message with the products I design and let them each tell their own story.
Have you always been interested in design?
Yes, I have always had an interest in design. I think I could probably have opened a used book store with all the design magazines and books I have purchased over the years and I'm sure my husband would agree!
What do you enjoy the most about the design process?
I don't seem to enjoy anything more or less in the design process. When I have a new creation I'm working on I love every aspect. It might be an old photo or a vintage brooch. The whole design process really gets me excited but if I have to make a choice I would have to say seeing the final result!
If you had to pick one favorite product that you've designed, what would it be?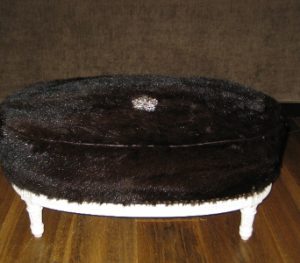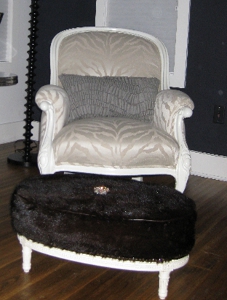 The one favorite design would be a French stool I designed for a client. Her mother -in-law had passed away leaving  a luxurious mink coat to her daughter-in-law . My client had seen a segment on Urban Rush T.V show and the Vancouver Sun that I was featured in. She had asked me to design a French stool for her daughter as a Christmas present. I utilized the entire coat as the upholstery with Italian leather piping. The icing on the cake was the grandmother's vintage rhinestone brooch. I was told there was not a dry eye in the house on Christmas morning. That is the reason I design and create my Venetian Décor signature products.
Another favorite would be my signature "Sleeping Princess" eye mask from my personal boutique collection.
What projects are you currently working on that you are most excited about?
We are currently working on our "Spring Fling" collection – an updated version of our personal boutique designs. They are being shipped to San Francisco in the next 2 weeks .
The following two tabs change content below.

Crystal Williams
As Online Editor for Canadian Home Trends Magazine, Crystal has a passion for design and decor. She enjoys browsing the web to find new, exciting decor ideas, DIY projects and unique products to share with her readers. With formal training in graphic design and a background in the event planning/design business, Crystal looks at design from all angles to give readers a fresh perspective.

Latest posts by Crystal Williams (see all)