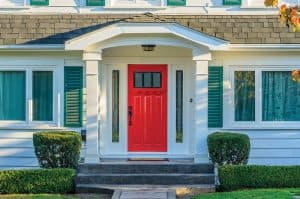 Looking to improve the appearance of your home without spending an arm and a leg?  If so, a fresh coat of paint is a wallet-friendly way to rejuvenate your living quarters. Learn how to make your painting dreams come true with these quick and simple tips.
Prep.  Of course you want to see a new, beautiful colour on your wall right away; however, spending some time on prep work will provide better results and help you achieve a lasting finish. Start by covering or removing furniture, dust and wipe down walls thoroughly, and remove light switch and outlet covers. When painting a bathroom or kitchen, HGTV recommends washing the walls with a solution of laundry detergent (approximately three teaspoons to four litres of water) to remove any grease or residue.
Tape.  Painter's tape is a great tool to protect the surface, prevent paint bleed and provide professional-looking results.  Tape all borders of the room – molding, ceilings and floors – before you start painting. Whether you're a novice or a pro, mistakes can happen, so use a trusted painter's tape like Painter's Mate Green.  When tape is applied in a long strip, it can stretch and won't lay flat or stick properly, resulting in paint bleed.  Instead, tape off walls and trim in one-foot sections for best results. When applying, press down on the tape firmly and smooth it out against the border. Tape removal is also a crucial step. Rather than waiting for paint to dry, carefully remove tape at an angle while the paint is still wet. This will keep the paint from bonding to the tape, making it easier to remove and therefore providing cleaner lines.
Paint.  If painting over a previously painted surface, consider an all-in-one paint and primer. This paint allows you to skip a step in the process, while delivering added adhesion and smoothing out rough surfaces.  Next, choose your sheen.  This should be done based on how much traffic the area receives. Flat is most commonly used on living room and bedroom walls; however, some people prefer satin or eggshell enamel as they offer a soft, velvety appearance.  Semi-gloss is primarily used for cabinets and trim; and high-gloss paints are ideal for the highest-traffic areas, such as kitchens and bathrooms, because they clean easily.
If you're looking for inspiration, Pantone announced two colours for 2016 – Rose Quartz and Serenity – a blending balance between a warm, embracing rose tone and a cool tranquil blue. Both colours are perfect for giving any room a relaxing vibe. If you're still unsure which colour to choose, many paint manufacturers now offer testers to take home a few favourite shades to try before buying several litres.
Tools. To ensure the final results are just as attractive as the new paint colour itself, it's essential to use the correct tools for the job.  First, utilize brushes for trimming and painting around the edges of the room. Be sure to choose the correct type of brush depending on the kind of paint you're using; natural brushes are typically used for oil-based paints, while synthetic brushes are ideal for latex or water-based paints. Also, consider using an angled brush to get into tight spaces such as corners, windows and trim.
Next, you'll need a roller to fill in large wall areas. When choosing a roller, pay attention to which surface the product is designed for (drywall, stucco, etc.), and the job. Rollers come with naps of 1/8 to two inches or more. Generally, you should paint smooth surfaces with a short nap, and rougher surfaces – like stucco, brick and masonry – with longer nap so those fibres can get the paint into every nook and cranny. Investing in quality painting tools can help you achieve the professional-looking finish you desire in your home.
Don't let the idea of updating a room intimidate you. With the right tools and technique, the job can be done in a flash and your home will look renewed in no time. For more painting tips, visit paintersmategreen.com.
www.newscanada.com
The following two tabs change content below.
Canadian Home Trends magazine gives you a personal tour of the most stunning homes and condos across Canada. You'll be inspired by a selection of accessible home décor products, trend reports, simple yet stylish DIY projects, and much more. In each issue, you are given the tools to recreate designer spaces you've always dreamt of having at home, in-depth renovation and design advice, colour palette and furniture pairings, and Canada's best places to shop.
Latest posts by Canadian Home Trends (see all)