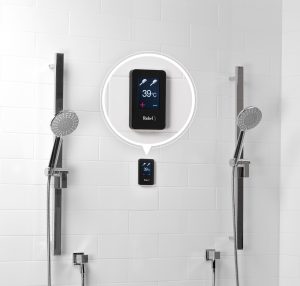 Once again, Saint-Jérôme-based company, Riobel, appears at the forefront of bathroom design innovation with their newest product, aptly named, the Genius™ Shower System. Harmonious with the burgeoning trend of powder-room-opulence, Riobel's latest endeavour marries complex design, simple interface, and subtle luxury.
Here's what (else) we love about Riobel's Genius™ Shower.
Easy Access Keypad
The Genius™ Shower entices us with their user-friendly digital keypad, which is easy to comprehend and use, regardless of age or dexterity. The keypad can be installed right inside of your shower, for easy access.
Sophisticated Sensors
The Genius™ Shower comes equipped with an electronic pressure-balanced thermostatic system. This means stability and consistency when it comes to water flow and temperature.
Flexible Installation
As far as home renovations go, installing a Genius™ Shower system in your bathroom is lesser on the headache-scale than installing a regular shower system. This is because the valve, meant to be inserted between two 2×3 inch studs, can be accommodated almost anywhere, including in a closet, under the sink, and behind the shower.
Do you want to shower smarter? Visit the Riobel website to shop the Genius™ Shower.
The following two tabs change content below.
Zakiya Kassam
Zakiya is a freelance writer/editor based out of Toronto. You can follow her on Twitter: @zakkassam
Latest posts by Zakiya Kassam (see all)