Linear shower drains are a popular choice for modern homes and can offer many benefits but proper installation is key. We asked the expert behind the QuARTz by ACO collection and they shared these important consideration for a successful linear drain installation.
Use an Experienced Installer
A linear shower drain requires only one slope while a traditional center point drain requires all 4 sides to slope towards the center. You are able to use large format tiles and have only linear cuts in the tiles. For this reason, a linear drain installation is considered to be easier but it is important to use an installer who has experience installing linear drains. They will have the experience to ensure a proper install so that you do not run into issues down the line.
Plan Ahead
When choosing a Linear drain it is important to plan in advance.  Decide on whether you would like a curbless shower or not. Making the right steps ahead of time will ensure an easy and proper install. Communication with your installer about the membrane being used, measuring the shower from the finished walls, even choosing your grate designs are all important to do prior to buying the drain.
Placement for Curbless Showers
If you are planning a curbless shower, it is important to place the drain either along the opening to the shower or the wall directly across from the opening. Placing the linear drain installation perpendicular to the opening will result in a slop that creates a lip and becomes a tripping hazard. Linear drains can be placed in the center of the shower, as seen in the bathroom below by Tego Bathroom Solutions, as long as they are parallel to the opening of the shower.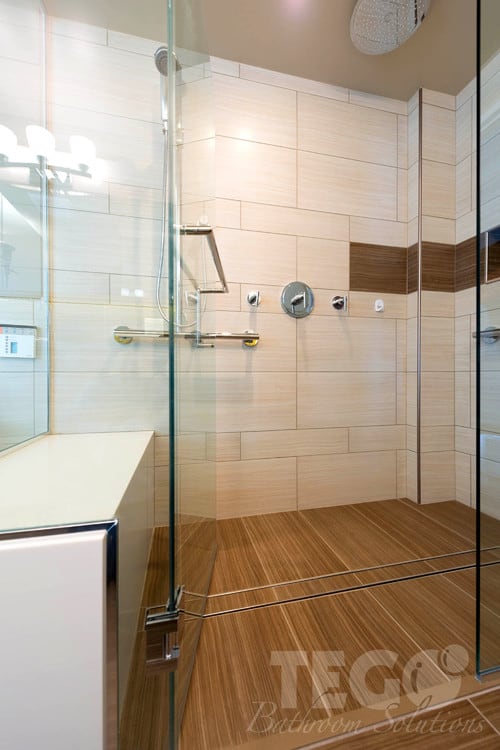 How long should a linear shower drain be?
QuARTz linear shower drains come in a variety of standard sizes ranging from 27.55″ to 55.12″. After measuring your shower and taking into consideration the finished wall to wall length, choose the size that best suits your shower and location. If you choose to put the drain at the entrance we recommend the drain spans the entire length of the opening, It will prevent water getting around the drain and out into the bathroom. ACO also offers custom linear drain sizes upon request. 
Plan for Flow Rates
You will want to ensure the drain can handle the water volume of your planned shower installation. A luxury shower with multiple heads will require a much higher flow rate then a a single low-flow showerhead installation.
Choose Tile Prior to Laying the Floor Bed
One of the benefits of a linear drain is that it can be installed flush with the floor for a curbless finish. It important to select the tile you will be installing around the drain before you lay the floor so that the floor can be laid accordingly, ensuring that when the tile is installed, it sits completely level to the drain without any lip.