My husband and I had the opportunity to spend a long weekend at the Cottages on the Lake this past month and the experience was fantastic. During our stay, we had an opportunity to explore the valley between Oliver and Osoyoos. Our weekend included a fantastic mix of wine tastings, vineyard tours and delicious dining experiences! Here are a few highlights from our weekend (more highlights from the Cottages themselves coming shortly!):
Wine Tours & Tastings
NK'MIP Cellars Winery
NK'MIP Cellars is Canada's first Aboriginal owned and operated winery and offers award wining wines with a fascinating  history in a gorgeous setting. A Legacy Tour of the NK'MIP Cellars Winery is a wonderfully educational experience. Our tour guide, Moss, spent an hour showing us through the vineyards and winery facility, explaining the various steps and intricate details that go into making each bottle of their fabulous wine. If, like me, you enjoy learning how things work and want an experience that goes beyond just the taste of the wine, a tour at NK'MIP is the perfect place to start. A selection of wine tastings were worked into the tour, offering the opportunity to learn how the wine was produced while tasting the results at the same time.
Black Hill Estate Winery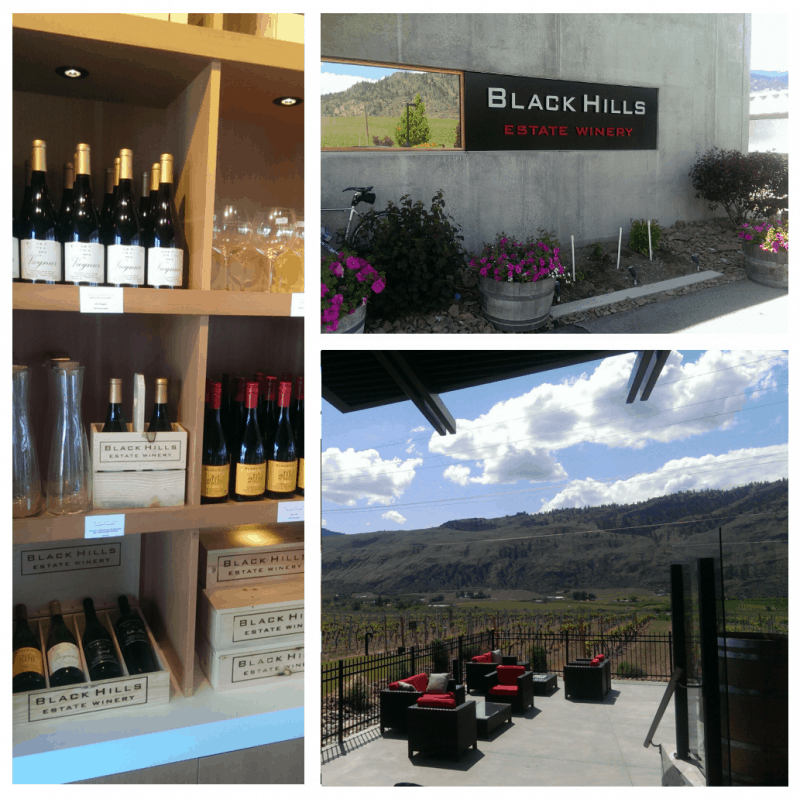 The Wine Experience Center at Black Hills Estate Winery takes wine tasting to a new level. Choose a spot on the patio, out by the pool or in a private cabana and enjoy sampling wines in varietal specific Riedel glassware. As you try each wine, your Wine Evangelist will share information on the winery and the wines. You can choose a portfolio tasting and enjoy the newest releases or you can choose a library tasting and experience a 4 year vertical flight of the Black Hills flagship wine, Nota Bene.
Each year, Black Hills hosts an annual Nota Bene Vertical Tasting event. This year, guests will have an opportunity to try 16 years of Nota Bene! The event takes place in October and we hear from the locals that is a must-attend event each year.
Tinhorn Creek Winery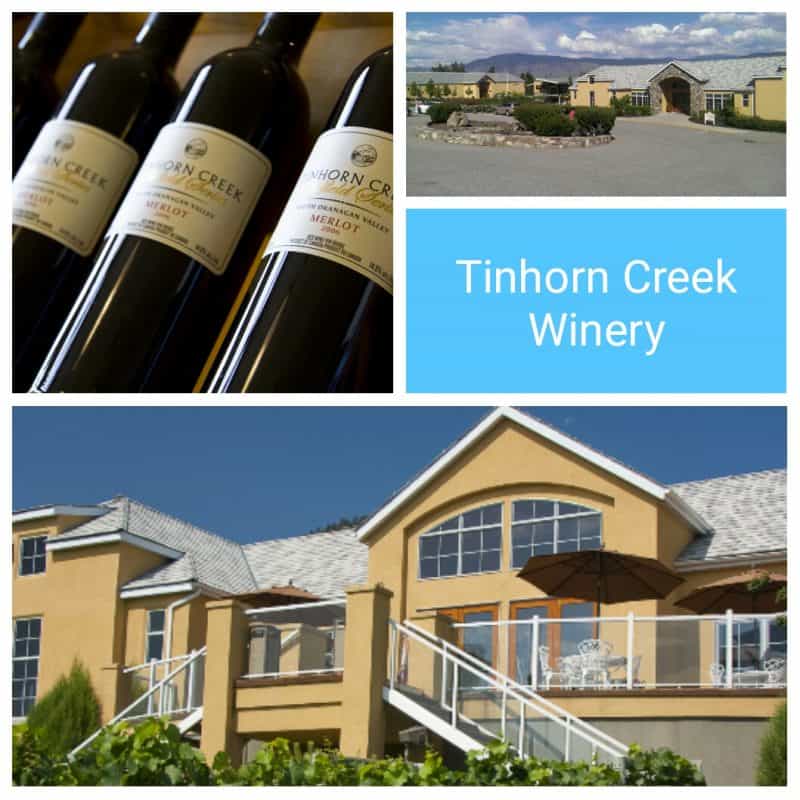 Tinhorn Creek Winery was a last minute addition to our itinerary. Fred, our tour guide for the day, recently retired to the Cottages on the Lake with his wife Barb. They both love being around people and so they each choose a dream job to enjoy as part of their retirement. Barb works part-time at a wonderful little boutique called 85th Boutique in Osoyoos while Fred spends a few days a week at Tinhorn Creek where his dream job lets him spend his days meeting wonderful people and introducing them to fantastic wine.
Established 20 years ago by a group of friends, Tinhorn Creek was one of the first vineyards in the valley. What started out as a few barrels of wine in the basement of a house has grown to include 150 acres of vines, a fantastic wine & gift shop, gorgeous manicured lawns, an amphi-theatre, a popular restaurant (Miradoro) featuring local food by awarding winning Chef Jeff Van Geest and more. Tinhorn Creek is a great destination for an afternoon with friends or family. You can purchase wine (by the glass or by the bottle) and bread and enjoy a picnic overlooking the valley while the little ones play games on the manicured lawn or take a hike up the Golden Mile Trail. Tinhorn Creek also hosts many special events including their popular Canadian Concert Series and private tour & tastings are available for those looking for a more in-depth experience.
Platinum Bench Estate Winery & Artisan Bread Co.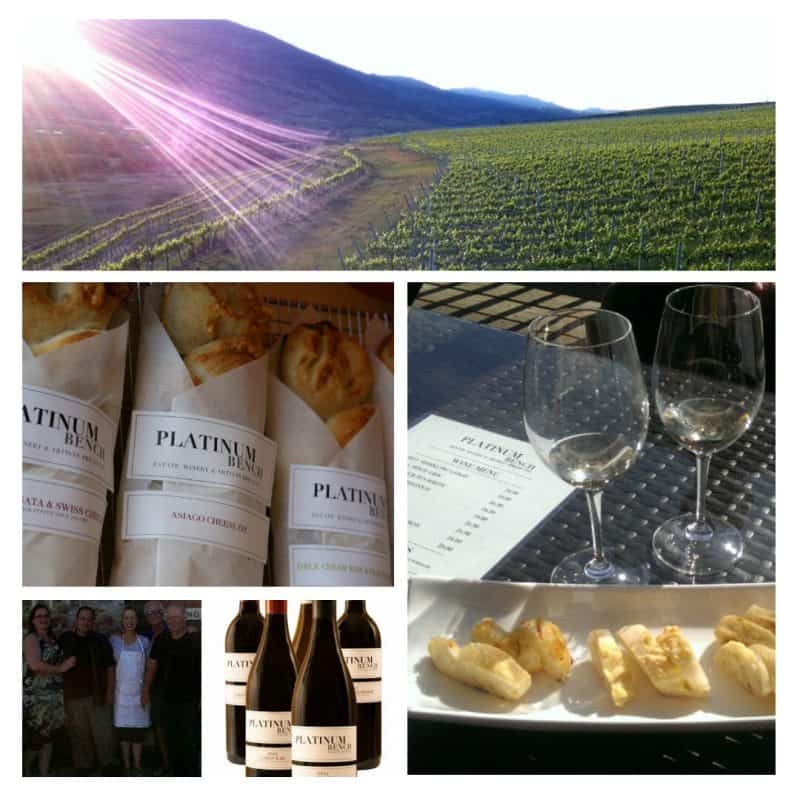 Platinum Bench offers a unique experience you won't want to miss. This boutique winery, owned by Murray Jones and Fiona Duncan, opened it's doors just 3 short years ago and has quickly become a must-see destination for fabulous wine, delicious bread and excellent company. When you walk through the door, you will be greeted by Wally, a friendly Portuguese Water Dog. When he's not out in the vineyard, you'll often find Murray behind the counter, serving up his delicious award winning wines with a smile that is both genuine and infectious. You can instantly tell you have found someone who truly loves what they are doing and you feel like you have come home to share a drink with an old friend.
Fiona can usually be found in the on-site bakery, preparing another batch of her popular breads. We were warned by many of the locals to make sure we went early otherwise the bread would be sold out and after having an opportunity to try them for ourselves, we understand why! Our favourites were the Double Cream Brie and Pear Preserves Epi and the Sopressata & Swiss Cheese Epi with Black Pepper Spice Salami (We may or may not have gone through 6 of these during our 3 day stay!).
The homey, unpretentious atmosphere, award winning wines, delicious breads, local cheeses and preserves and fabulous views from the patio combine to create a fantastic tasting experience you won't soon forget. The staff will be happy to provide you with samples of both the bread and the wine, helping you find the perfect pairing to take home for dinner or to enjoy as an afternoon snack while lounging in the vineyard.
Dining Experiences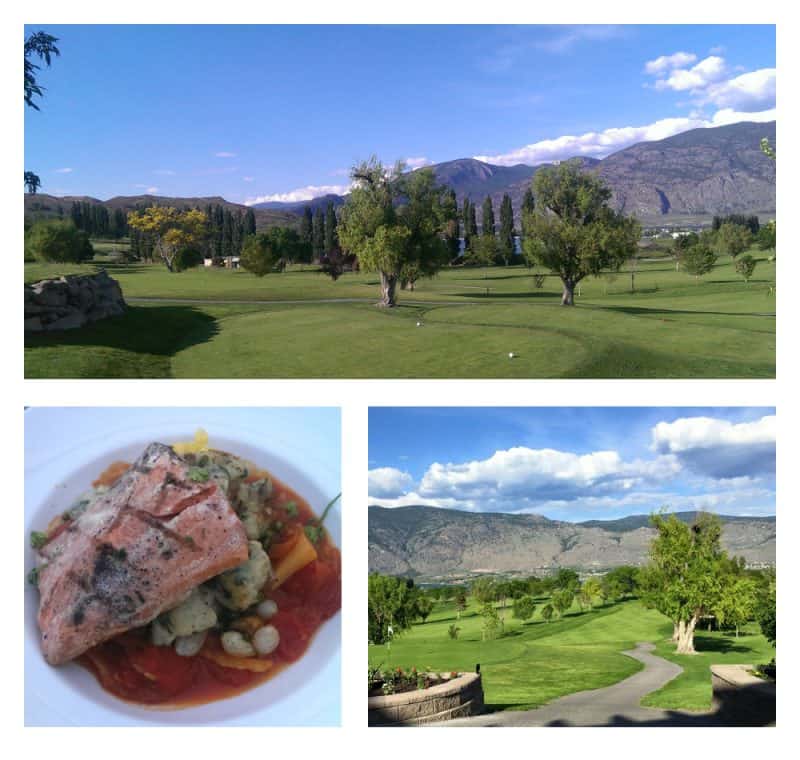 On our first evening in the valley, we were looking for a casual dinner location where we could kick back and relax after a long, busy day and just enjoy the scenery. We choose the Greenside Bar & Grill located on the Osoyoos Golf Course where we were able to sit out on the patio overlooking the golf course with a fabulous view of the orchards and Osoyoos Lake in the distance. The menu offered a great selection of locally sourced food and beverages and the service was spectacular.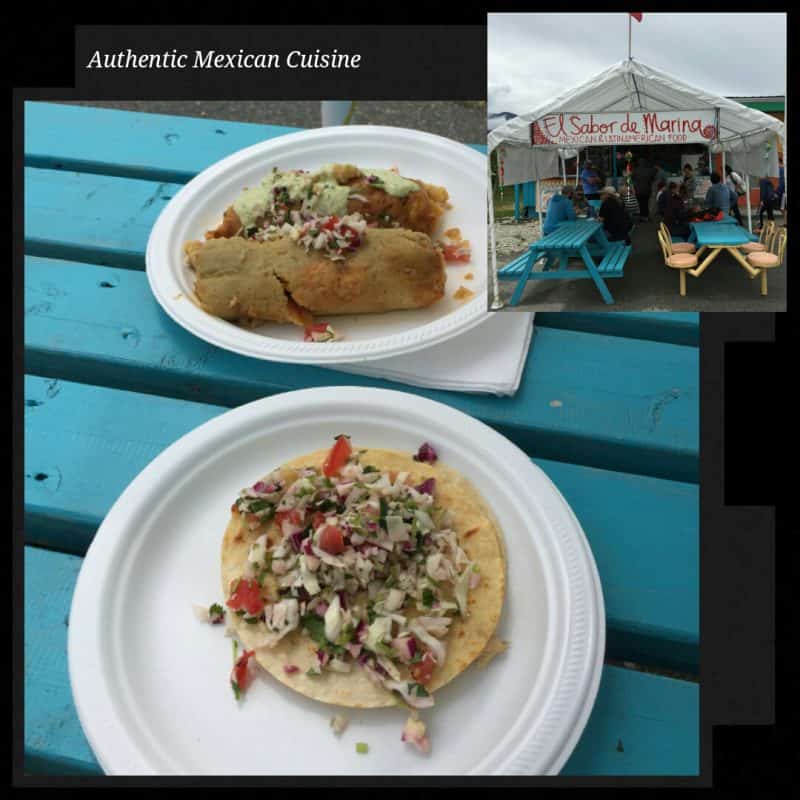 While out exploring the valley, we stopped for a quick lunch at a small roadside food stand on HWY 97 just outside of Oliver that had been recommended to us by one of the locals. The menu offers a selection of Mexican and Latin American dishes that are prepared using fresh ingredients and authentic flavours. The food was delicious and surprisingly affordable (I think our entire order was under $10!). Brightly coloured picnic tables with colourful, fun decor add to the atmosphere.
We decided to end our weekend with a romantic night out at Terrafina. Located at the Hester Creek Vineyards, Terrafina offers a Tuscan inspired menu that provides the perfect blend of Old World charm with New World flair. Designed by award winning designer, Judith Park, Terrafina is a treat for the eyes that transports you to a villa in Tuscany. The restaurant also offers a patio surrounded by manicured gardens and overhanging vines. Terrafina strives to provide simple, clean flavours using fresh products and rustic styling and their menu fullfills this goal beautifully. We started our evening with homemade Focaccia with three spreads including Sun-dried Tomato Tapenade, Bacon & Artichoke Aoili and Balsamic Onion Bean Dip. For our main courses, we enjoyed an Oven Roasted Cornish Game Hen with Parmesan Risotto, Roasted Shallots, Grilled Olives and Red Wine Jus and a perfectly-cooked Double "R" Ranch Striploin with Forest Mushroom Ragu, Roasted Potatoes, Tomato Jam, Sunchoke Puree and Onion Jus. We finished the evening by sharing a delicate Chocolate Hazelnut Bar.
The following two tabs change content below.

Crystal Williams
As Online Editor for Canadian Home Trends Magazine, Crystal has a passion for design and decor. She enjoys browsing the web to find new, exciting decor ideas, DIY projects and unique products to share with her readers. With formal training in graphic design and a background in the event planning/design business, Crystal looks at design from all angles to give readers a fresh perspective.

Latest posts by Crystal Williams (see all)