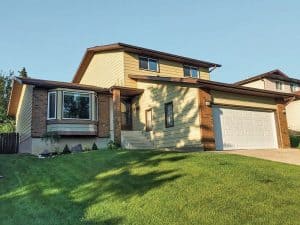 Q: We just bought our first home and the exterior, while in great shape, is very outdated. The brick accents, vinyl siding, doors and windows are all in need of an update. Where should we start in order to give the house a fresh look without replacing everything?
Consider a more cost-effective option of painting with the right product! If you were initially thinking of replacing, that means you're looking for a maintenance-free renovation and a beautiful factory finish that will last. Spray-Net's on-site factory painting solution delivers exactly that, but at a fraction of the cost and in a fraction of the time.
Since your brick, siding, doors and windows all require different final paint properties, we formulate a specific coating for each surface. All Spray-Net coatings are also weather adjustable. That means we can adjust paint formulation on-site before spray application to stand up to real-time weather conditions for an optimal, streak-free finish.
With every project, the result is a permanent factory finish that won't peel and looks just like new and not repainted! We provide a 15-year warranty and take care of everything from prep to clean-up. Most of our projects are completed in just a day, so busy families like yourself can enjoy the new look of their homes in no time! – Text by Kimberly Sevilleja, SprayNet