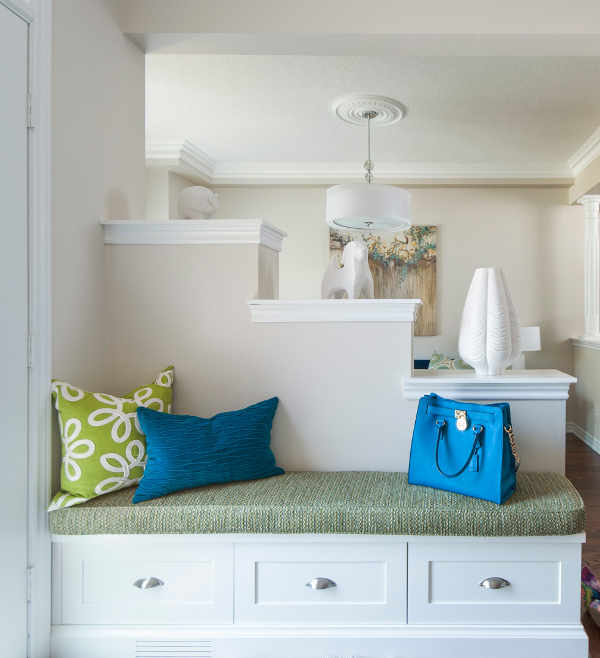 Both homeowners are busy professionals, who wanted a renovation to revision their dull and very beige home. They wanted family-friendly comfort zones that would also be welcoming to guests.
Text J. Lynn Fraser | Photography Stephani Buchman
Mark and Cindy Sergot, two expats from Chicago, moved into their two-storey Oakville home with their two daughters six years ago. Both homeowners are busy professionals who wanted a renovation to revision their rather dull and beige home. They wanted family-friendly comfort zones that would also be welcoming to guests.
For designer Christine Da Costa, the design concept was simple: "We wanted to take the home from drab to fab using colour and pattern." During her initial consultation with the couple, Da Costa learned about the family's lifestyle, likes and dislikes. The renovation's raison d'être was to enhance "entertaining and conversation" in the living room, dining room, kitchen, and family room, as well as updating the foyer and powder room.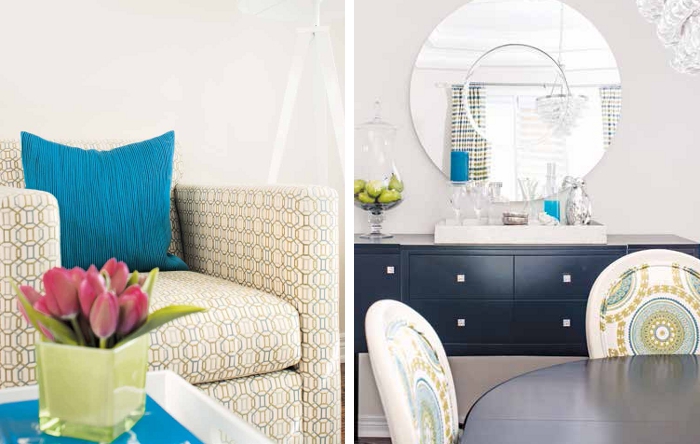 The foyer, with its bright white built-in seating with storage drawers and renovated staircase, sets the scene for the home. Softly coloured wall paints visually expand each room. "Have all your rooms painted at one time during a renovation to reduce smells and inconvenience," Cindy Sergot advises.
Da Costa created "a proper floor plan" for the living room. A built-in window seat for the bay window provides storage space and a favourite place for the couple's daughters, aged nine and eleven, and the family's two cats. A luxe, custom-built, blue velvet sofa is the room's showpiece. "It's cozy, comfortable, functional, but design-wise," says Sergot. Two club chairs balance the sofa's bold presence, while continuing the home's overall geometric motif.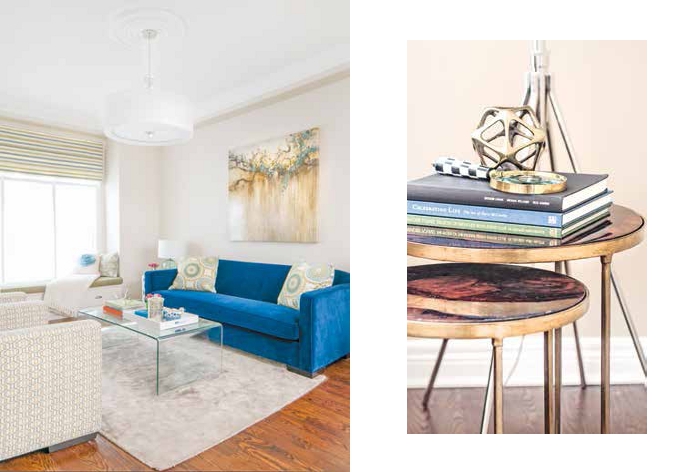 Handsome and feminine, the dining room's design scheme mixes light and dark, solid and translucent. An Art Deco style sideboard adds storage space for China, while complementing the dining room table's dark wood. Overhead, an elegant crystal chandelier adds sparkle. Next to the dining room is the kitchen.  The glass table is accentuated with spring green chairs. The table's base continues the dark-wood design and the square-tile floors add to the geometric pattern.
The family room's new hardwood floor was stained to match the existing hardwood. Using the same flooring type throughout creates a connection among rooms. Da Costa designed a new entertainment unit and ottoman. Custom-built pieces are investments that deliver quality and longevity. Though the couple had saved and given Da Costa a good budget to work with, some design choices were favoured over others. A new wool rug from India, a chair, side tables, lamps, and wall coverings were added. The couple's existing two brown leather sofas were incorporated in the room's design.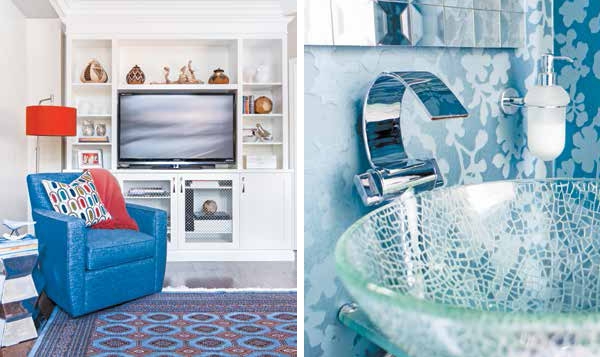 The powder room is now elegant with textured-patterned wallpaper, a steel pedestal sink, with a glass bowl. It has space and personality. "It has become a conversation piece for guests," says Cindy.
Family and friends find the Sergot home a welcoming place. "My husband had about ten of his executive team members here after the renovation," Cindy says. "They commented about how bright and beautiful it looked."
"We LOVE IT! It was worth the investment to feel like our home is 'finished'."
As Seen In Canadian Home Trends Magazine, Winter 2014