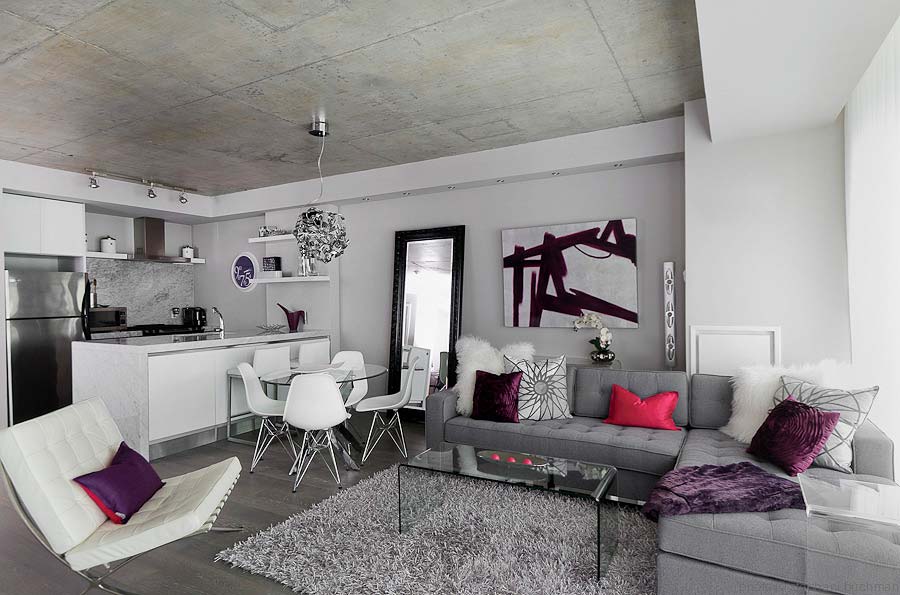 Design junkies will be amazed by the main entrance and lobby of this downtown condo. The futuristic and whimsical design of world-renowned Philippe Starck is unrivaled in this neighbourhood. It is a fun, minimalistic space that seems so calm amidst the city's hectic pace.
When I walked into the building for the first time, I was literally blown away! Peter Freed, the developer had done it again. I was so enamored by the design that I decided, along with the homeowner Lorena Romano, to create a similar feel in her space.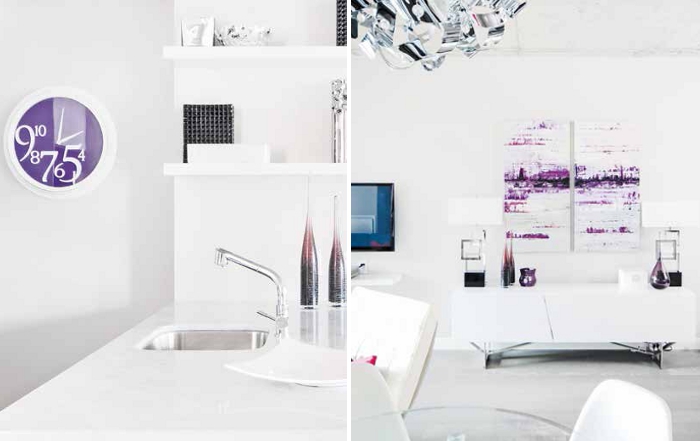 Lorena is a young urban professional in the real estate industry who transmits style. She needed a space with an aesthetic that really personified who she was. The existing concrete ceiling was spectacular and was inspirational in choosing the tones and colours of the space. The floors were an orange-toned wood, and felt quite dated. I had the contractors change the flooring to a modern grey stained wood, and painted all the walls a soft grey tone.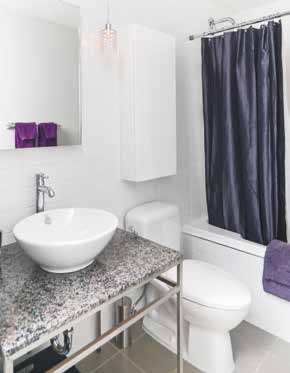 Choosing the sofa was one of the most important details. Tone, texture, and sizing were crucial in the design process. I chose a Gus Modern Jane Loft Bi-Sectional sofa. It was the right feel and fit for the space. We liked its sleek and contemporary lines, and it provided lots of seating for this relatively small condo.
I chose a small round glass table for the dining area; it kept the space feeling airy and balanced with her already existing glass pieces. Lorna loved white lacquer, glass, chrome and modern elements therefore we tried to incorporate these in the space. Needless to say, this condo has been transformed. The lines are clean and contemporary with a glamorous edge. Cool greys and a soft palette help make this eight hundred fifty square feet space appear much larger.
A strong purple accent colour was used throughout the condo to give continuity to the space. Lorena and I both agree that upon completion of the project it is everything that it was meant to be: "modern glam with feminine flirty appeal".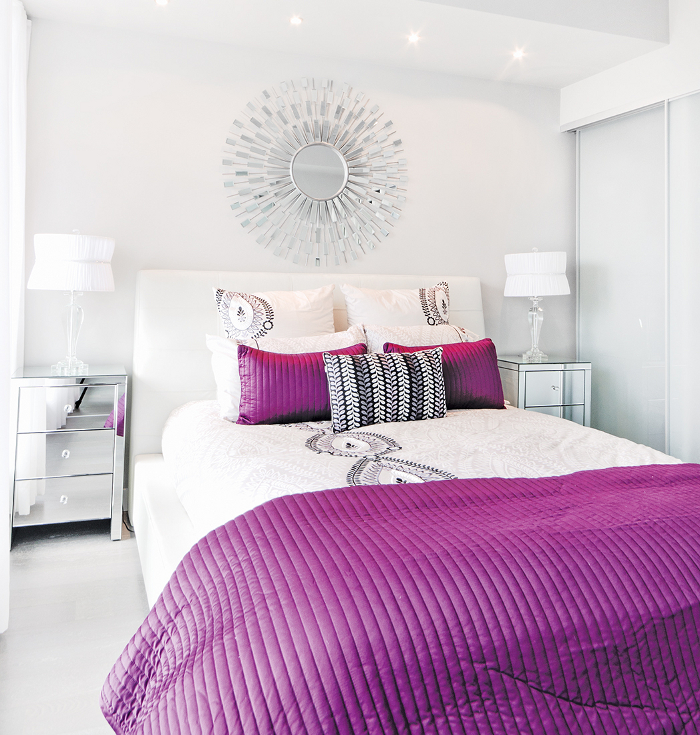 Text Kim Bartley | Photography Stephani Buchman, As Seen In Canadian Home Trends Magazine, Winter 2014
The following two tabs change content below.

Kim Bartley, Principal of Kim Bartley Design, brings 25 years of business ownership and management to the table. Kim's keen eye for design lends her rooms an edgy sophistication while remaining current and functional. Her philosophy is that your home should make you happy and reflect your lifestyle and changing needs. Focusing on unparalleled client care, Kim aims to make the design experience positive and enjoyable at each phase of the project. She works collaboratively with her clients to develop spaces that are clean and modern but still warm and approachable. Kim believes that everyone deserves to live in a beautifully designed space and focuses on truly "getting" her clients.

Latest posts by Kim Bartley (see all)