Celebrating 15 with Brian Gluckstein in Canadian Home Trends Magazine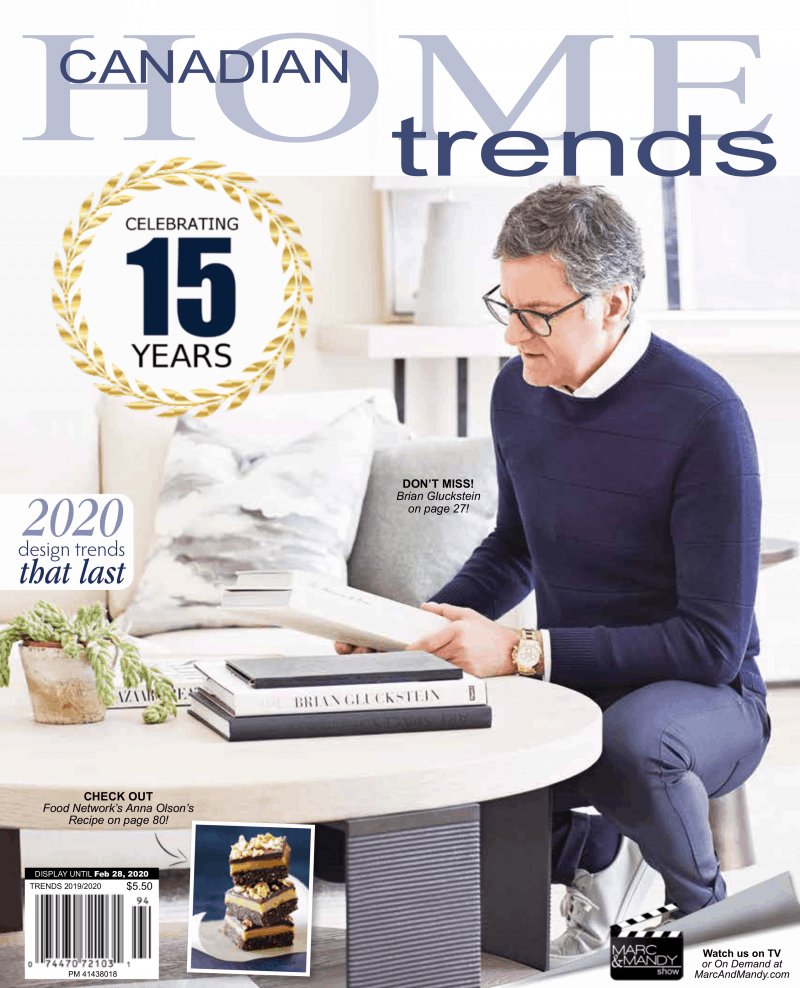 WE CATCH UP WITH 2009 COVER CELEBRITY BRIAN GLUCKSTEIN
LOOKING BACK AT THE LAST 15 YEARS
Biggest accomplishment: 15 years ago we launched Gluckstein Home which has since become an established Canadian brand that I am very proud of. Of course, our design studio has also grown and become more established over that time as well. I also published my first design book in October of 2018 which is something that had been on my bucket list.
THE NEXT 15 YEARS
I'd love a 15 year supply of books, especially biographies and design books, and white supermarket birthday cake with plenty of icing flowers!
I HOPE TO …
I hope to continue growing and improving the Gluckstein Home collections, adding more healthy and organic options, and focusing on the best products and the best quality at the best price for Canadians. I am also in the process of updating my own home, starting with my kitchen which is getting an update with a bit of an industrial feel to it.
I'D BRING BACK …
I'd bring back using antiques in our homes. Design has become much more generic over the years. Vintage pieces and unique artwork make a home feel much more personal and soulful. I love that homeowners are starting to bring back curated vintage pieces into their homes.
MY FAVORITE VINTAGE PIECE
I have an early 1800s French desk in my upper library that was given to my father by my godfather and then passed down to me as a house warming gift many years ago. Now that my father has passed, this piece carries many memories for me.
FAVORITE GLUCKSTEIN HOME PRODUCT
I love all of it and I use all of it; towels, dishes, robes, sheets, etc. If we carry it, I have it in my home.
Find beautiful Gluckstein products here
Never miss an issue of Canadian Home Trends! Subscribe here