Designer and blogger at Cuckoo4Design.com, Julia Konya lives in Pennsylvania with her husband Jarrid, who works in logistics, their two children and four cats, in a house style known locally as a half-double. When designing for her home, Julia allows designs to "evolve" noting that "I am drawn to so many different styles—mixing them is the way to go for me."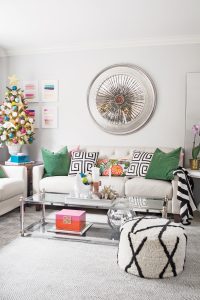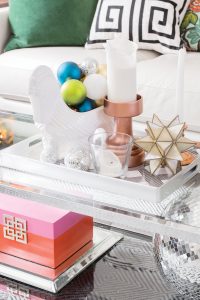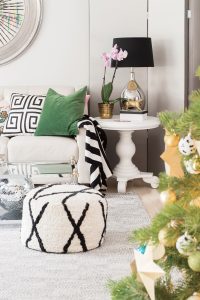 The soft -spoken neutrals in Julia's living room, presented on the walls and furniture, allow a visitor's view to focus on Julia's portfolio of treasures. Quietly commanding, the circular mirror illuminates the room's theme of metalics, circles, graphic lines, and refined reinterpretations of tradition. Its radiating spokes give the eight foot ceiling the appearance of greater height. "The round mirror is something that I threw together on a whim one day," she comments.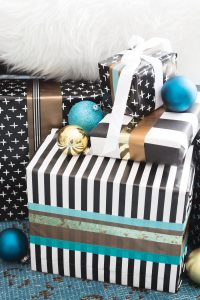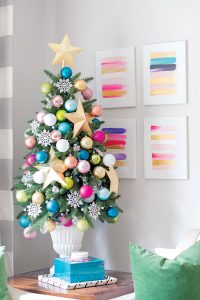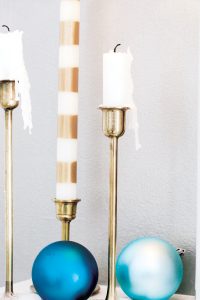 Holiday decorating begins with a focus on delighting guests while surprising them with a fresh mixture of colour, texture, and materials. "I have several traditional pieces of furniture which never go out of style. Mixing them with budget-friendly modern accessories keeps them interesting."
In Julia's living room, a small, white-urned Christmas tree exuberantly displays an array of baubles and stars. Framed artwork and an orchid echo these colours. Pillows and carpeting, a red lacquer box, a throw and an ottoman deftly denote the room's graphic dashes. Julia states: "I know that a combination is right when it makes me happy." Julia's main Christmas tree reinterprets the traditional single star with gold stars and ornaments that represent the living room's motif.
The fireplace vignette is situated in the living room with an entrance to the kitchen nearby. In this room, the design's inspiration was found in the blue rug. "I really like the look of vintage over-dyed rugs," Julia says. The chairs and lamps are something I had for a long time. I like to switch them up by using different throw pillows and ribbon around the lamps." Her work, despite its eclecticism, is influenced by established methods. "I have always been drawn to symmetry, which is a very traditional approach."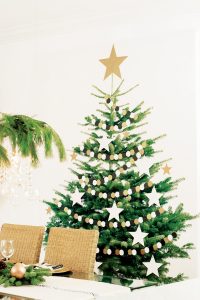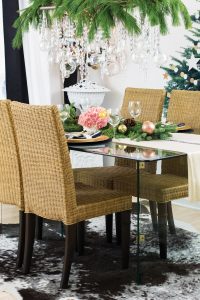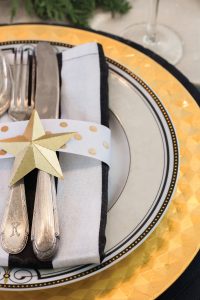 The dining room and kitchen, in the 1,800 square foot home, are open concept. The living room can also be reached through the black and white dining room hallway. In the dining room, the chandelier takes pride of place. Julia used silver metal wire to hold the pine and glass candle holders in place. Almost invisible to the eye, the glass table is twenty years old. The table runner is made from a folded tablecloth. As in the décor of the fireplace space, Julia used layering as a technique to achieve the table setting's rich appearance. "Layering place mats and different sized plates with a variety of flatware and linens gives it a more expensive look," Julia advises.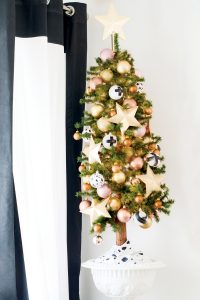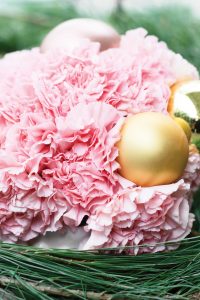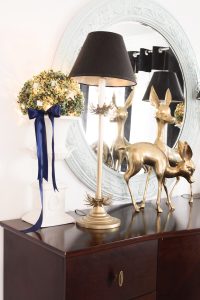 "My husband gives me a free hand with everything—which I love. Th is is certainly a case of where opposites attract," Julia notes. "I have learned to just be braver and go with my instincts. To me there are no rules. That's the type of design that appeals to me."
Sources:
Space Designed by Cuckoo4Design, www.cuckoo4design.com;
Photography, Cuckoo4Design, www.cuckoo4design.com;
Small Christmas Tree, Target, www.target.com;
Sofa, Macy's, www1.macys.com;
Rug, RugUSA, www.rugsusa.com;
Tables, Bombay Company, www.bombay.ca (Painted);
Sofa Chair, Ikea, www.ikea.ca;
Fireplace Rug, RugsUSA, www.rugsusa.com;
Fireplace Lamps, Target, www.target.com;
Fireplace Vases, Target, www.target.com;
Fireplace Pillows, Ikea, www.ikea.ca, (with Hand Painted Dots by Designer);
Pillows, H&M, www.hm.com/products;
Pillows, Lowes, www.lowes.ca;
Small Accessories, Homegoods, www.homegoods.com;
Ornaments, Target, www.target.com;
Ornaments, Lowes, www.lowes.ca;
Dining Chairs, Pier1, www.pier1.ca;
Sideboard, Bombay Company, www.bombay.ca;
Vegan Cowhide Rug, (Dining Room), Overstock, Overstock.com;
Dining Room Curtains, (Painted), Ikea, www.ikea.ca;
Wall Crosses, Cuckoo4Design Etsy Shop, www.etsy.com/shop/Cuckoo4DesignStudio