Long weekends are perfect for relaxing with friends and family , as well as catching up on personal errands and household chores. That extra day on your weekend is also the perfect time to start a home improvement project or two. Consider these seven simple DIY projects. The best part about them? They only take a weekend, (maximum), to complete start-to-finish.
Exterior shutters.
Exterior shutters can be made of vinyl, wood and composite materials, and are a unique way to brighten and define your windows while complimenting your overall exterior.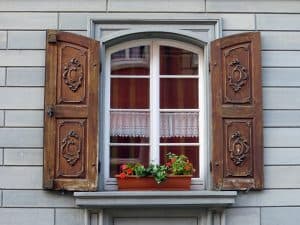 Paint your exterior trim.
Give your house a totally new look by painting your trim a different colour. Pick a colour that will pop and that's noticeably different than your existing hue. For best results, start painting from the corners.
Replace your window treatments.
Curtains and drapes become weathered by sun exposure, not to mention stained, torn and damaged from general wear and tear. Replacing your window coverings are a relatively inexpensive project and can give any room a fresh, renewed look.
Get creative with crown moulding.
Mimic an elegant Victorian style home by installing crown moulding in interesting ways around your home. For instance: dress up a wall with large rectangular panels bordered in crown moulding.
Touch up your baseboards. 
No matter how careful you are, scuffs, chips and scratches on your baseboards are bound to happen. Luckily, cleaning them up is a relatively simple task. Use putty and a putty knife, and be sure to sand after the putty dries before you whip out your paint brush.
Replace cracked and broken switch plates.
Or, look for alternative materials, like metal or wood finish.
Add a ceiling fan.
Installing a ceiling fan is the perfect project to take on in the spring before the heat starts to intensify. Pair your fan with a lighting fixture and save yourself on air conditioning costs during the balmy summer months.
The following two tabs change content below.
Zakiya Kassam
Zakiya is a freelance writer/editor based out of Toronto. You can follow her on Twitter: @zakkassam
Latest posts by Zakiya Kassam (see all)