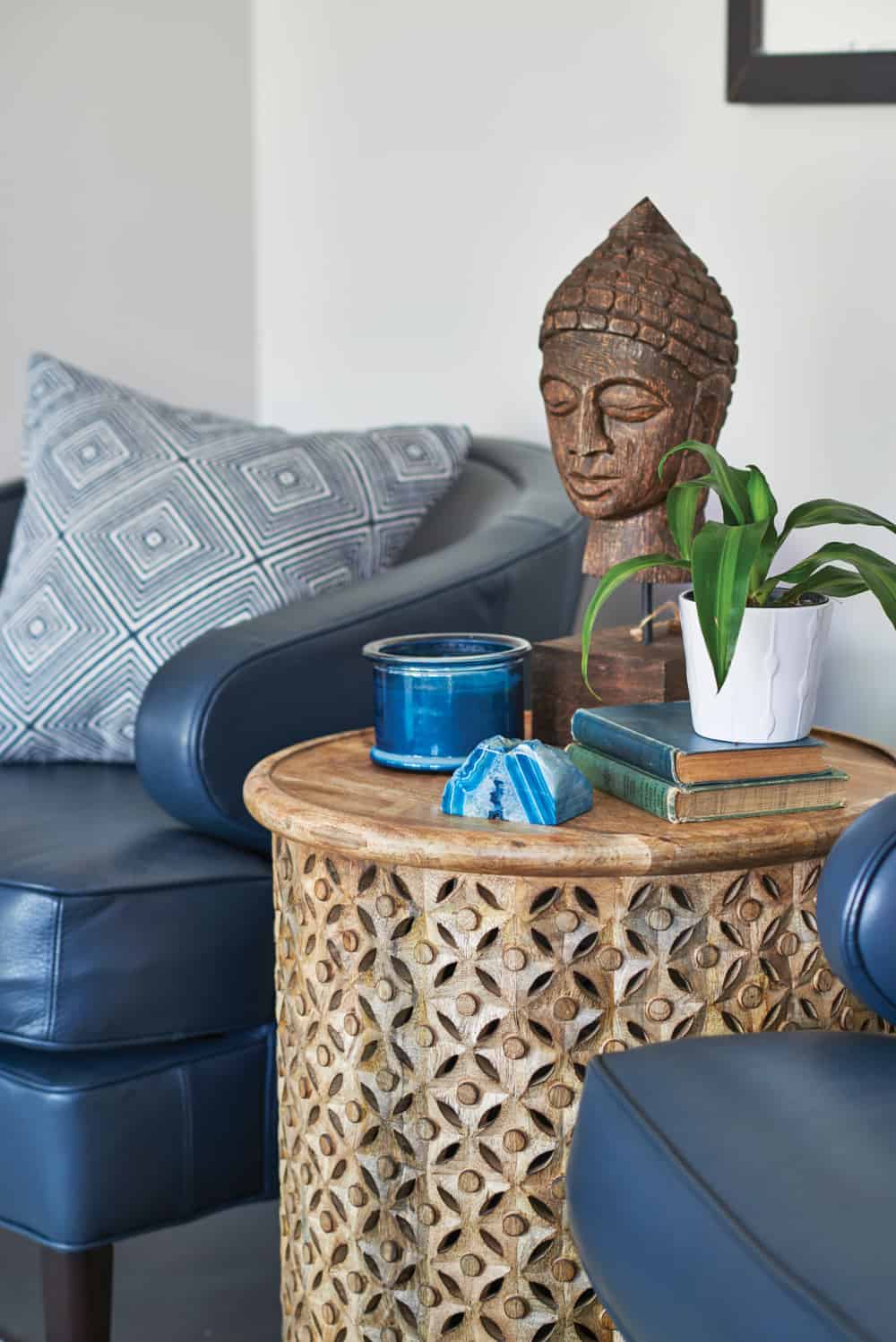 Gleaming blues and warmed woods weave family comfort into this stunning home!
Elementary school teacher Susan Stewart and husband Paul, who work in commercial real estate, wanted a full renovation for their thirty-year-old home. The renovation created the minimalist, contemporary ambience they wanted. However, Susan notes, they realized their existing furniture did not complement or fully utilize the new spaces.
Collaborating with designer Robbin Caskenette, Susan says, enabled their home's transformation by using existing finishes and some furnishings we were unwilling to part with. The 2,640 sq. ft., two-storey home blends traditional and trendy with serene minimalism. "Robbin's color choices tied the main floor together," Susan comments.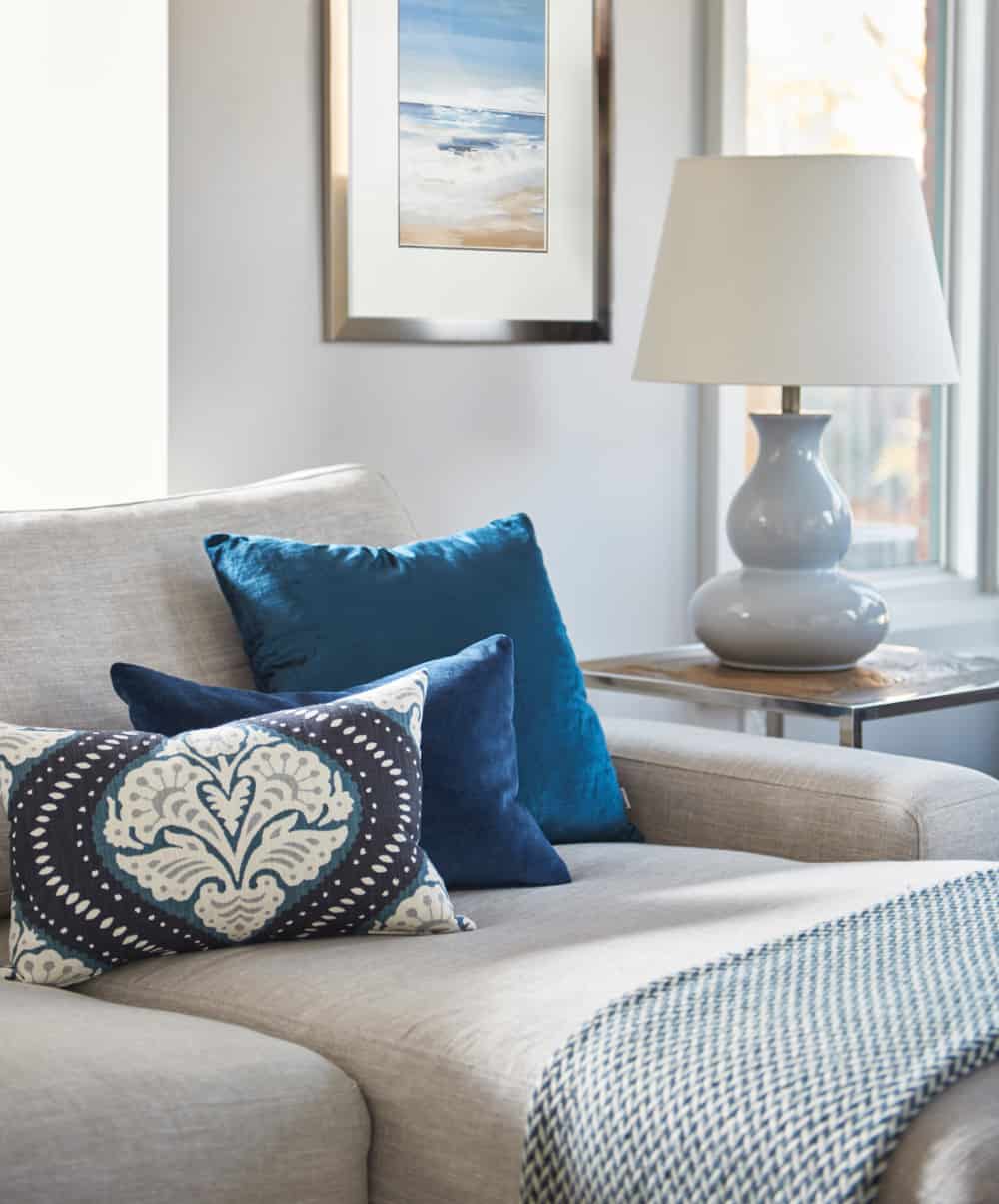 "My role," Robbin notes, "was to create consistency with the décor and renovations. Susan, Paul, and daughter Gillian like to spend time together watching movies and TV. They wanted comfort, function, and style."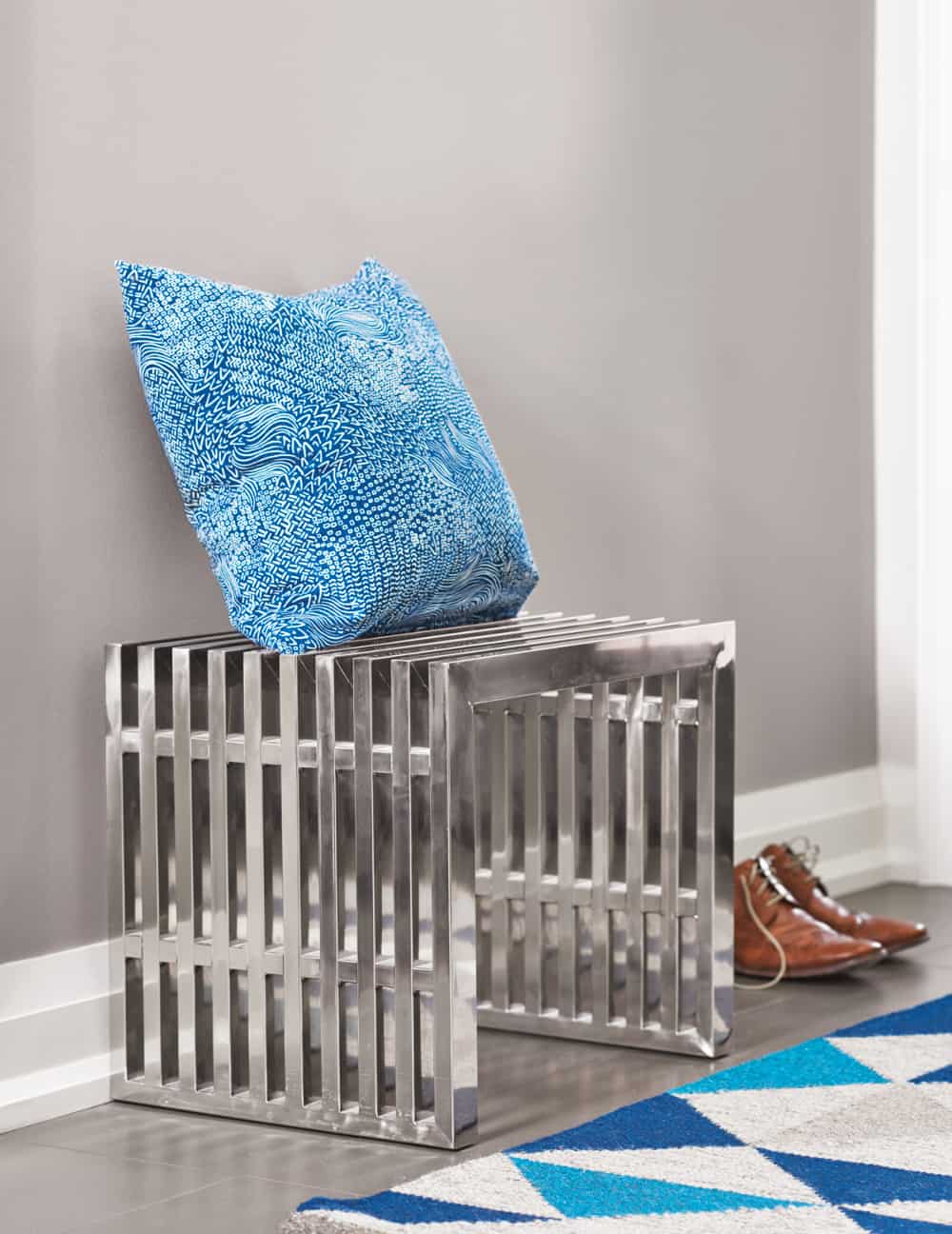 Robbin advises, "when choosing the color palette, select one or two main colors and then one or two accent colors." A visual connection across rooms is created by repeating colors.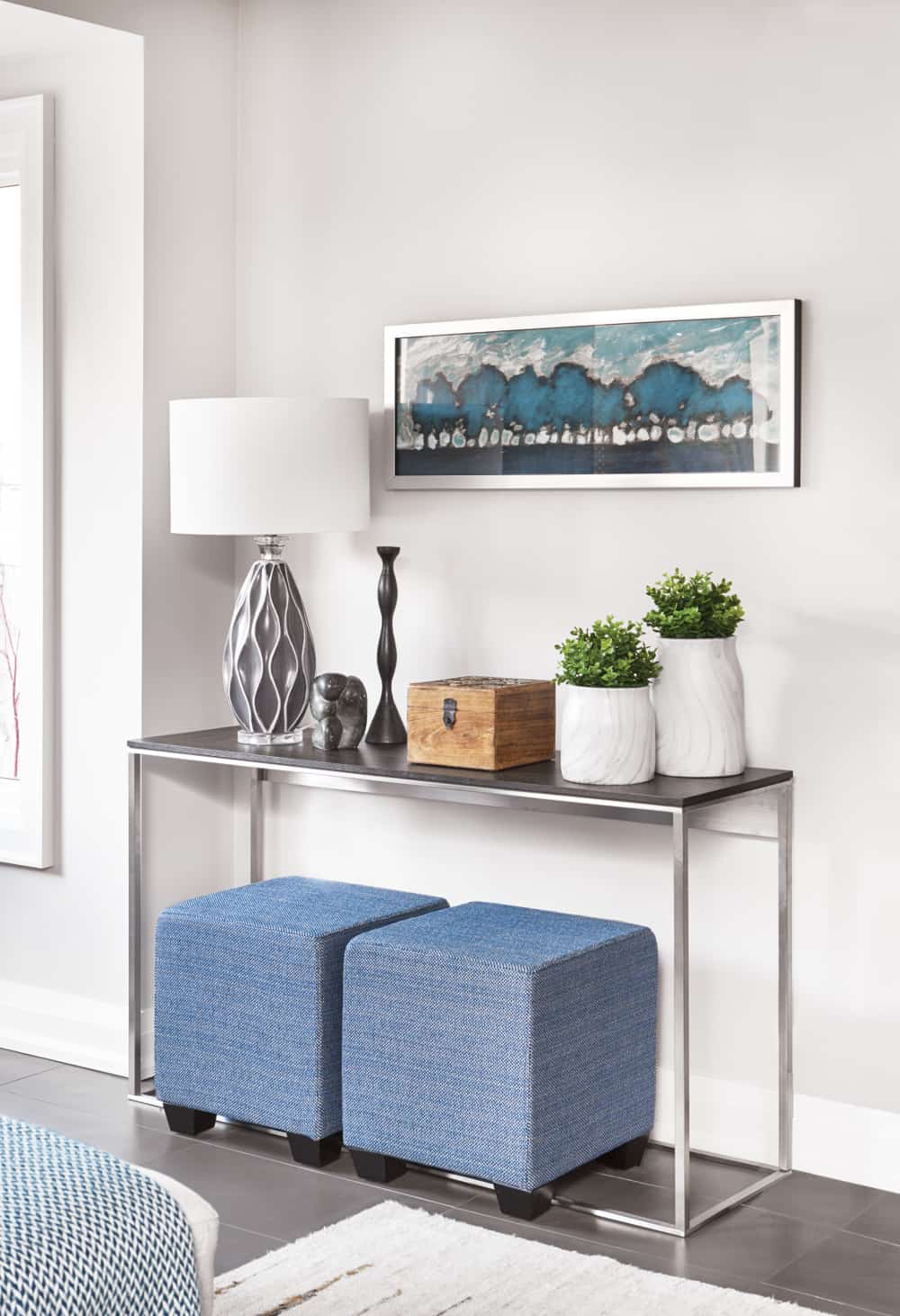 Gleaming glass greets visitors in the foyer, situated to the front door's left. The console's accessories establish the home's warmed minimalism. "The console," Robbin comments, "was chosen to balance the contemporary hard finishes and to relate to existing rustic pieces." The woven silver stool metal converses with the wicker basket as well as with the gloss of the glass, lamp, and stone.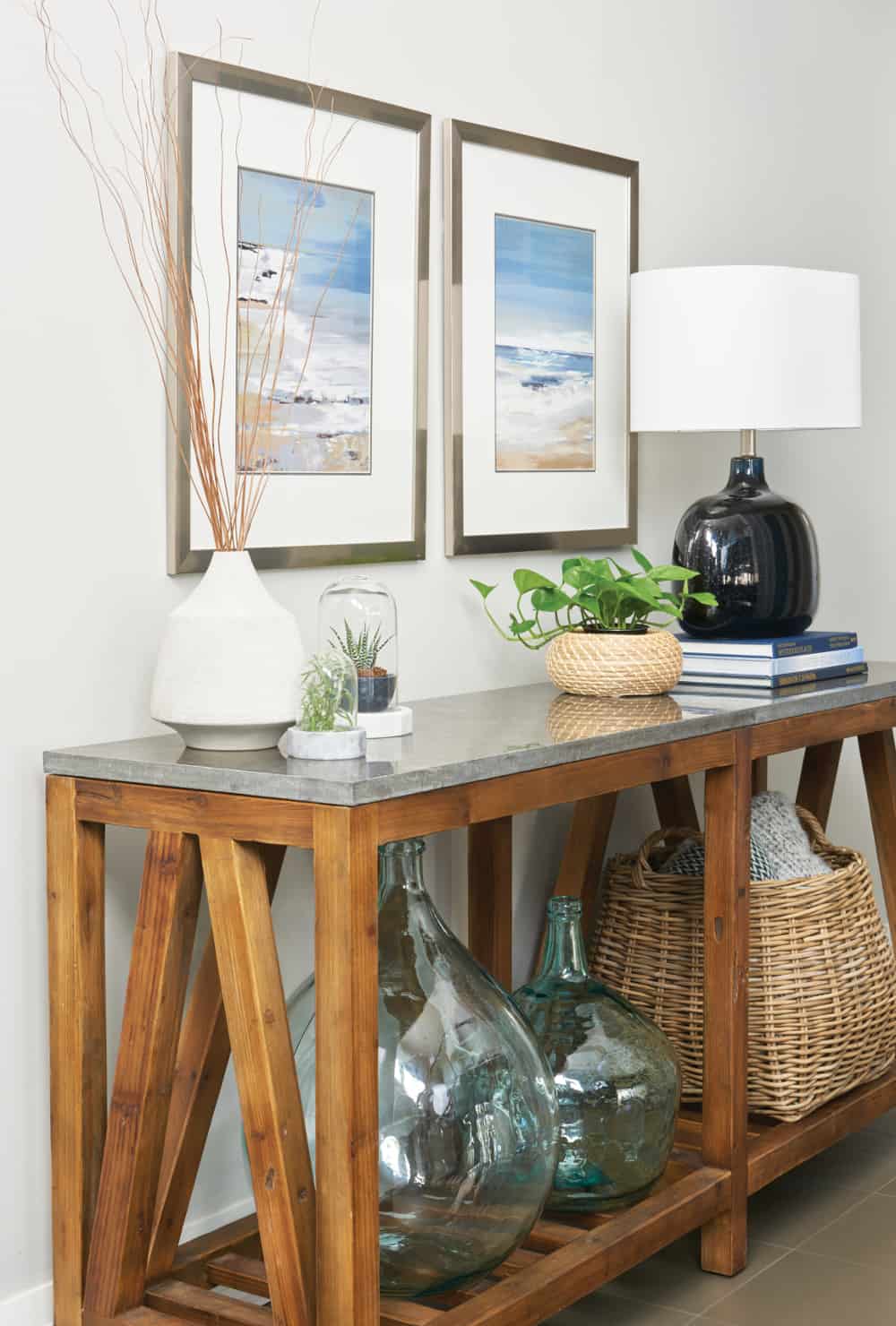 Susan wanted a clean look for the office, situated to the door's right. The room's bright geometrics echo motifs throughout the home. Lapis lazuli blues and cloudy whites are repeated in the rug, furniture, and artwork. Driftwood browns in the credenza recall the foyer's beach theme.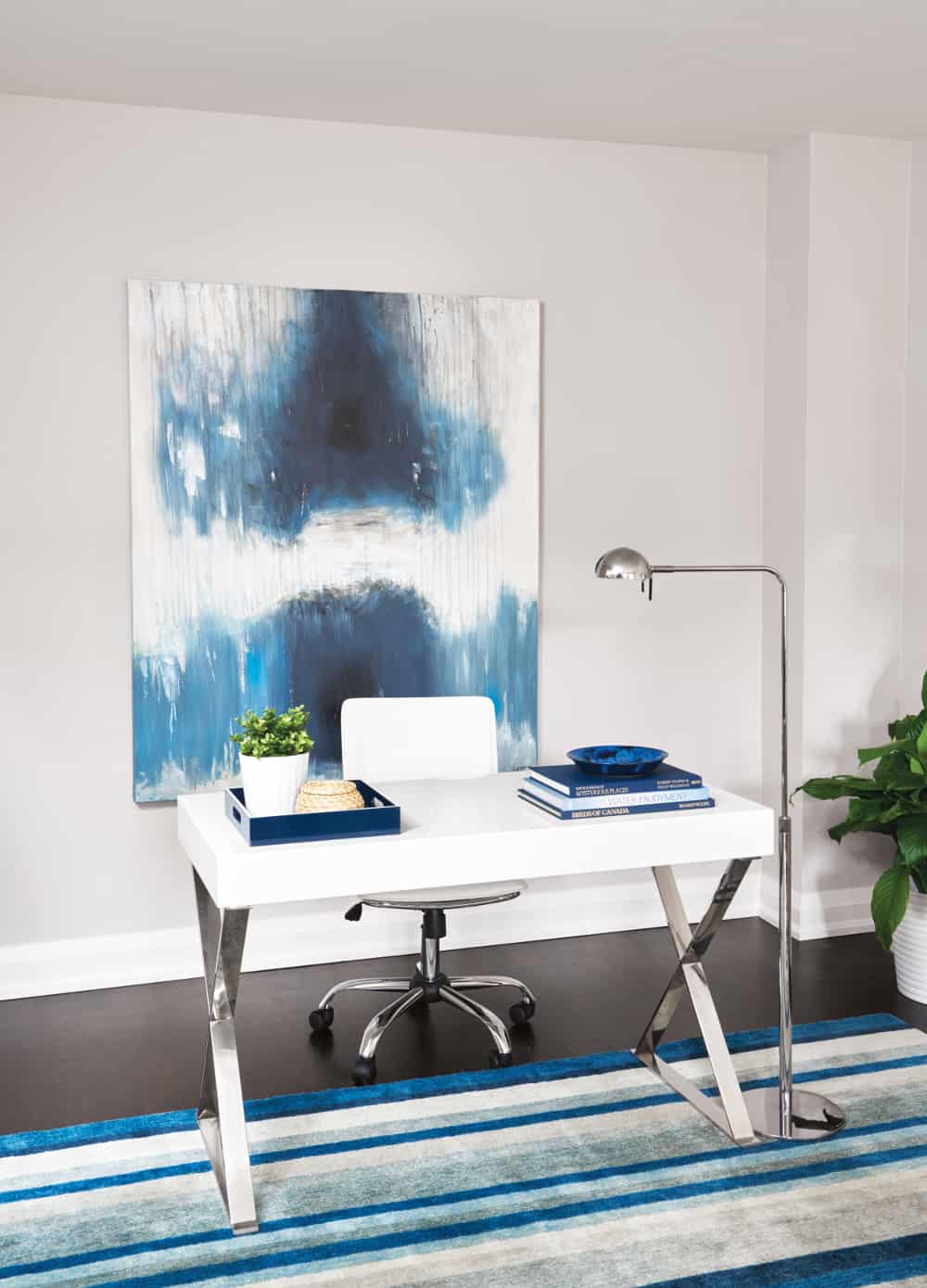 In the family room, to the stairs' right and back, lustrous blues in the accessories and chairs rephrase pattern and color connections across the home. "We wanted the room to be comfortable." The plumply upholstered couch and chairs echo the foyer's full-figured accessories and polished blues. The console's lithe frame is restated in the fireplace's wood frame and framed artworks.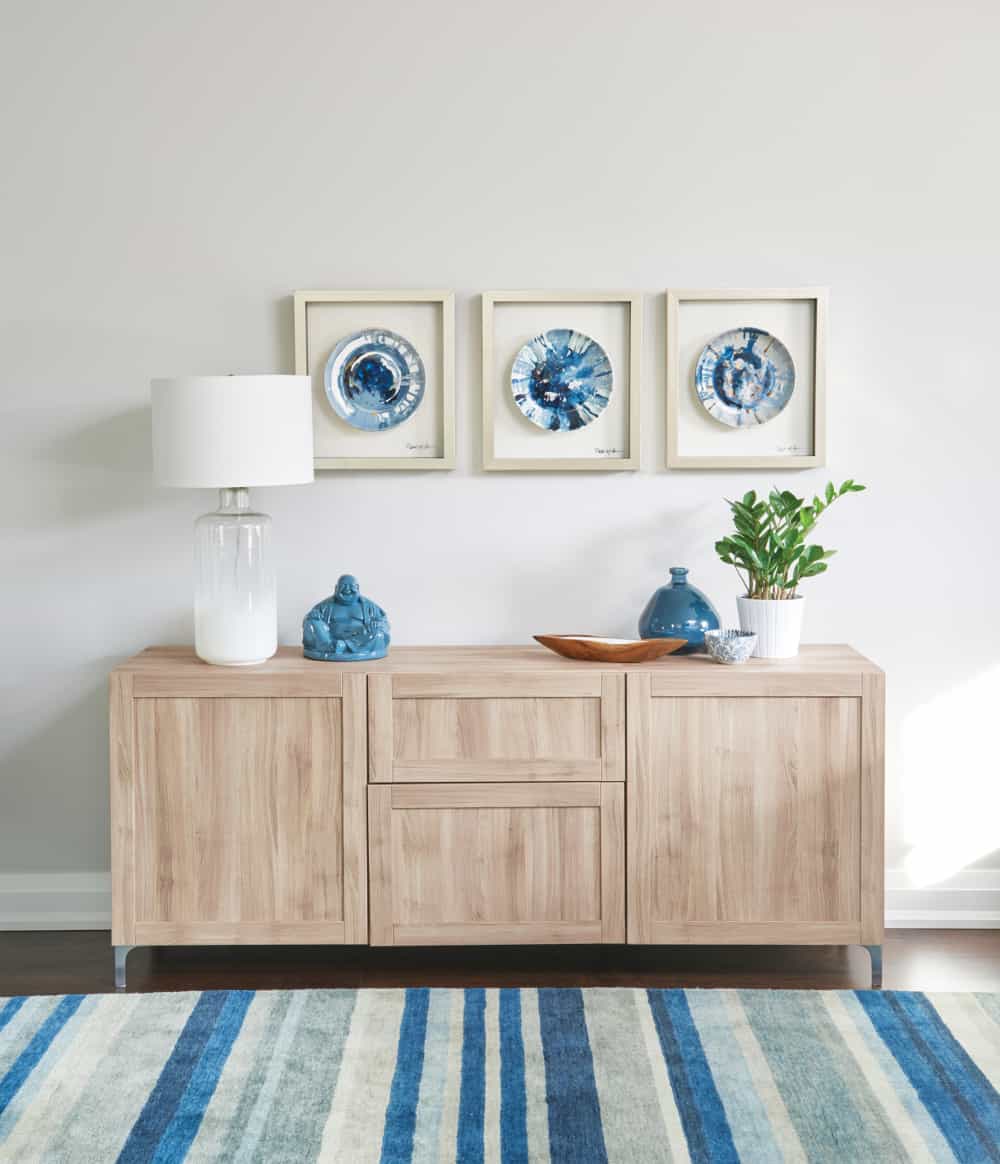 A parade of glowing glass vases traipse across the dining room's table made from New Brunswick barn board. The room combines new and original pieces. Susan notes, "The chest and painting are family heirlooms." The vases' restate the chairs' leather blues and the Persian rug's tones. Robbin notes this room has a global feeling due to the rug, the chest and accessories. The chest's rustic arcs and the blue vase complement the painting's colors and shapes creating an arresting vignette.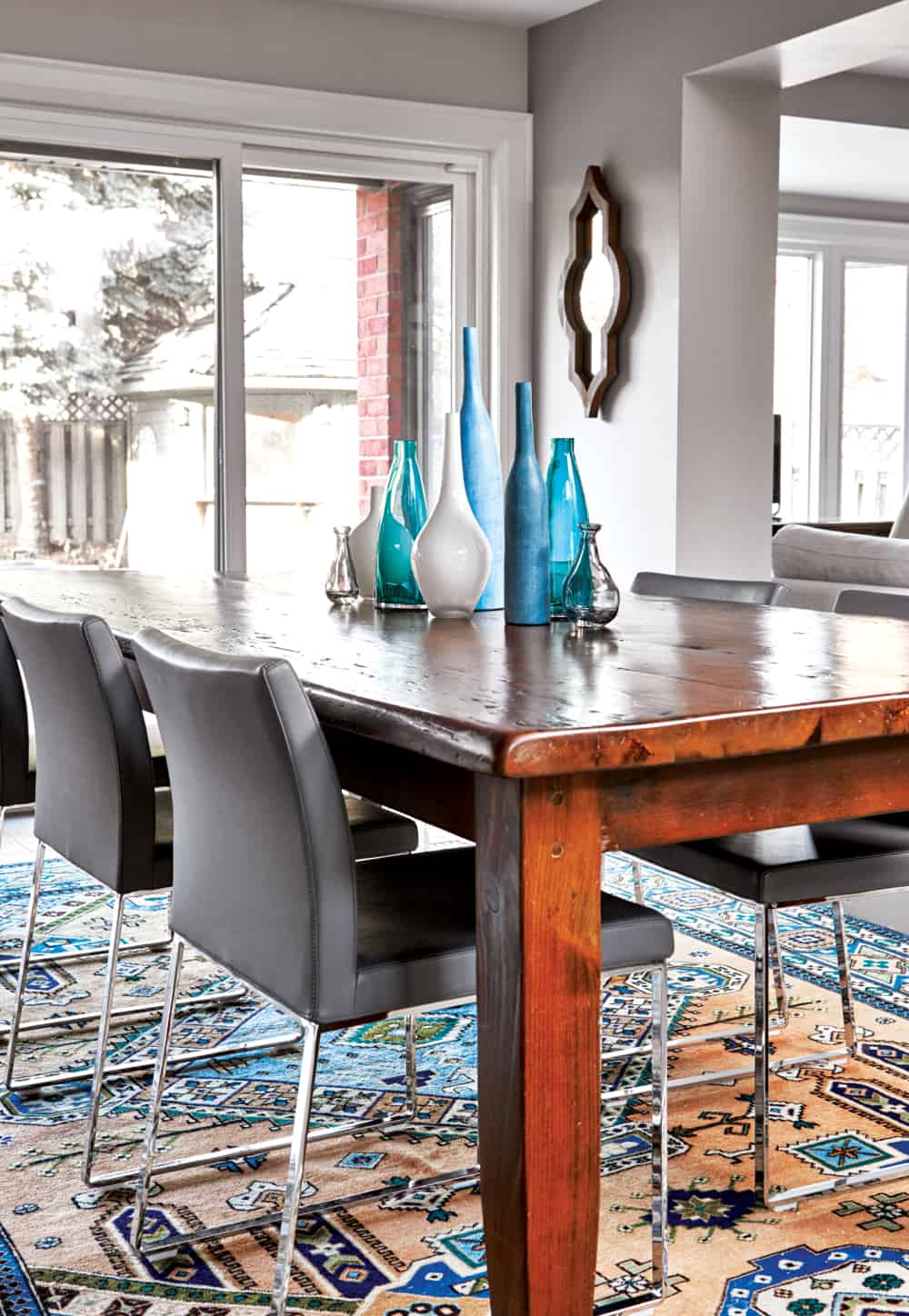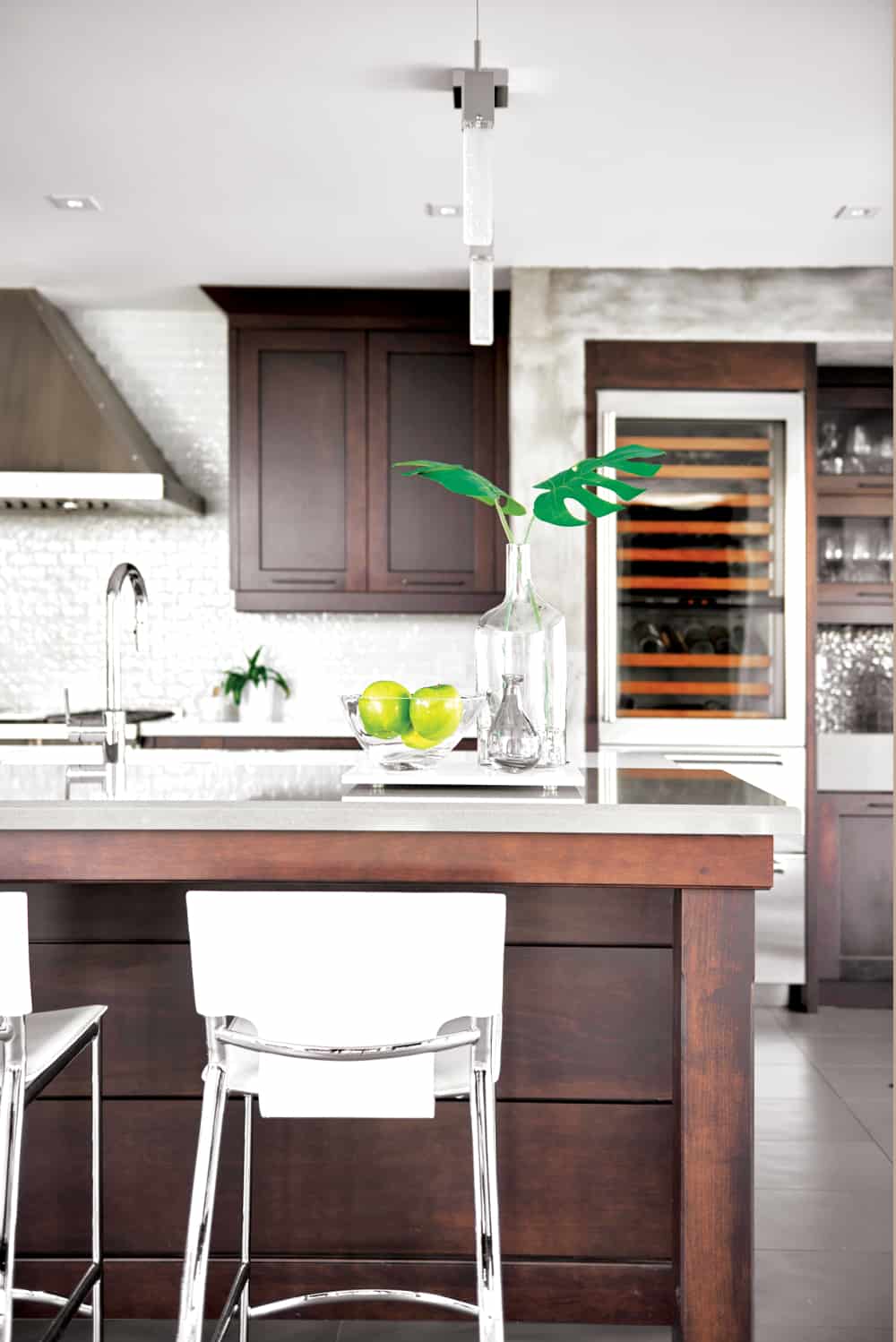 "The kitchen's laid back nook is a place to relax, to drink morning coffee or a glass of wine," Susan notes. As throughout the home, the rug and table help define the space and continue the theme of blues and geometrics.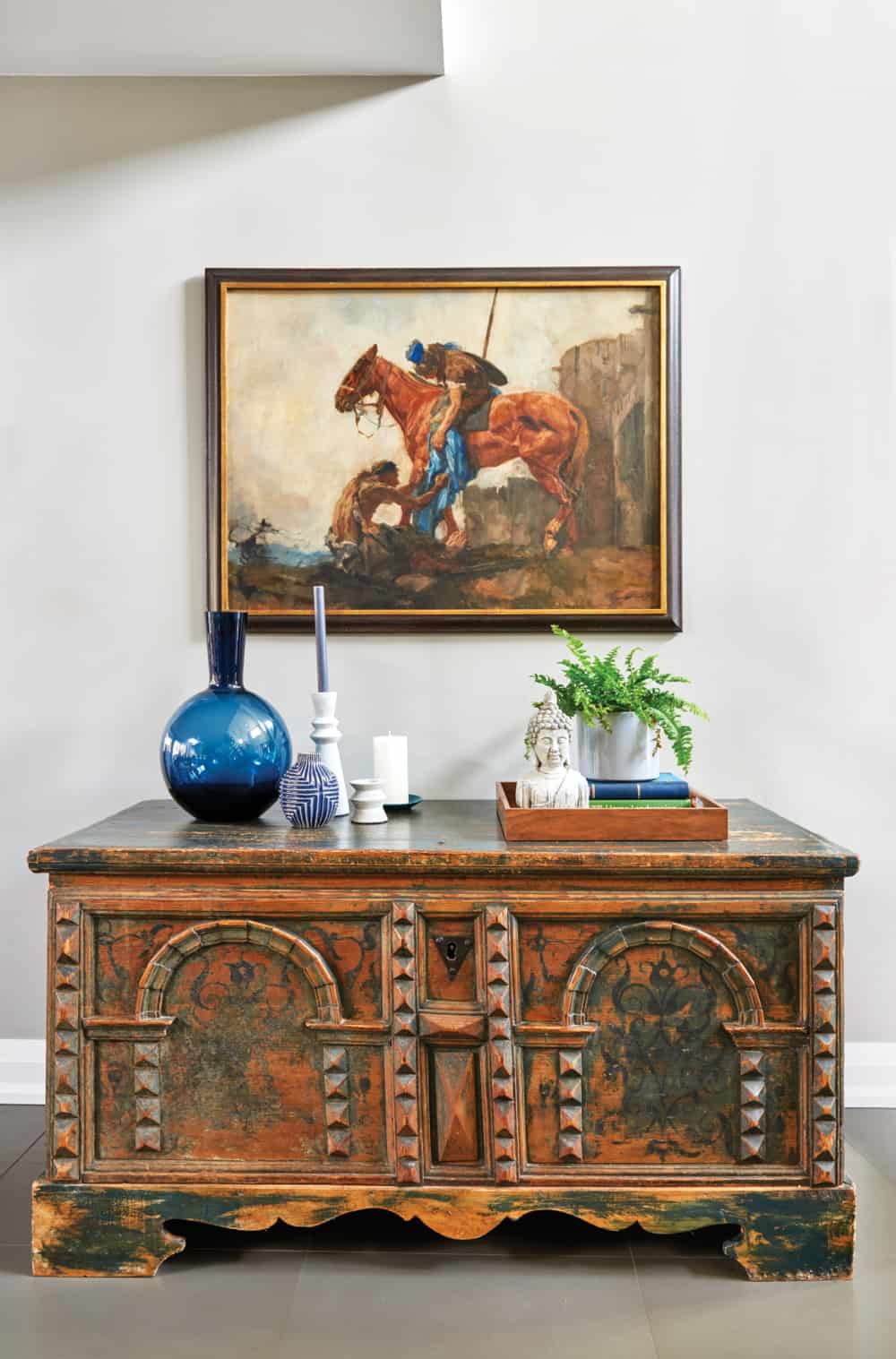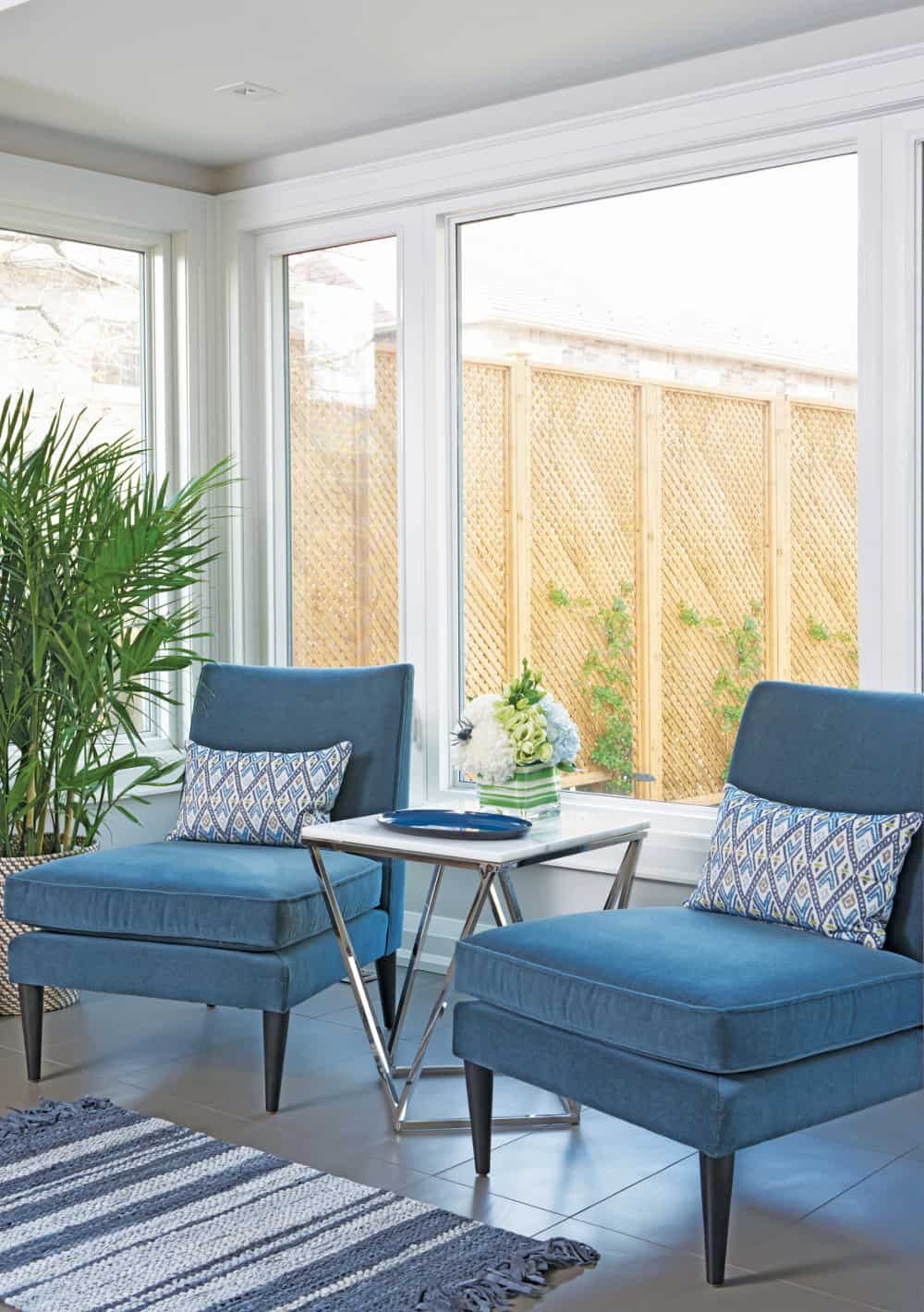 "We have had very positive feedback," Susan remarks, "Family and friends liked how Robbin integrated some of our existing items with a new contemporary look."
Text by J. Lynn Fraser
Space Designed by Robbin Caskenette Interiors
Photographer, Stephani Buchman
FOYER: Console Table And Woven Basket, Crate & Barrel; Table Lamp, Structube; Large Glass Vessels, Art and Other Accessories, HomeSense
OFFICE: Desk And Desk Chair, Wayfair Canada; Floor Lamp And Blue Glass Bottle, HomeSense; Tray and Small Bowl, West Elm; Large Art Piece And Table Lamp, Renwil, www.renwil. com; Credenza, IKEA; 3 Art Pieces and Area Rug, Surya; Turquoise Buddha, Urban Barn; White Plant Pot, IKEA
DINING ROOM: Reclaimed Wood Dining Table, existing piece belonging to client; Dining Chairs, Urban Mode; Vases on Table, IKEA; Vases on Table, Structube; Tray and Vases, West Elm; Concrete Candle Holders, CB2; Blue Glass Vase, HomeSense; Stone Buddha Bust, Urban Barn
KITCHEN NOOK: Slipper Chairs, Crate & Barrel; Accent Table, Wayfair Canada
FAMILY ROOM: Sofa and Ottoman, Brentwood Classics; Accent Chairs, Brentwood Classics; Carved Wooden Side Table, Throw And Tray, West Elm; Carved Head, Art Above Console And Accessories on Console, HomeSense; White Plant Pot, IKEA; Cube Ottomans, Vangogh Designs; Wood and Chrome Side Table, The Goods; Table Lamp on Console and Area Rug, Surya; Table Lamp on Wood and Chrome Side Table, Renwil; Floor Lamp, Elte Market; Large Water Color Art, Crate & Barrel; Circular Metal Wall Decor, Structube; Fur Pillow, Urban Barn