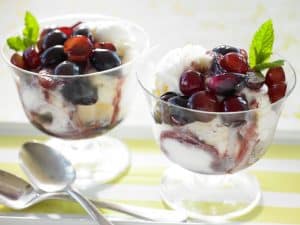 This festive holiday dessert is perfect for entertaining your guests this Christmas! The decorative touches that tie it together create a beautiful and delicious dish that will leave everyone wanting more.
Grapes in Port Wine Sauce
Serves: 6 (1/2 cup each)
Prep time: 5 minutes
Cook time: 20 minutes
Rest time: 60 minutes
Ingredients:
• 1 cup (250ml) Port wine
• 1 2-inch x 1/2-inch strip of orange peel
• 1 cinnamon stick
• 1 tbsp (15ml) honey
• 3 cups (1 pound or 454g) halved red or black seedless California grapes
Directions:
1. Combine wine, orange peel, cinnamon stick and honey in a saucepan and bring to a boil, stirring to dissolve honey. Reduce heat to medium-low and simmer until liquid is reduced to about 1/3 cup (80ml), about 15 to 20 minutes.
2. Using a slotted spoon, remove the orange peel and cinnamon stick and discard. Stir in grapes. Allow to sit, stirring occasionally, for at least an hour or up to two hours at room temperature, or refrigerate in an airtight container for up to three days.
3. Serve over ice cream, frozen yogurt or in a small dish on its own, with biscotti.
www.newscanada.com