Hairdresser turned home stager Peg Barcelo-Jackson, RESA member and owner of  Fluff My House Home Staging Inc, has always had a natural eye for design. This week I chat with Peg about her journey from hairdresser to home stager and what she's learned along the way. She shares some of her favourite trends, inspiration sources and recent projects along with insight into her own design style.  – Crystal Williams
Peg at Home
Have you always had an interest in home decor?
Yes, I was always rearranging my room as a kid. I loved making & hanging things on the walls and from the ceiling.
How would you describe your personal decor style?
Eclectic/Romantic/Classic
What one room in a home would you say is your favorite and why?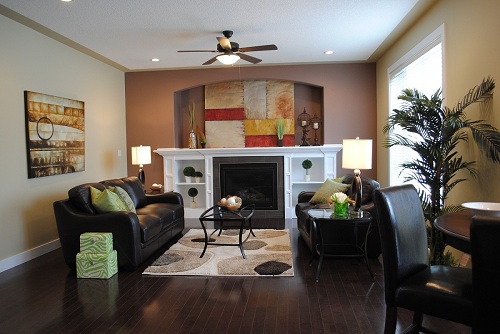 It's hard to choose. The living room can have so many cool/fun things in it, but the bedroom can be made into such an oasis.
If you could pick one room in your home that needs to be redone, which room would it be and why?
I'm currently working on our living room. I just tore down the old wallpaper. Now I have to repair and paint the walls, find a new area rug etc.
If you could have a designer come into your home, who would you pick and why?
I LOVE Sarah Richardson! I love her combination of colour, pattern and textures. She has fun too and loves a bargain just like I do!
Peg on Trends & Inspiration
Where do you find inspiration?
Design magazines like Home Trends and home decor TV programs.
What current home decor trends do you love?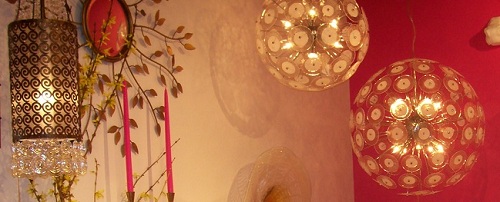 I was at the Las Vegas Design Market earlier this year and saw so many inspiring things, love the trend toward circular patterns in fabrics and accessories. I even have painted a few canvasses with that in mind!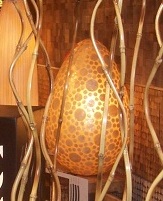 What current home decor trends do you think should go?
Unstaged homes for sale and bad MLS photos, I know that's not what you meant, but it's a pet peeve. No $2 million dollar home should have dishes in the sink for their MLS photo. (true story)
If you could pick the next big trend or hot colour, what would it be?
I LOVE teal so the fact teal and tangerine were a big spring trend made me happy. I still like teal with chocolate brown the most.
What are your five favorite websites/blogs for design inspiration right now?
I love perusing the wholesaler furniture and accessory websites and thinking about what I will order! Houzz.com is great as well. I also enjoy My Flufftastic Fairy Facts Blog & my fellow Stagers blogs via Active Rain.
Peg at Work
How did you get involved in the Home Staging industry?
I have had a mobile hair service for over 20 years. often during the course of conversations we would be discussing the clients' home decor and I would make suggestions. I found I wanted to be more full time suggesting and perhaps be paid for it.
Can you share before and after photos of one or two of your favorite staging projects and tell us a little about them?
This one was a $900,000 home with stunning views and a wonderful builder who had never used a Stager before. He was very proud of the green wall colour he had chosen, so I made sure to highlight it. Then the icing were the expressions on the clients' faces when they walked in at the end of the Staging day and hearing them say they wanted to move in!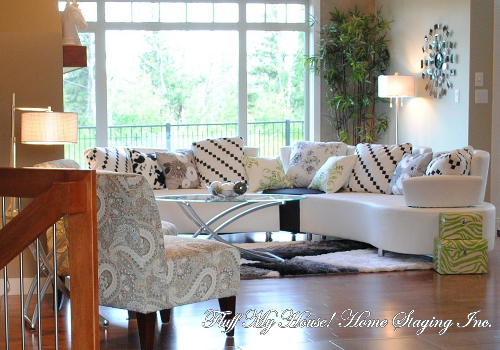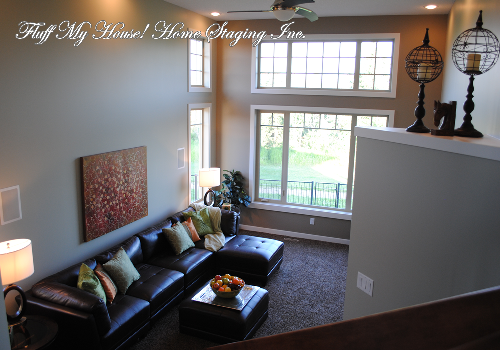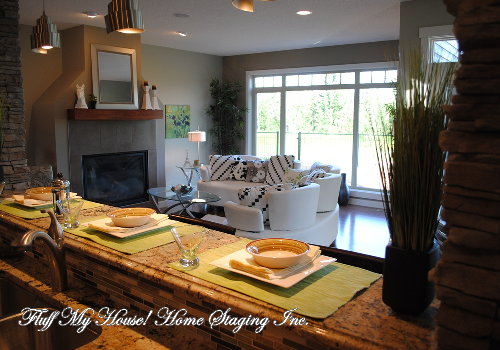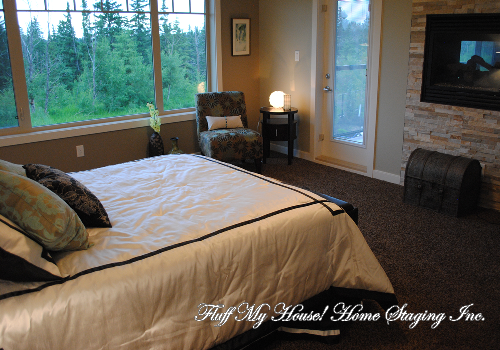 The second was the most recent Staging I did. The lady told me she was so happy I was her Stager. She had researched the local websites and loved my work. I wanted to do something special for her so painted this painting to hang in the living room. The duplex sold in less than 2 weeks!
Terrasuna Painting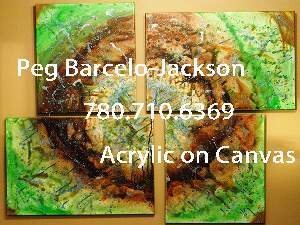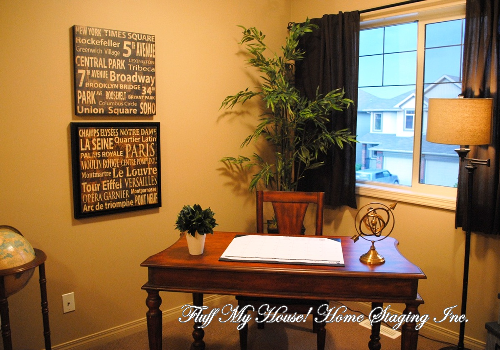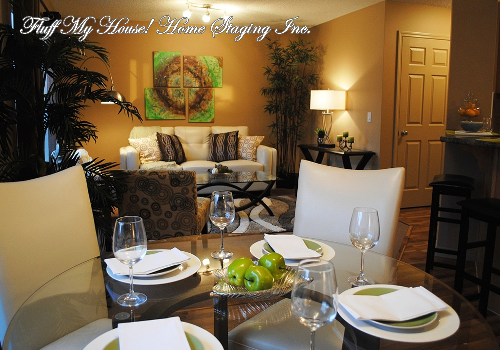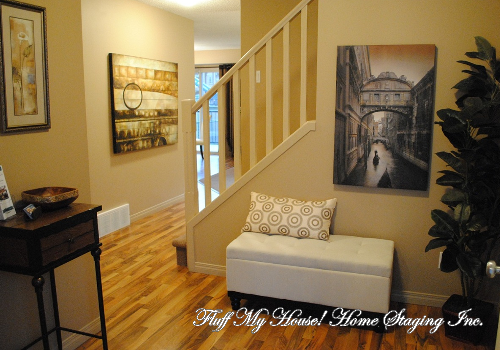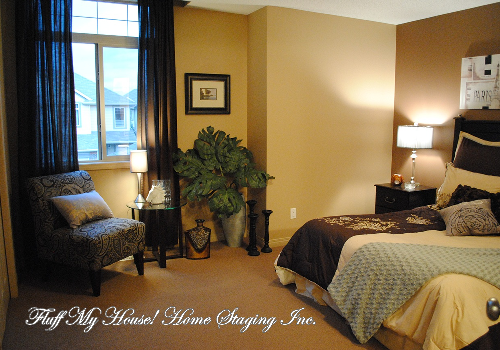 What is the biggest thing you have learned about design as a home stager?
I love how one can make every home unique, even with the same floor plans & sometimes the same furniture. Trying new colour/texture combinations is always fun and exciting. One person's junk is another's treasure and things can be repurposed to look incredible.
What is your favourite part of the staging process?
All of it. It's not like work. I love putting the package together. After a consult I choose the colour combination I'm going to use and go to pack it all up. Picking items for a stage is always like Christmas. I'll forget I had something or remember how much I liked an item and can't wait to use it. Often I pack too much, because I want to use it all! Sometimes I have to remember to edit, because Staging is about 'air' (empty space) in a room, space to breathe. It's like music: as a musician I know that silence is a part of music, just like air is part of design.
The following two tabs change content below.

Crystal Williams
As Online Editor for Canadian Home Trends Magazine, Crystal has a passion for design and decor. She enjoys browsing the web to find new, exciting decor ideas, DIY projects and unique products to share with her readers. With formal training in graphic design and a background in the event planning/design business, Crystal looks at design from all angles to give readers a fresh perspective.

Latest posts by Crystal Williams (see all)