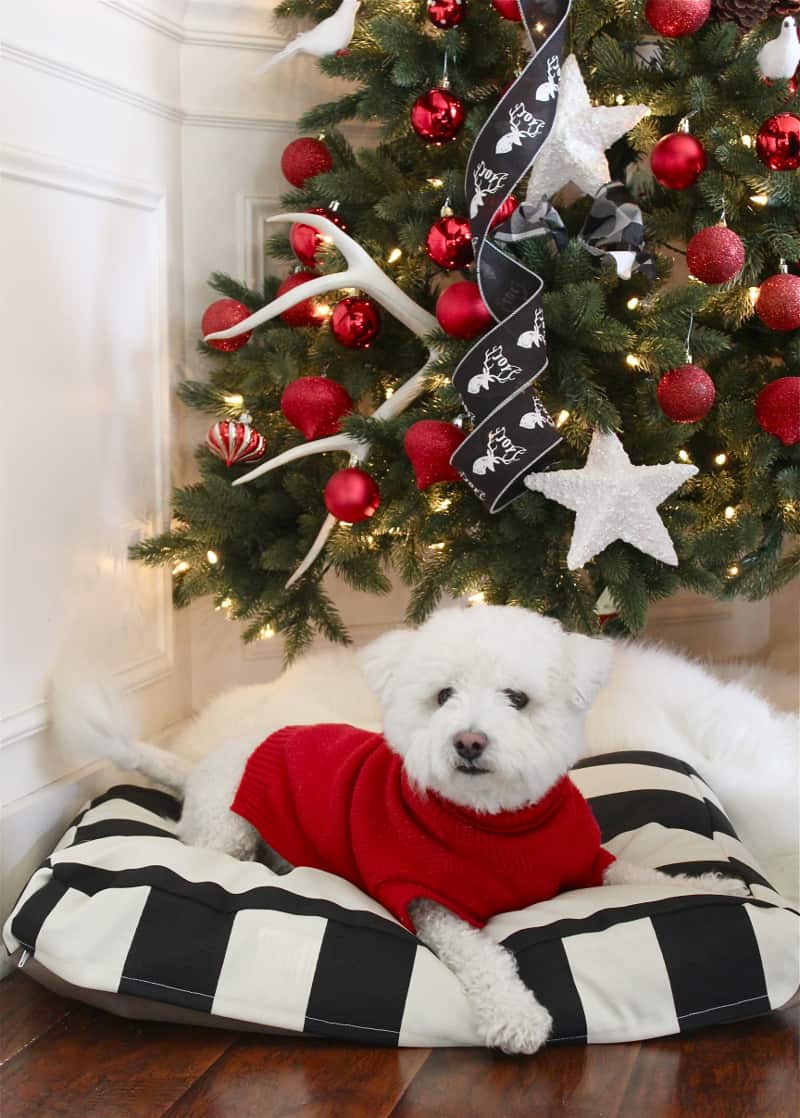 Sarah Macklem invites us into her beautiful home for the Holidays.
"It was a builder spec home," designer Sarah Macklem says of her two-storey home. She and her husband Mike, a commercial banker, fell in love with the house's buttery yellow Cape Cod style. Since they bought the home in 2003 Sarah and Mike have added custom touches and upgrades to the interior. "Our goal was to pack charm and character into each space while maintaining a fresh vibe."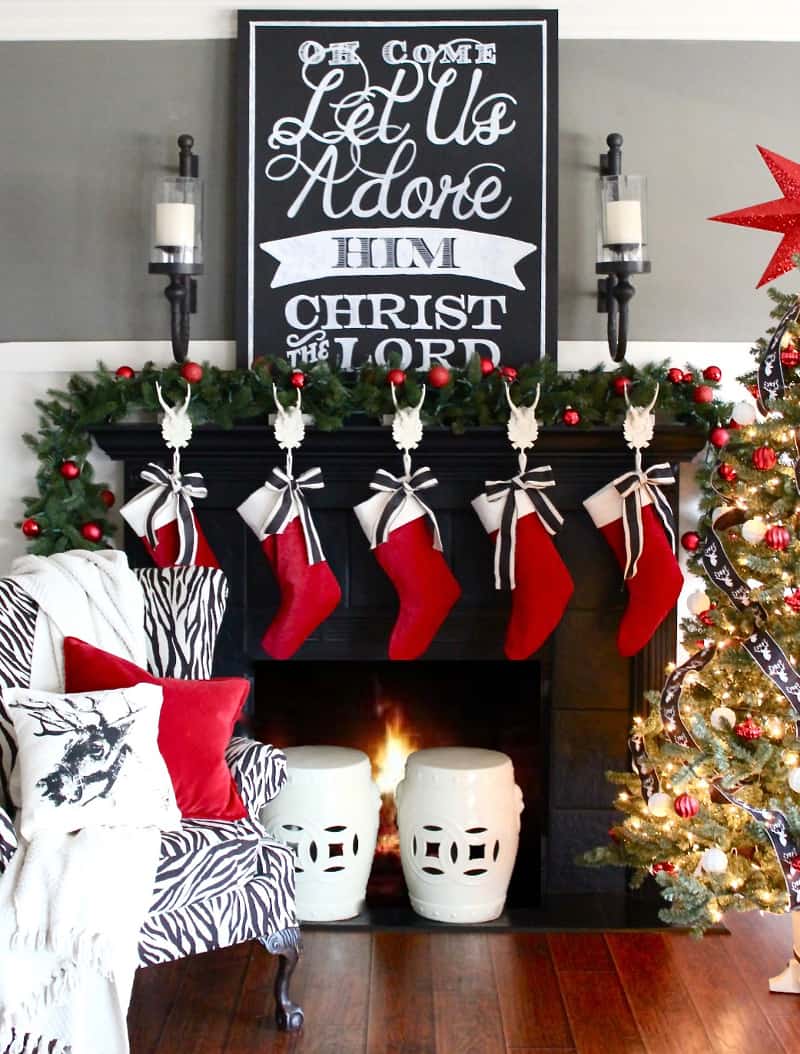 A soft flannel gray outfits the interior walls, providing Sarah with a neutral foundation. "It is easy for me to change the accent colors. When it comes to Christmas, I use a lot of red".  Sarah confesses, however, "My heart beats fast for traditional design. But trendy accents provide the perfect balance of old and new." She advises that trendy can be added with inexpensive elements such as table accessories, a throw or pillows.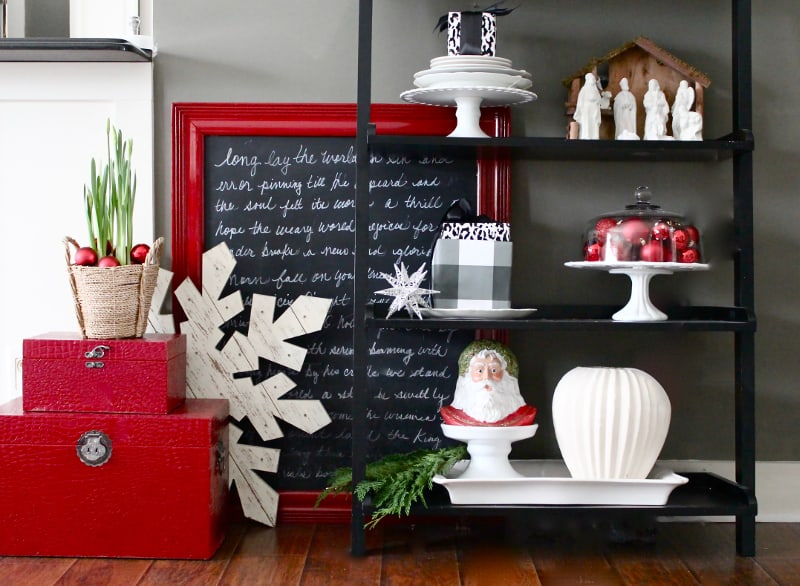 Planning ahead is prudent when decorating. "Most of the red Christmas balls used on the tree and mantle greenery were collected at thrift shops, garage sales and discount stores over years." Family heirlooms are also part of Sarah's design. She mixed her husband's grandmother's milk glass with the décor. "Filling Grandma's milk glass bowl with Christmas ornaments is a perfect way for us to remember her during the Holidays."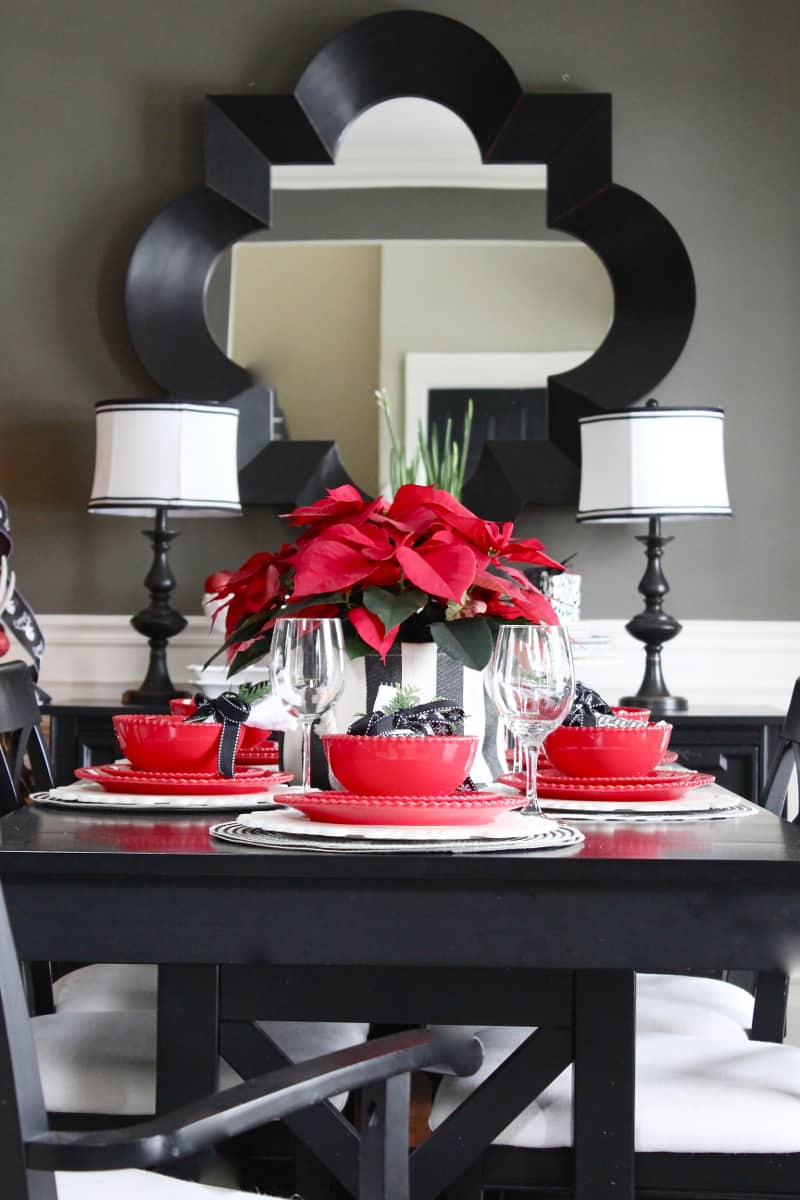 The home's colors and textures are echoed in the furniture and accessories. In the dining room, the first room seen when entering the home, Sarah combined graphic elements and a high contrast color palette to create a whimsical, sophisticated look. She says "I used a palett e of black and white with pops of red, warmed with golden lights." Reds, grays, blacks, checks, boxes, writt en script, oversized stars, and antlers are some of the recurring motifs. "I love to repeat design elements. It creates a sense of fl ow."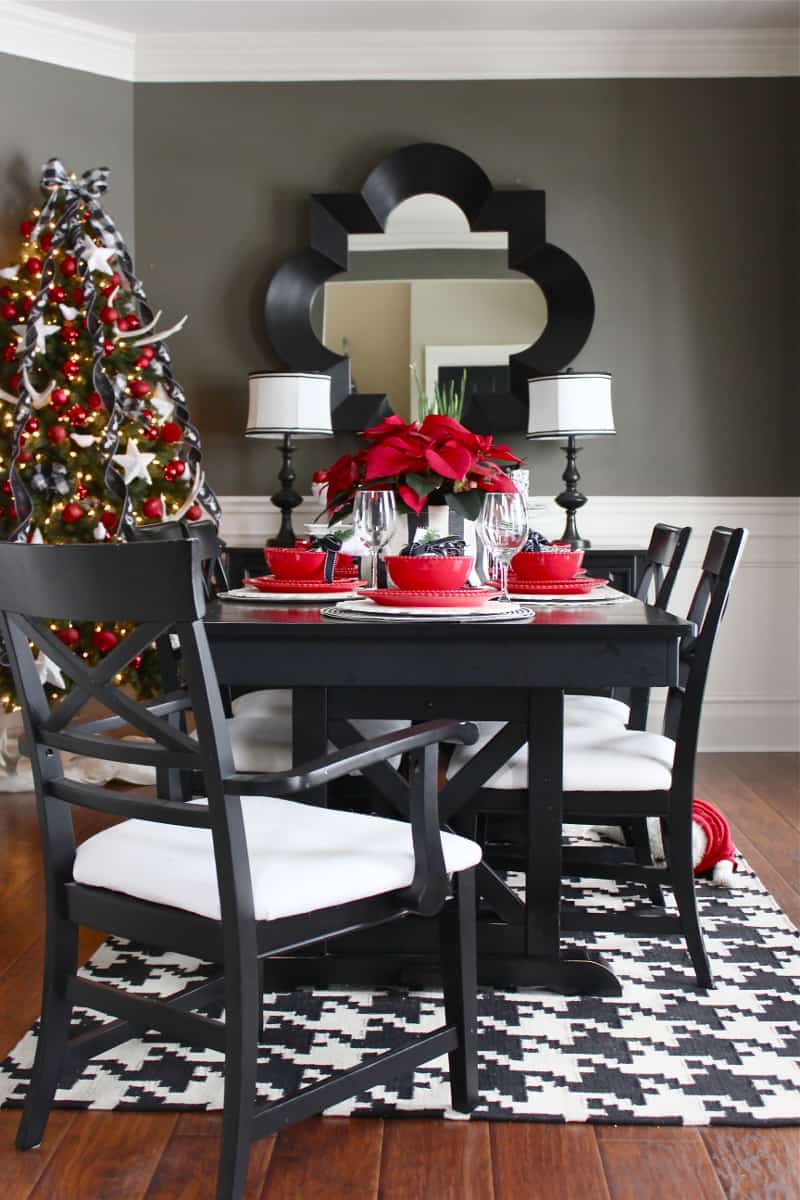 The home's accessories and furniture have quiet tête-à-têtes sharing textures, colors, lines, sheen, shapes, and boldness. In the dining room, for example, a bold black mirror brings quiet spectacle to the room, balancing the dark hues of the table and chairs, lamps and rug. Red ornaments and accessories along with bevels and curves embellish the room's linear elements while creamed porcelain heightens the wainscoting.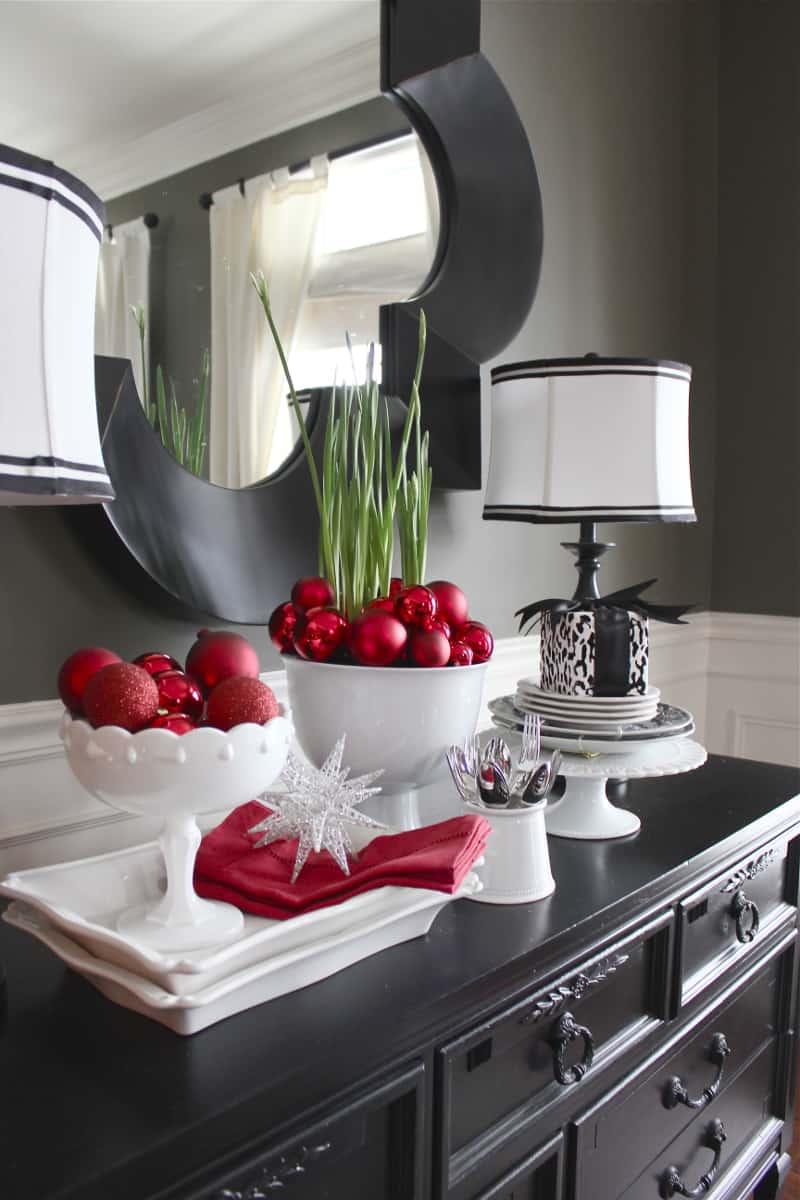 In the living room, the fi replace expresses Sarah's love of neat, clean, symmetrical and simple spaces. In this space she chose one main focal point; the fi replace. "Instead of using a lot of items, I went with key pieces that were large in scale". She notes that the solid white of the living room sofa and the black and white drapery gave her the freedom to experiment with patterned area rugs, toss pillows and wall décor.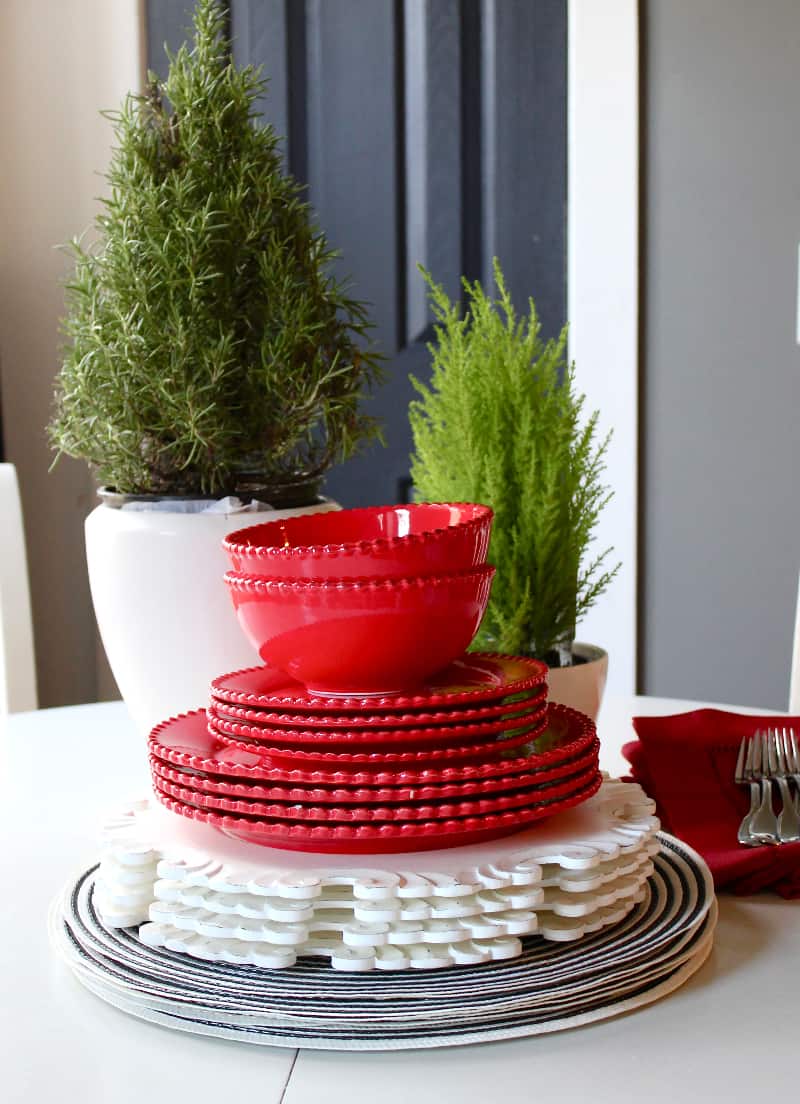 Mike jokes that because Sarah is so oft en redecorating their home that it is ever-changing, and refers to it as living and breathing.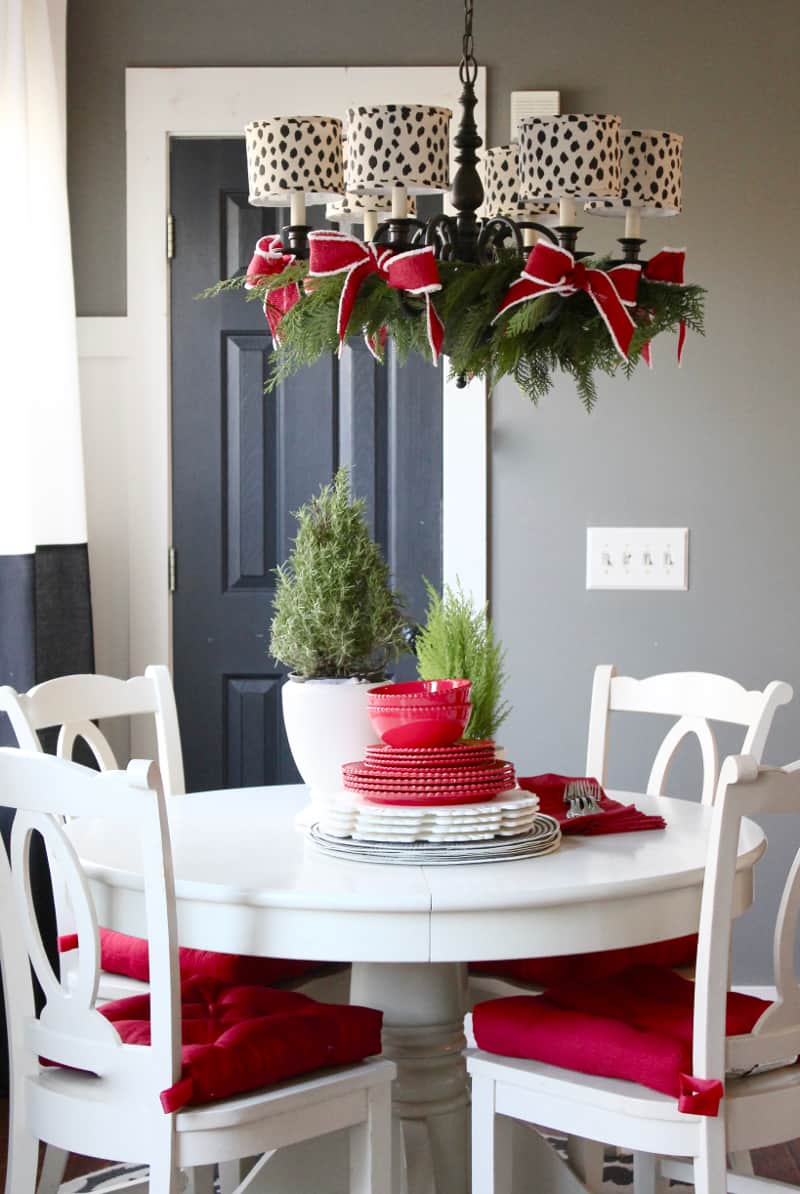 Their children Hannah, Cameron and Max, as well as their dog Murphie, love when the home is dressed for Christmas. Sarah remarks "My family appreciates the sense of magic it brings to our home during our most favorite time of year."
Text by J. Lynn Fraser
Space Designed and Photographed by The Yellow Cape Cod
Dining Room with Christmas Tree; Faux Tree, Balsam Hill 
Pinecone Picks, Black White Deer Ribbon and Flocked Animal Print Gift Wrap, Hobby Lobby
Buffalo Check Ribbon, Show Me Decorating
Oversized Glittered Star Ornaments, The Merchandise Outlet
Living Room: Black and White Deer Silhouette Ribbon on Tree and Zebra Chair, Thrifted Find, Upholstery by Hobby Lobby
Ceramic Garden Stools, Sam's Club
Red Velvet Pillow and Chunky Knit Throw, Pottery Barn
Reindeer Pillow, I Screen You Screen
Faux Garland and Faux Tree, Balsam Hill
Barrel Tree Stand and Antler Stocking Holders, Ballard Designs
Black and White Ribbon, Bordines Nursery
Candle Sconces, Uttermost
Red and White Christmas Ornaments and Red Tree Topper Star, Joss and Main
Large Scale Art Over Mantle, The Yellow Cape Cod
Shelf Décor: Nativity Set, The Yellow Cape Cod
Buffalo Check Gift Wrap, Zazzle
Large White Vase and Red Boxes, HomeGoods
Basket and White Wooden Snowfl ake Cutout, Pottery Barn
Dining Room: Kirsten Arch Mirror, Wayfair
Lamps, HomeGoods
Striped Tote Holding Poinsettia and Black and White Ribbon, Hobby Lobby
Red Dinnerware, Joss and Main
White Wooden Chargers, Pier One
Houndstooth Rug, Surya
Table and Chairs, Value City Furniture
Flooring, Sam's Club
Red Linen Napkins, Pottery Barn
Breakfast Nook: Table and Chairs, Crate and Barrel
Rug, Surya
Chair Pads, Ikea
Red Dishes, Joss and Main
White Wooden Chargers, Pier One
Striped Place mats, Hobby Lobby
Plants and Red Ribbon, Bordines Nursery
Chandelier Shades, Ballard Designs
Red Linen Napkins, Pottery Barn