Kandenwood is a family home located immediately beside Whistler Mountain in Whistler, British Columbia. Designed by Canadian architect and designer, Michael Gottschalk, Kandenwood's strong visual presence belies the resolve – and accomplishment – of the architect, to design a house which blends beautifully with its natural setting. Built in a sloping section of a gigantic rock, minimal impact was Gottschalk's top priority in creating the design and in selecting materials and finishes that would integrate the structure with its settings.
The site was chosen carefully, taking into consideration the sun's path and local winds, along with the trees and ground cover on the property. The size of the clearing, in particular its width, dictated the home's rectangular shape on the uneven terrain in a southwest-northwest orientation. A stand of pines offers protection from strong north winds, while on the south side the house is conveniently open to mild breezes, in numerous windows on all three stories. This allows for amazing views and natural ventilation.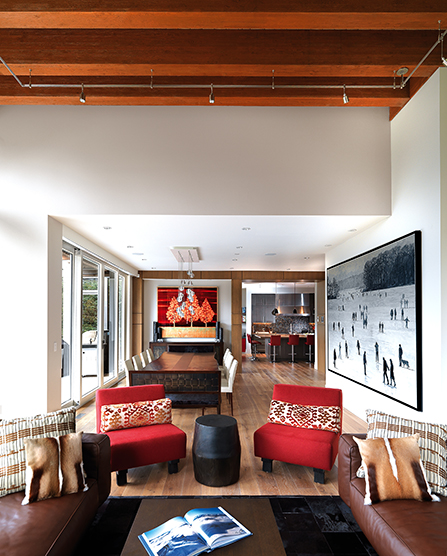 Modeled on traditional Whistler houses, Kandenwood provides thirty-five hundred square feet of living space and a quiet venue away from the hustle of Whistler's slopes and city centre. The house, which was completed in 2010, reflects the meticulous attention to detail in designing the layout and interiors to complement the lifestyle of its occupants.
Kandenwood is built on three levels offering large and airy rooms. The middle level is the hub of the house, with the hallway, living room, kitchen-cum-dining room and the garages.
The second level offers five bedrooms with ensuite bathrooms – all equipped by Michael Gottschalk's signature bathroom brand Blu Bathworks; and a ground level with the entertainment area and guest rooms. Big balconies, evocative of Whistler's mountain viewpoints, spread along the second floor, establishing a connection from the interiors to the surrounding woodland. Out front, a small path connects the front garden to its surrounding neighbourhood.
The interior's décor reflects the owners' taste as they chose the broad outlines themselves. They got involved with finishes, colours, paneling and fixtures – "They went for a less contemporary furnishing than I had originally envisaged for the house" – says Gottschalk, "but the end result is functional and reflects the homeowners' needs."
Michael Gottschalk says: "The design of Kandenwood was all about following a simple rule – integration. The site was so amazingly perfect that I couldn't do anything but respect it as much as possible. I used only local materials to mirror the house's surroundings – wood, local stone and glass were my basic elements. You'll find those materials in all my creations but you could say that Kandenwood epitomizes my design style. My aim with the design was to make the most of the location by creating a rugged, open and modern house full of character and local flavour".
As Seen In Canadian Home Trends Magazine Summer 2013