Looking to add some shade and privacy to your backyard? Why not try a pergola or a gazebo. While the two structures serve a similar purpose, there are a few key differences between the two. So which is right for you, your space and your family?
A gazebo. 
A classic gazebo is octagonal in shape, though modern, temporary models come in square shapes. Most permanent gazebos are made of wood, but some are made of aluminum. The defining factor of a gazebo is the covered top, which provides optimal shade that is perfect for relaxing and lounging in a garden or yard.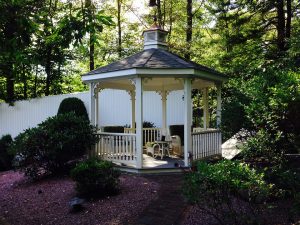 A pergola. 
Historically, pergolas are more prominent in desert climates, but in recent years especially, this stylish structure has garnered popularity in the western world as well. The structure of a pergola differs from a gazebo in that it's distinctive cross-beam and open lattice structure allows light to selectively pour through.
So which is right for you?
The prevalent difference between a pergola and a gazebo is in the visual appearance. Both structures serve as a stylish accessory for your yard, so your yard's size and composition should be a factor. A gazebo might be too visually heavy if you're yard is small, so a pergola, which will let light shine through may be the wiser choice. A pergola could also serve as the perfect compliment to an existing deck or patio. On the other hand, if you pride yourself on your garden and shrubbery, a gazebo may look whimsical and fitting nestled within your greenery.
The following two tabs change content below.
Zakiya Kassam
Zakiya is a freelance writer/editor based out of Toronto. You can follow her on Twitter: @zakkassam
Latest posts by Zakiya Kassam (see all)