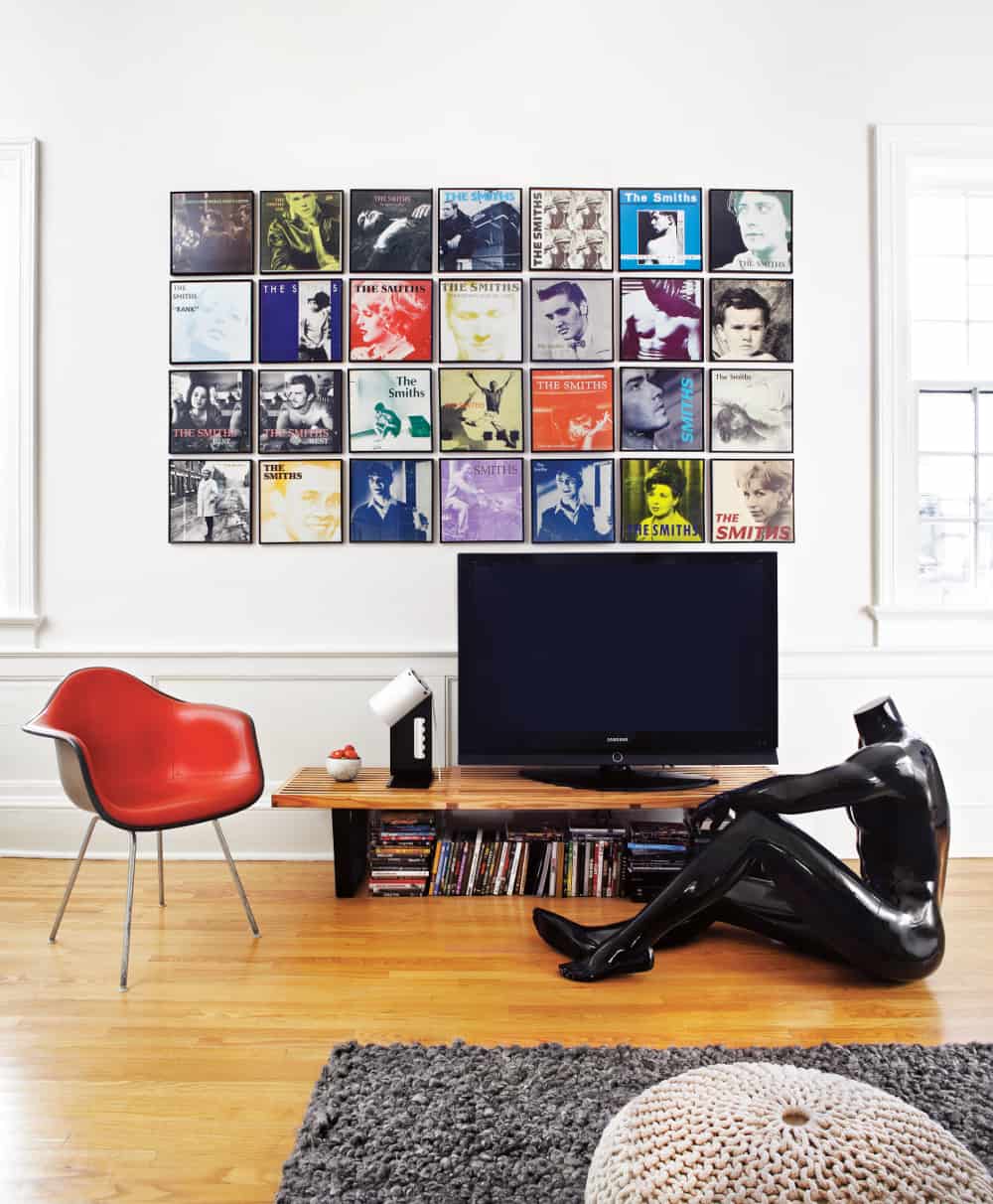 A coach house becomes a stylish loft space.
A hundred-yearold coach house nestled in a leafy neighborhood was given a modern point of view by designer Stéphane Chamard. In the 1920s, the two-storey space had been a ballroom, on the second floor and a garage on the first. Stéphane's designs gave contours and definition to the coach house's two large spaces. As a designer he is inclined toward the Scandinavian aesthetic, but he also tries to play with what I has.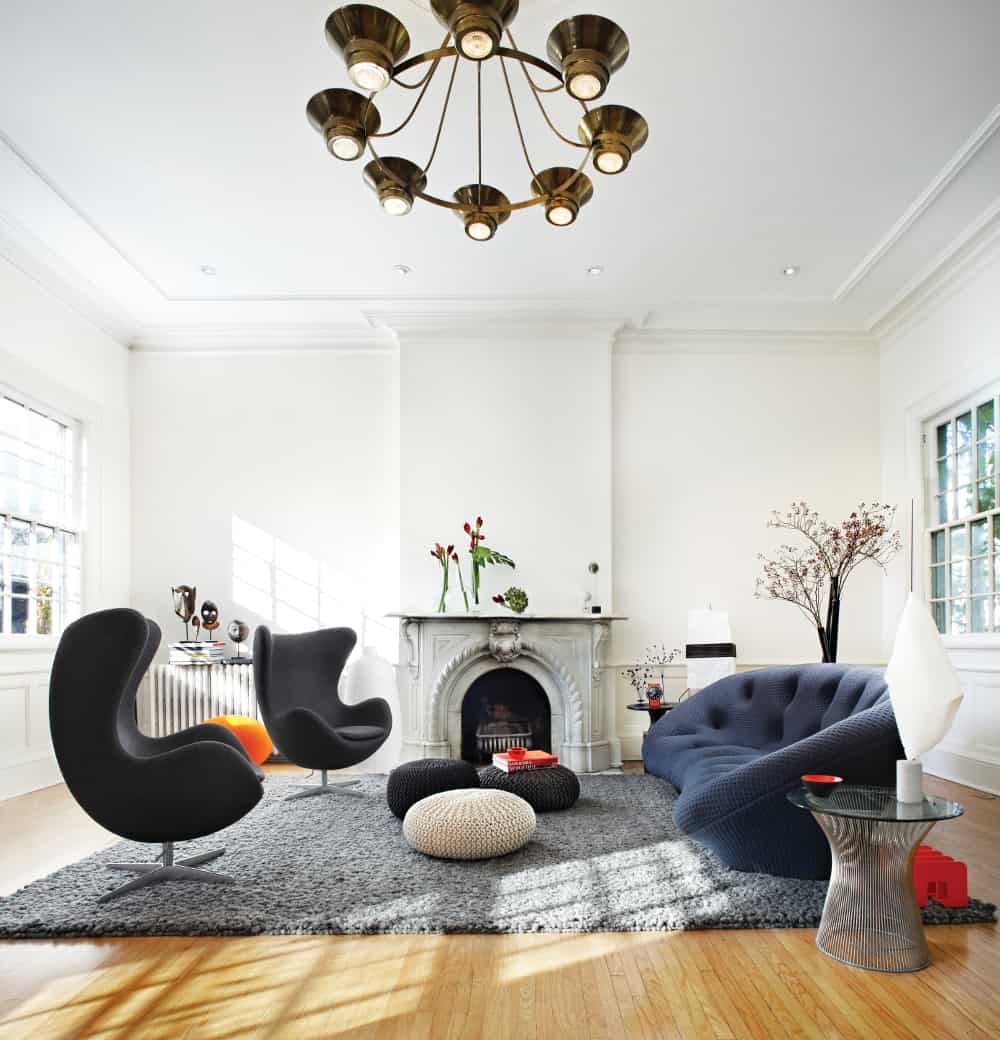 The 'bones' of the coach house are in its soaring ceilings and elegant windows. "We have six windows in a single room, three on each side. With such a feature everything else can be pretty simple," Stéphane says. To accentuate the airy space Stéphane and his husband painted the rooms white. "Everything was an ugly beige when we arrived," he comments. Color and texture unites the functions of space on each floor. "Downstairs was the bedroom, dressing room, and office. Upstairs is the dining and living room in a single space.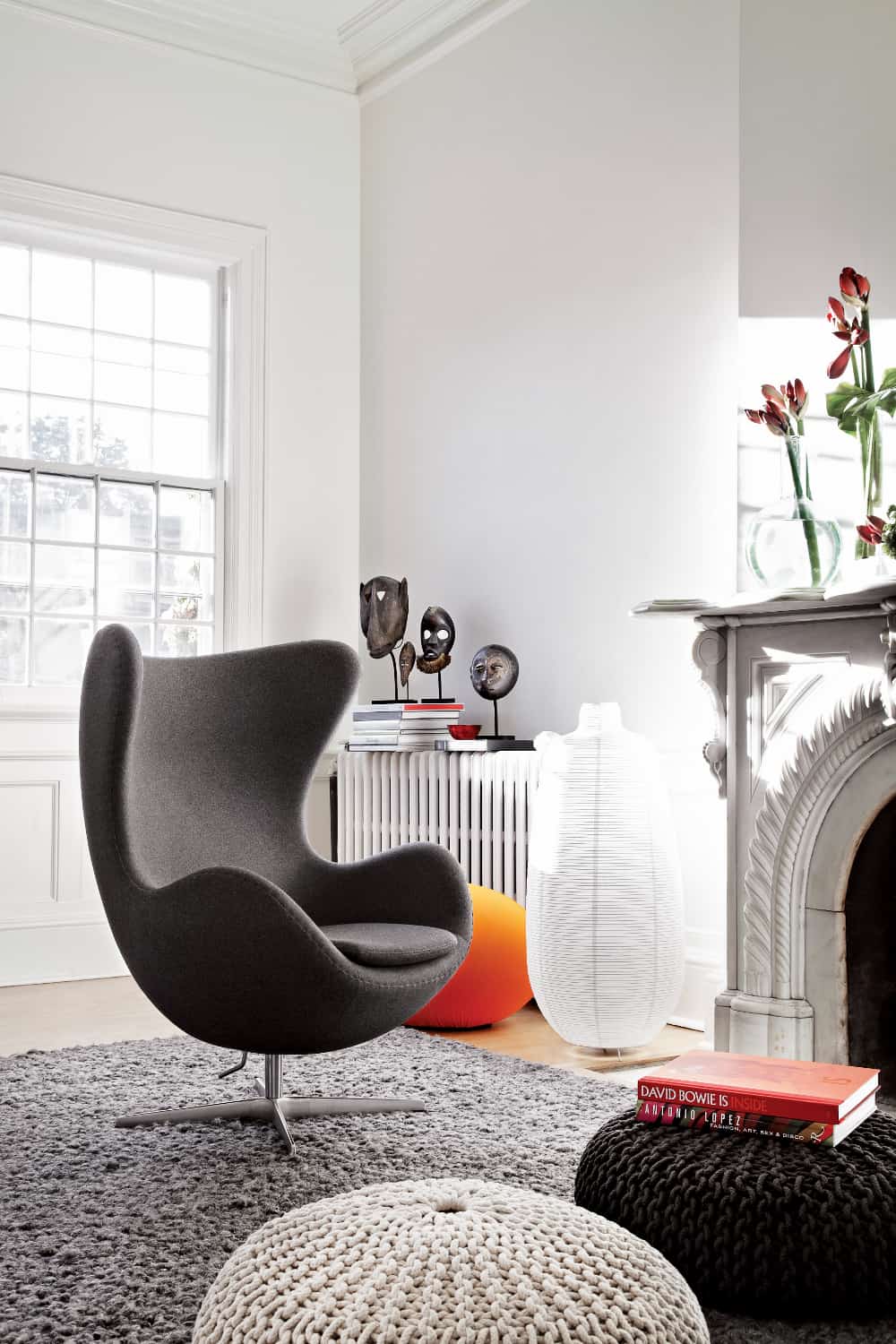 An island of color and comfort, the living room's seating area is surrounded by an expanse of wood paneled flooring. A deep tufted couch, the color of frosted plums, adds slow curves. Two upholstered chairs enhance the motif of contours and curves seen in the end table, chandelier, poufs and fireplace arch.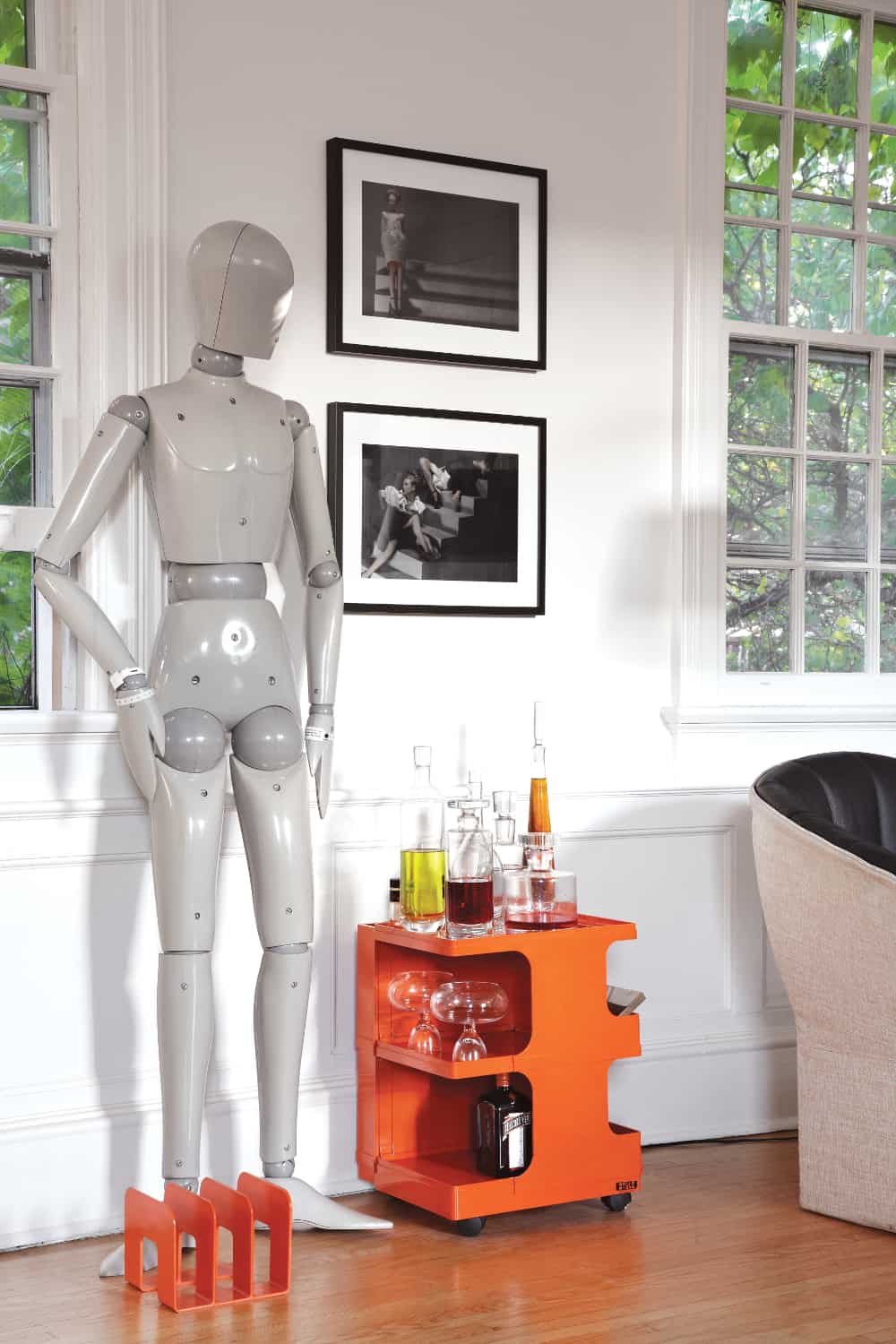 Carefully arranged glossy black and white figures and pops of mod red tangerine throughout the floor create archipelagoes of style. They engage the eye while ensuring the space's expanse does not feel hollow.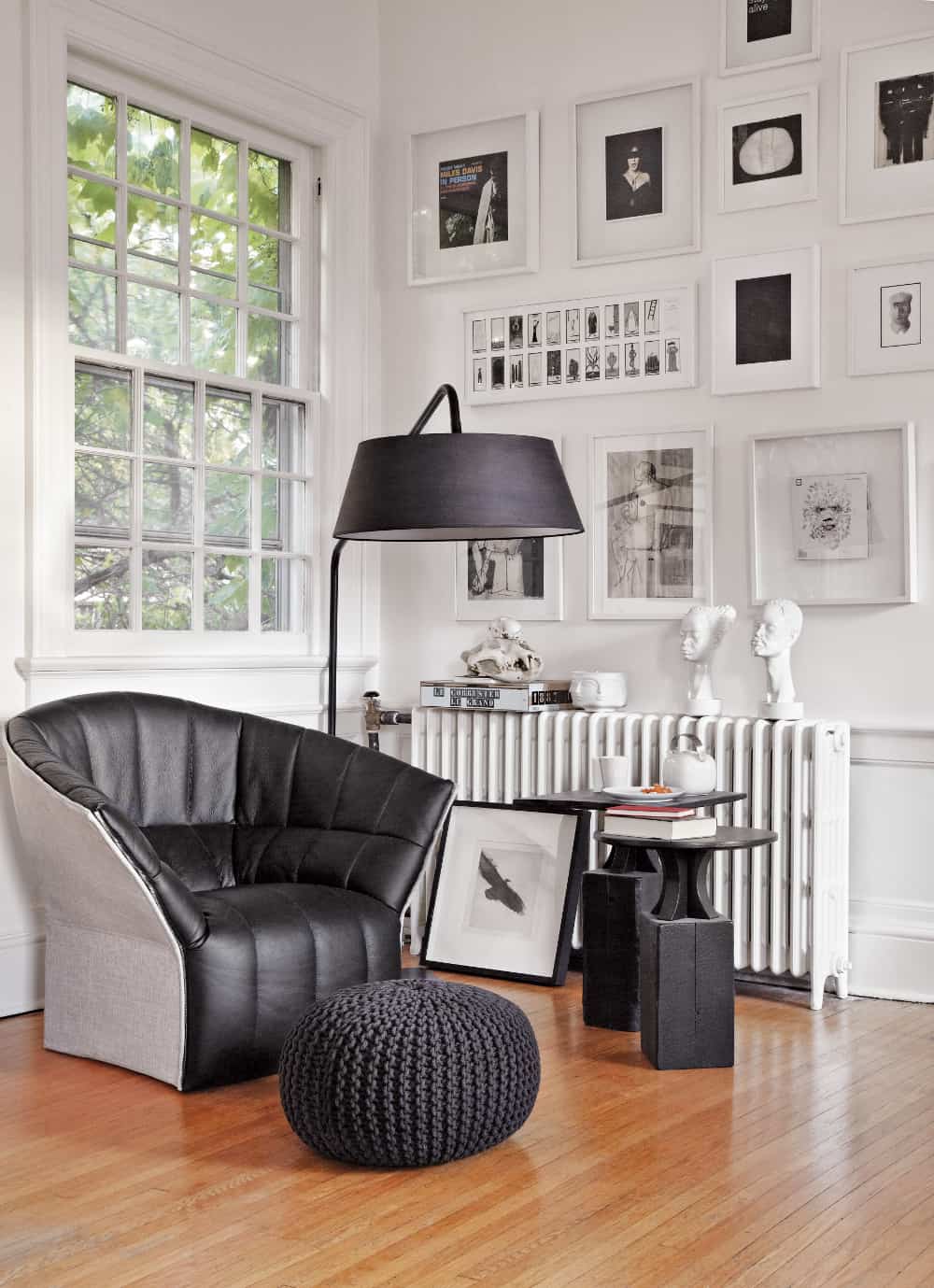 "I like to go with the flow. Most of those pieces, minus the sofa, are vintage finds that I hunt all over the city for," Stéphane notes. "Right now, you can still find a lot of pieces from the 1970s at affordable prices.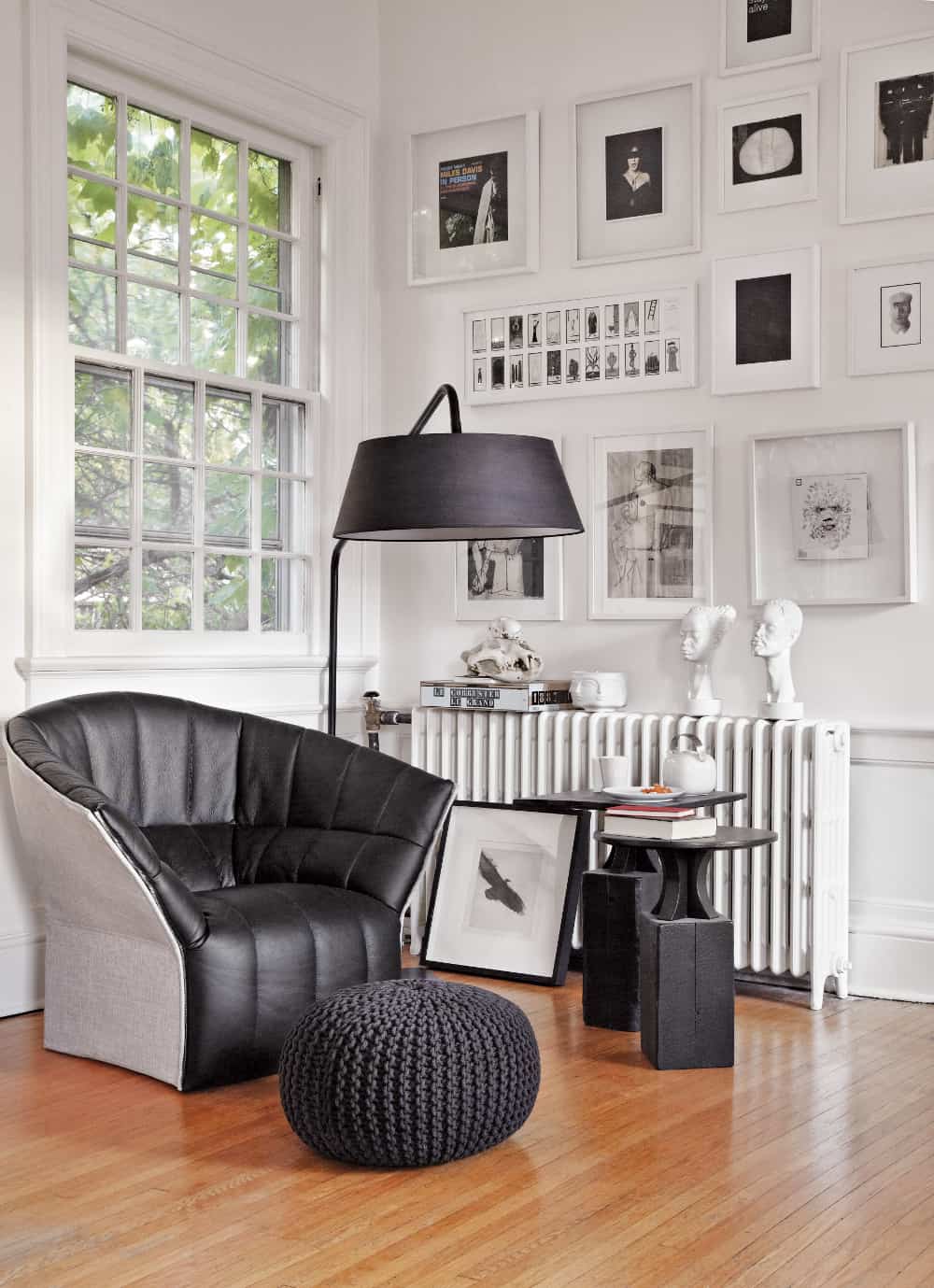 Stéphane's designs create beautiful vignettes with a minimum of pieces that speak eloquently for themselves. He advises, "Just like Coco Chanel said; you put everything together and then, before going out, you remove something."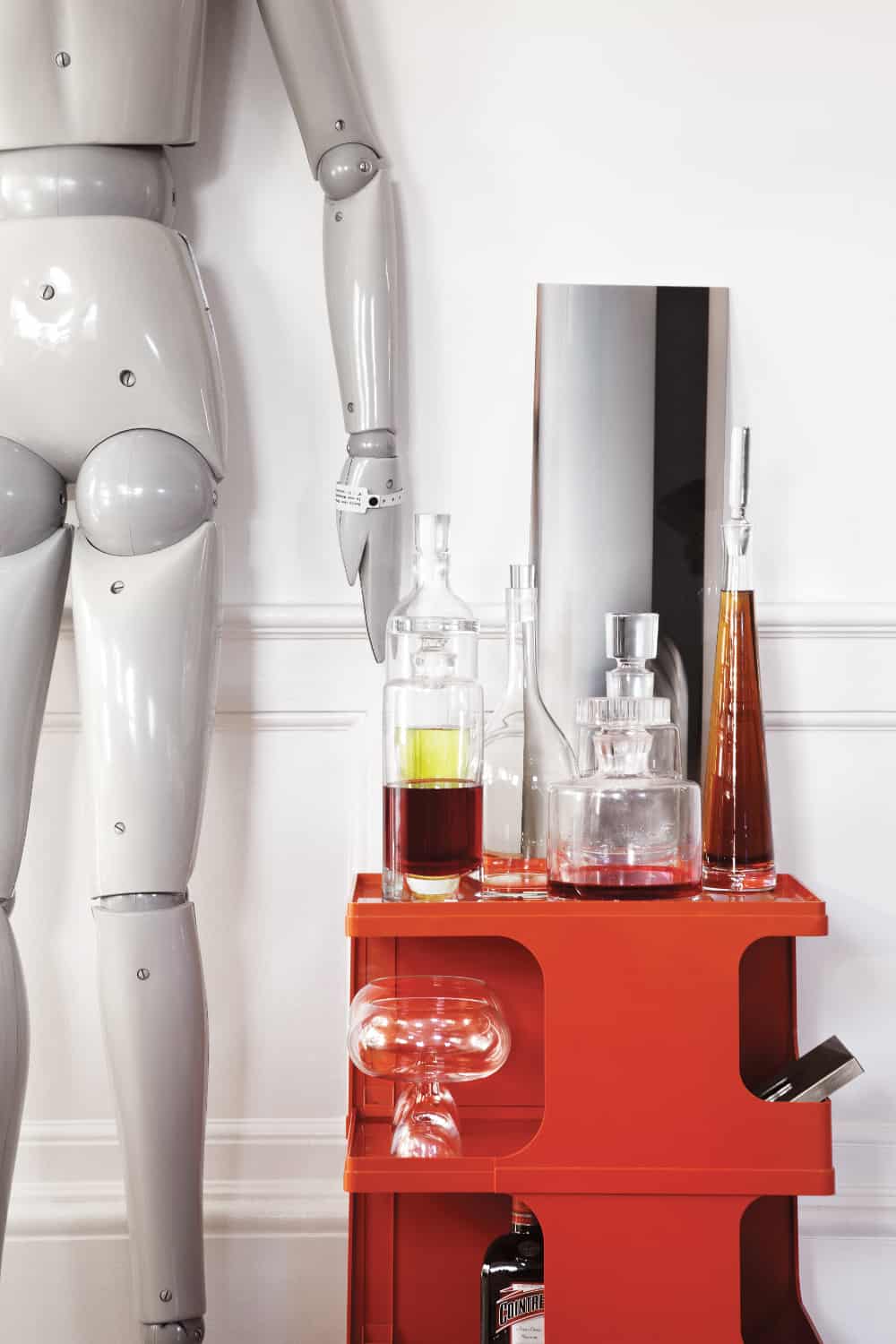 A Scandinavian symphony of quiet, the dining room relies on the sculptured shapes of the glossy black chairs against a spare table and neutral background. In the living room the flowers, lamps and vases act as the room's jewelery.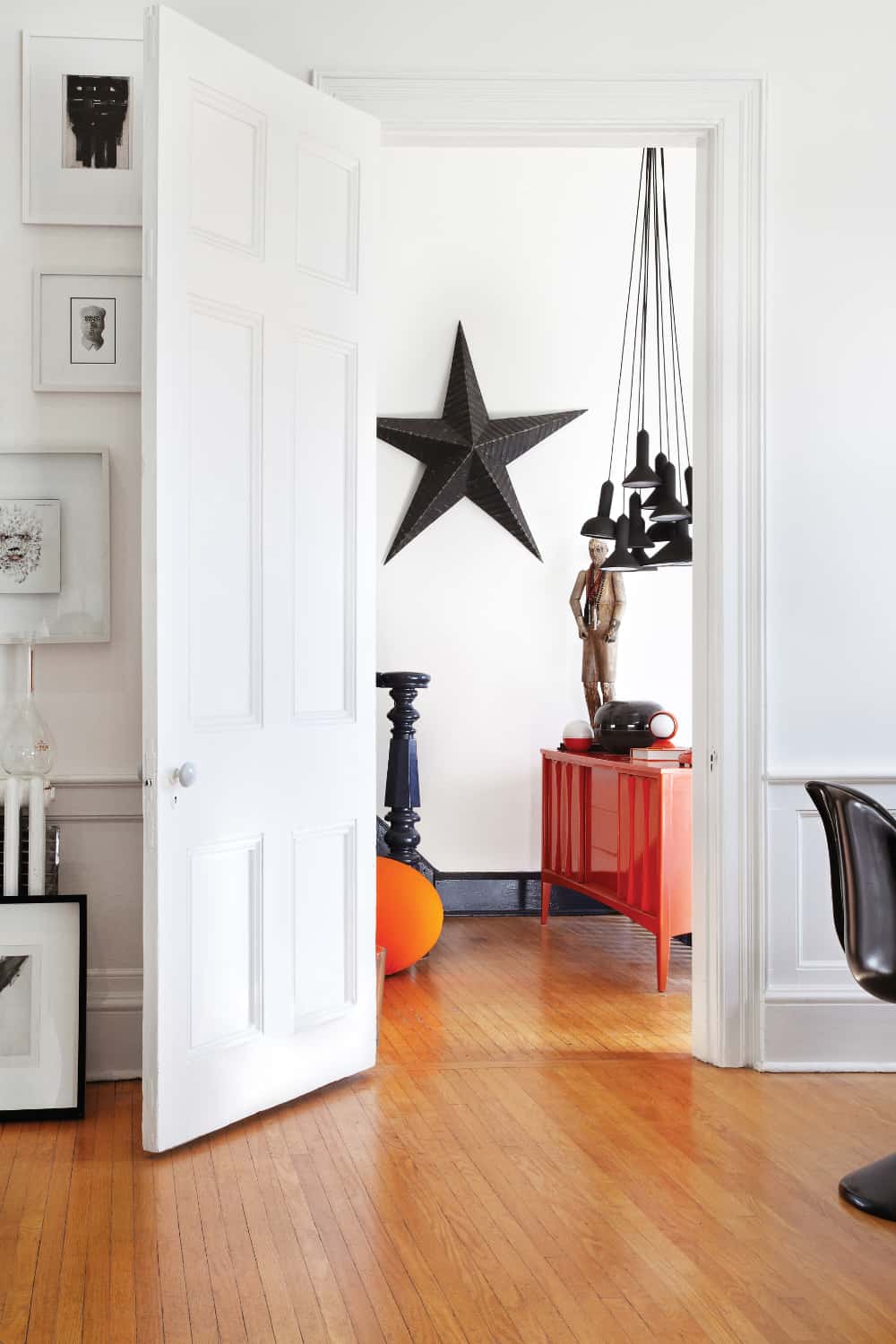 Framed black and white art, arranged nontraditionally, add a graphic punch in all the rooms as does the restricted color palette.
I n the bedroom, the textured landscape of the bedspread's tangerine, white, and black adds brightness while coordinating the room's colors. "I found it at a market in Turkey years ago. I like the idea that an object can have several lives."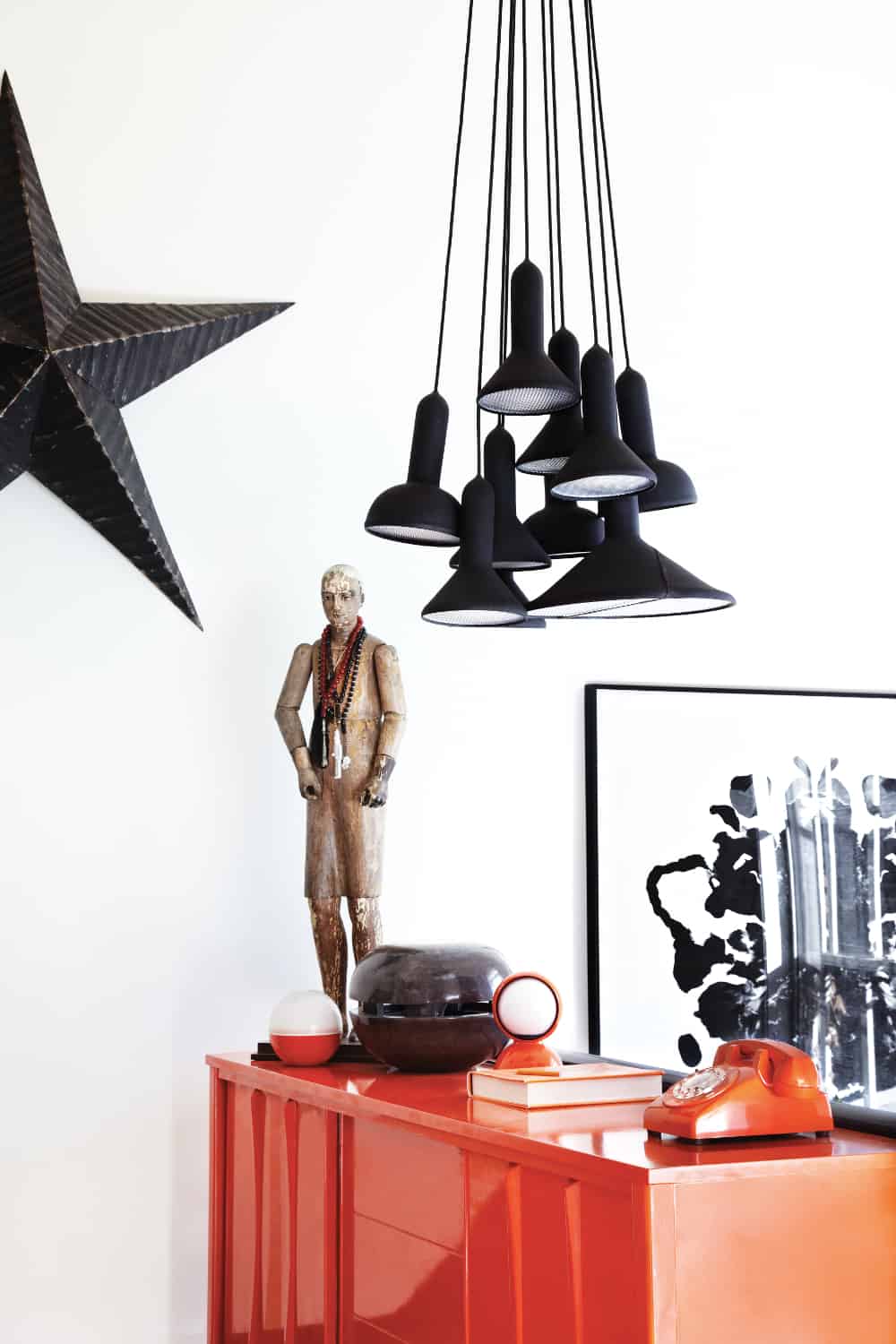 The treasures found throughout the coach house are pieces that have been reinvented for new purposes. Viewing vintage and found pieces in new ways can introduce innovation and playfulness into a space.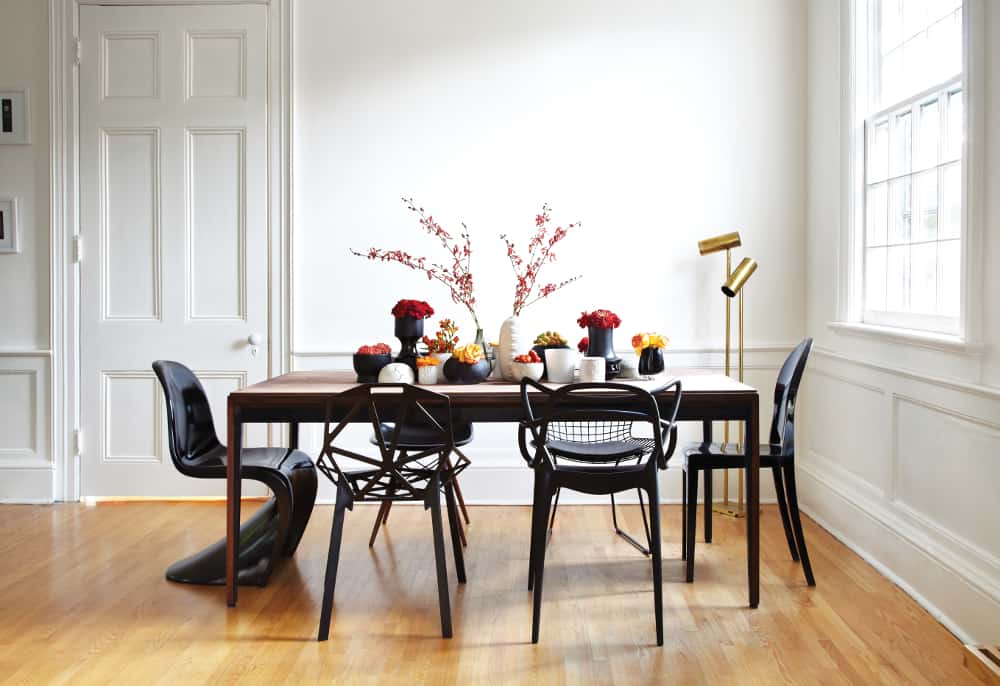 "Friends and family are always surprised." Stéphane notes, "I always show the house at first and then just when it is totally finished."
Text by J. Lynn Fraser
Space Designed by Stéphane Chamard
Photographer, Lisa Petrole
OFFICE: Table Lamp, Eclisse, Artemide; Stone Lamp and Vintage Phone, Atomic; Suspension Torch Light, Established & SONS; Metal Star, Queen West Antiques, www. qwac.ca
LIVING ROOM: Sofa, Ligne Roset; Vintage Egg Chairs and Side Table "Planter", Atomic; Pouf, URBAN BARN; Rug, ELTE, www.elte.com; Vintage Suspension Light, Zig Zag; Table Lamp, KLAUS; Paper Lamp, IKEA
DINING ROOM: Vintage Table, Zig Zag; Vintage Floor Lamp, Atomic; Chairs, (clockwise) Chairs 1 and 2, Kartell; Chair 3, Magis; Chair 4-6, Vitra; Vases, JONATHAN ADLER, Atomic, IKEA, West Elm
TV AREA: Chair, EAMES, Zig Zag; Plastic Table Lamp, Atomic; Record Covers, ROTATE THIS; Frames, IKEA; Mannequin, Atomic
READING CORNER: Chair And Floor Lamp, Ligne Roset, KIOSK; Pouf, URBAN BARN; Plastic Bar, Atomic
BEDROOM: Rug, ELTE; Chair, Zig Zag; Table Lamp, 'PIPISTRELLO" vintage similar option from KIOSK; Plastic Stool, Atomic
DESK AREA IN BEDROOM: Desk, Bookshelves, Drawer Unit and Frames, IKEA; Chair, Zig Zag; Table Lamp, GUFF; Framed Posters, TELEGRAMME, Atomic, Zig Zag; URBAN BARN, MachineAge Modern, GUFF, IKEA, KIOSK, Klaus,