Cheers! Who doesn't love dinner parties? An evening filled with good food, great cocktails & even better company… yes please, sign us up!! And to ensure that your next summertime soiree goes as smoothly as possible – because hosting them can be a bit daunting – we're outlining the 5 tips you absolutely need to know when hosting a dinner party this summer!
Prep Ahead of Time
This might just very well be the most important tip on our list! Prepping ahead of time is going to save you a lot of headache when it comes to hosting dinner parties & this particular step will ensure that both the dinner party itself & the post-party cleanup is an absolute breeze! To ensure that you maximize your time spent socializing with friends, you're going to need to follow the below steps… nobody wants to be cooped up in the kitchen at their own party after all!!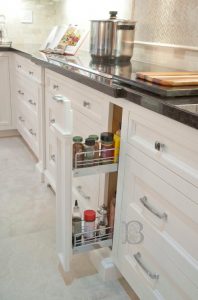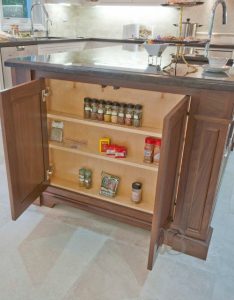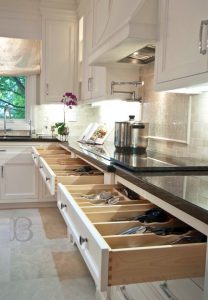 Photo Source: Bloomsbury Fine Cabinetry
Clear out the dishwasher & take out the garbage – Clearing out the dishwasher and garbage before your guests arrive will be a HUGE time saver in the cleanup department!! Once your guests leave, simply add all of the dirty dishes to the dishwasher & voila! Post-party cleanup made easy!
Prep your kitchen space – Be sure that you do a thorough clean of your kitchen beforehand and organize your pantry and drawers for easy access throughout your party! We recently wrote about easy ways to organize your pantry that might help!
Prep foods & dessert ahead of time – Try to curate a menu that you're able to prep a day AHEAD of time! Side dishes, appetizers and desserts are typically all foods you can prep before your guests arrive – this will ensure that you spend a majority of time socializing with your guests, NOT cooking away in the kitchen all evening!
Create a Comfortable Atmosphere
Creating a comfortable atmosphere for your guests is paramount! You want to create an environment where the conversation flows nicely, & your guests feel relaxed & at ease. Be sure to think about the type of personality traits of the company you've invited; ie. what's considered "comfortable" for one group of guests may not be for another! Feel out the vibe of your guests and go from there!
Here are a few things to consider when creating a comfortable atmosphere:
Music – Music always helps enhance any social gathering, if not for anything other than a bit of background "white noise" that helps to break silences throughout your evening! In terms of music selection… turn to the personality types of your guests for inspiration. Formal, classical, country, easy rock – match the music to your guests' preferences!
Games – Games are a great way to break the ice at dinner parties! Especially if not all guests are acquaintances with one another. If your guests are a bit on the quieter side of things, have a set of fun, "ice breaker" questions that can be read out loud at the table to help keep the ebb and flow of conversation rolling nicely! Have friends that are a bit more on the louder or rowdier side of things? Why not play a little charades post dinner?
Ambiance – Creating an inviting ambience will help make your guests feel comfortable! There is no doubt that music selection and games will help add to the overall feel of your dinner party, however décor plays an incredibly important roll too! Below we're giving you some tips and tricks on how to pull together a table setting that will wow your guests!
Take Advantage of Fresh, Summer Flavors
The flavours of summer are unparalleled. Produce is rich, vibrant, fresh and most importantly…. LOCAL! Living in a cold environment for half the year, us Canadians truly have to take advantage of local produce when it is available to us! Head to your local Farmer's Market to pick up fresh produce, meats and breads to truly make it a spectacular, seasonal menu for your guests.
Wow Your Guests with the Table Setting
Set the scene and really wow your guests with a spectacular table setting! The elements chosen for a table setting can really add to the ambience of your evening – almost as much as the food & wine! So careful consideration to décor is essential! Are you aiming for something a bit more fun and casual? Themed? Formal? The options are truly endless!
Casual – For something more on the casual side of things, opt for a no-fuss setting! Perhaps go sans-table cloth for the evening, & try a simple table runner instead, with colorful napkins and place settings, along with serving platters filled with fresh, summer produce! This can actually go a long way!
Formal – If this is more of a formal affair, dress up your place settings with chargers! Metallic chargers offer up a wonderful, bold accent colour to offset the rest of your table setting. Others elements to consider for a formal dinner? Candles, monogrammed napkins & beautiful florals.
Ensure You Kitchen is "Entertainment Ready"
The environment of your kitchen when prepping for a dinner party can be a bit of a stressful one to say the least!! Hosting a big group of people can definitely put the pressure on, however if your kitchen is built around functionality and entertaining this can help ease stress in a big way! What makes a kitchen "entertainment ready" exactly? Ample counter space for food prep and service stations, lots of usable storage space, and areas designated specifically for casual socializing throughout the evening (think islands or added seating space)… just to name a few!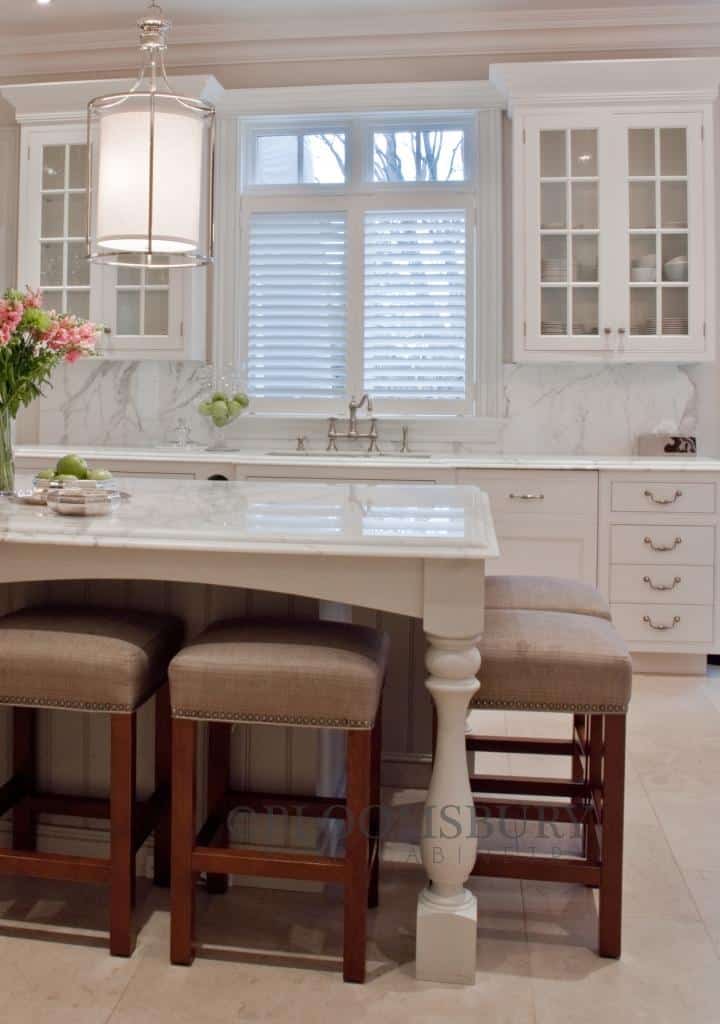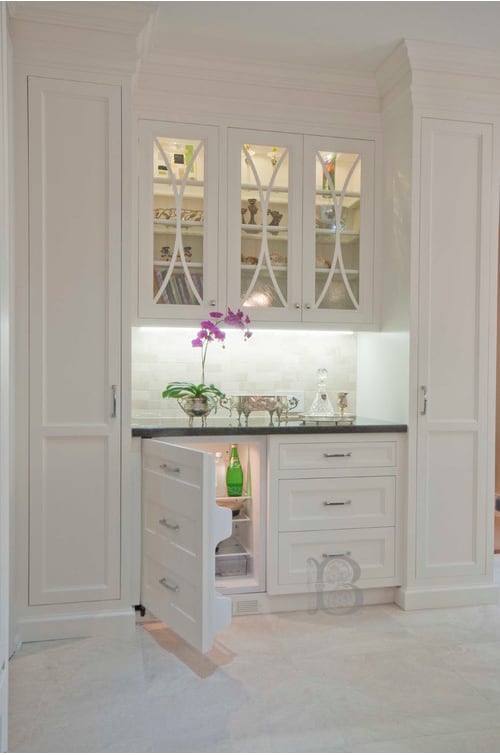 Photo Source: Bloomsbury Fine Cabinetry
If you're looking for a Toronto Custom Kitchen Builder to add more functionality to your kitchen space… we think we can help just a bit! Click HERE to contact us!
The following two tabs change content below.

Rhonda Thornton, Principal of
Bloomsbury Fine Cabinetry
, is an accomplished Kitchen Designer with over 17 years of residential kitchen design and planning experience. Bloomsbury Fine Cabinetry is a leader in design and manufacturing of truly Custom Cabinetry, specializing in the art of Bespoke English-Style cabinetmaking, built to with stand the test of time and trends. Rhonda has collaborated on well over 500 kitchen projects and has had the privilege to contribute her expertise to some of the most stunning homes and cottages in the GTA.

Latest posts by Rhonda Thornton (see all)