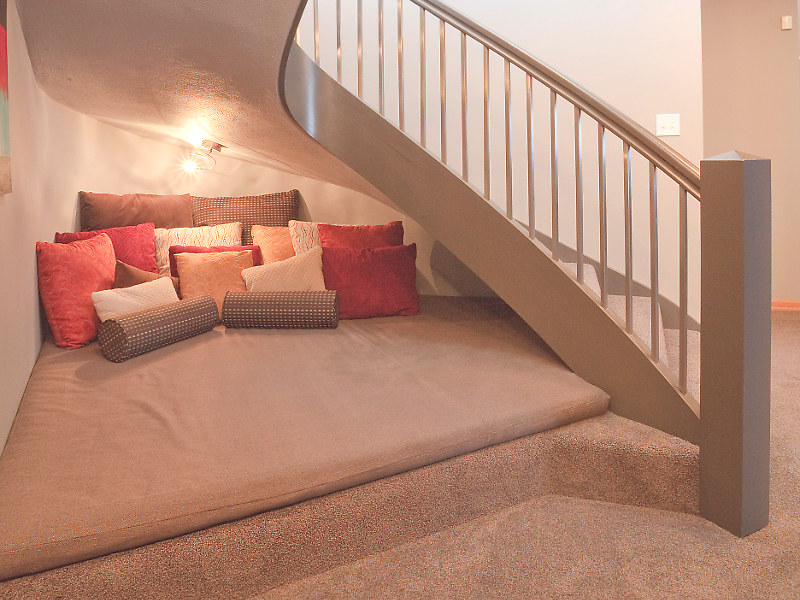 Creativity demands openness. Looking for the perfect possibilities for those awkward small spaces isn't always easy.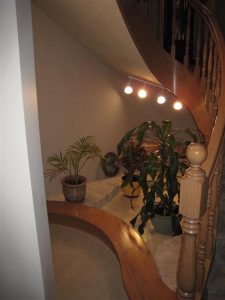 The interesting shape of this small nook spoke to us. What to do with this space was beyond the owners comprehension. They were using it as a ''green space" in their home. I am really not sure how successful it was seeing as it was tucked under a large staircase with no natural light. This space was very accessible and had to be visually appealing to anyone entering and exiting the rec room area.
Our goal was to transform the space and make it functional. By adding a small colorful glass globe light fixture and closing the pit with a plywood platform gave us the beginnings of the 'pillow pit'. We made a template from cardboard and cut a large commercial piece of foam for the base. A textured neutral fabric was chosen to cover the form. Various shapes and sizes of pillows were covered with fun fabric in a variety of textures and colors.
The end result was a very cozy games and reading nook which would have otherwise been wasted space.