Design Blogger: Nicholas Rosaci, Nicholas Rosaci Design
Inspired by a blog meme going around recently, we decided to challenge our design bloggers to share a little bit about themselves with 15 fun questions. You can view more 15 Questions posts here.
What's your favourite wallpaper pattern?
I have always loved Jonathan Adler's bold geometric graphic styles so my favourite modern patterns are similar. An updated Baroque motif is always a favourite.
Shown: Wallpaper by Jonathan Adler
What's the best vacation you've taken?
Italy doesn't disappoint. From it's amazing food and boutique lined sidewalks, it was pure sensory delight. My trip to the Amalfi coast in 2014 was a picturesque paradise with it's colourful homes built into the cliffside overlooking the Mediterranean.
If you could have lunch with anyone in the world, who would it be?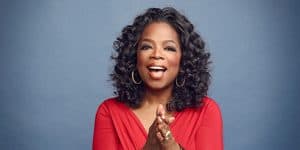 Oprah! She has influenced and changed the lives of many people and is a philanthropic super nova! Plus, she knew Whitney Houston, one of my favourite diva's.
Name one thing on your bucket list?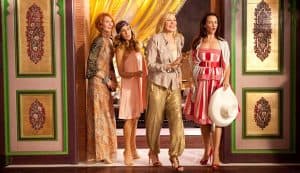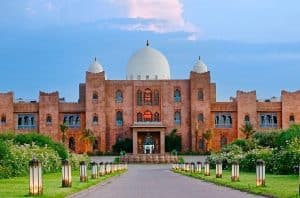 I always wanted to stay at the same hotel Sarah Jessica Parker stayed in for Sex and the City 2! (Editor's note: while the movie "takes place" in Dubai, it was actually filmed at The Taj Palace Marrakech in Morroco.) I also want to live as a permanent resident at the Royal York!
What's your favourite room in the house?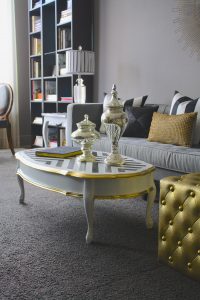 My living room! I am constantly entertaining in my space – and working in it! It's comfortable, colourful and creative, filled with many of my most favourite DIY projects and things.
If you could pick any designer, living or dead to decorate your house, who would it be?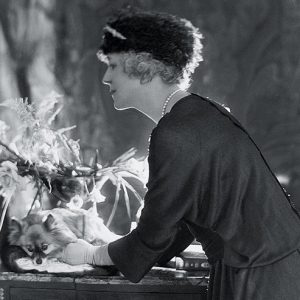 I would love to bring back the first famed decorator on the block – Elsie De Wolf, America's first famed decorator circa 1913. I would love to see her take on our modern world's eclectic decor! Of course, once she is gone, I would most definitely redecorate everything – my way.
What's on your nightstand?
An 5 x 7 black and white photo – of myself, crystal shield back shaped lamps and a union jack book for decor that catches my iPhone.
Backyard BBQ or Formal Dinner?
BBQ all the way, but must be on formal dinner plates. Paper plates are pretty but don't hold food and make a mess.
If you could rewind 20 years and give yourself one piece of advice, what would it be?
Going back 20 years brings me to high school – and there is a lot of advice I could have given myself. Once I wore my sisters crushed blue velvet sweater to school. I would tell myself, crushed blue velvet is never a good thing!
Share something you pinned (or bookmarked) and why you love it.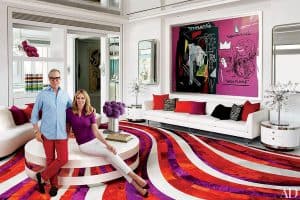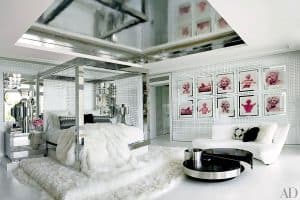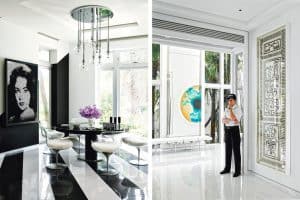 I pinned a look into Tommy Hilfiger's Miami home. Every room was like a movie set featuring fearless and fun designed spaces with crazy wallpaper throughout, portraits of Marilyn Monroe, Liz Taylor, and an Andy Warhol painting of Mickey Mouse.
What's one decorating piece of advice you swear by?
Every room needs statement lighting. New lamps are the easiest way to achieve a new design direction.
What's your favourite colour, and where have you used it or seen it used in a beautiful way?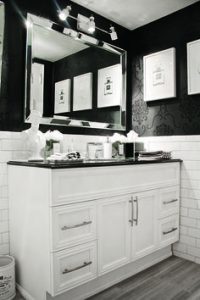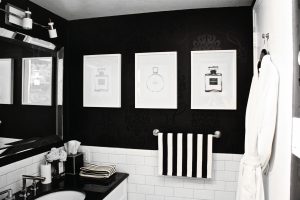 I love black walls in a space. There is nothing more dramatic and sophisticated – whether as a gallery wall with simple white picture frames or painted throughout a long front foyer with guilded mirrors and art. The noir walls are anything but dark, especially paired with colourful accents and pops of art. As a decorator, many different colours have inspired me, but I am drawn to dramatic hues. To pick just one colour, would be impossible.
See more pictures of Nicholas' Chanel Inspired Bathroom on his blog!
If money was no object, what's something you would buy right now?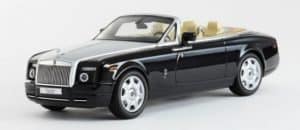 A black and silver Rolls-Royce. As a seven year old, I had the opportunity to have a ride in an old 1940's Rolls-Royce that belonged to a neighbour. My grandfather had a Rolls Royce keychain but drove a Chevy! I'm keeping the tradition rolling.
Share something that scares you, or something that comforts you, or both.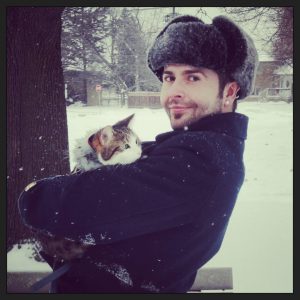 Centipedes, spiders and sea bugs like lobsters scare the xoxo out of me. My gorgeous cat – "Kitney Spears" however, is not afraid of any of those things and comforts me the most.
What's your guilty pleasure?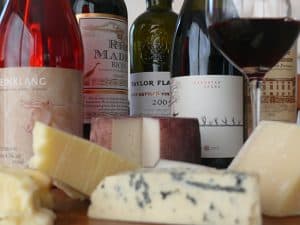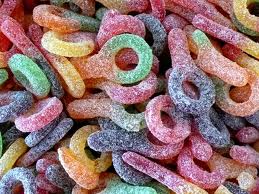 Wine, Cheese and sour keys. In fact, any sugary candy from the bulk barn is my vice.
The following two tabs change content below.
Nicholas is the DIY Editor for Canadian Home Trends Magazine, an award-winning Designer Decorator, and appears as a guest expert on City TV's CityLine. As Principal Designer, Interior Decorator and Stylist for
Nicholas Rosaci Interiors
, Nicholas creates chic, confident and glamorous spaces that cross the divide between Modern and Traditional.
Latest posts by Nicholas Rosaci (see all)