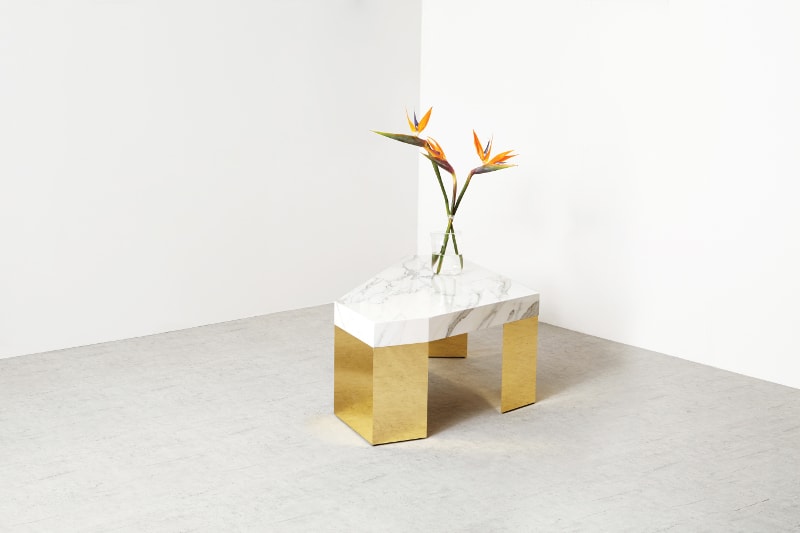 I never thought I'd say this, but the 80s are back. 2017 is going to be a year to go big or go home, with all the glitz and glam of the 1980s. Thankfully, the second time around we're all a bit older and wiser. We'll be skipping out on cold, brash excess in favor of warm, sophisticated opulence. A lot of the trends from the 1980s were actually inspired by the Art Deco movement of the 1920s and 1930s. Art Deco represented modern technology mixed with social and industrial progress. It was about luxury, craftsmanship and the use of rich, exotic materials.
REV UP THE GLAM Our 2017 version of 1980's Art Deco style is pared down and simple, but still glamorous and elegant. It embodies a 1980's flair without an over-the-top excessiveness. You'll notice a lot of curved pieces, unusual geometric shapes and interesting yet exotic materials combined in unique ways on a single table or cabinet. A signature piece for this year is the gently curved sofa with scalloped tufting and plump cushions, covered in a glamorous lustrous velvet.
THE GLITZ There can't be glam without a little glitz. We've been hooked on the warm gold trend for a few years now, but it has been toned-down and muted. This year, we're making things shine with polished brass, bronze and copper. We're even seeing mirrors and glass tinted gold or metallic brown to look like a warm metal. You'll find metal and glass incorporated in interesting ways on all sorts of furniture, and even used as decorative treatments on fireplaces, walls and doors.
LAVISH COLOURS Color trends for 2017 flashback to the 80s with lavish, sexy colors that make almost anything look expensive. There is nothing that says wealth like dark emerald green, especially when it comes with a bit of shine. You'll also be seeing lots of pink salmon, black lacquer, jewel tones and gold, in everything from fabric to wallpaper and even lighting.
HAND-CRAFTED ARTISANAL PRODUCTS As with every trend, there is always an opposing counterpart. Turn the other way, and you will find plenty of earthy, artisanal products made by hand with natural fibers. They are crafted by designers locally or worldwide, and emphasize functionality, simplicity of form, care for the environment, and fair trade. What these products have in common with their more opulent counterparts is a true sense of pride by their makers in quality and craftsmanship.
FURRY, FUZZY, TEXTURAL FABRICS The best way to make a room look interesting is to layer in lots of different textures. So to off-set all that 80's shine, layer in some fabrics you can sink your fingers into. Look for pillows, throws and accent upholstered pieces in furry fabrics. If you don't want a chair you can mistake for a pet, try some chunky weaves in wool, linen or chenille.
Text by Laura Stein
The following two tabs change content below.


Latest posts by Laura Stein (see all)