The holidays may look a little different this year but holiday decorating is the perfect way to add some festive joy to your home. This year, as a family, we decorated our home to bring joy to us rather then to prepare for holiday gatherings, and we love it! If you find that you're getting bored with your holiday decor, here are 5 creative ways to step up your holiday decorating and bring a fresh feeling of Christmas magic into your home!
Rethink A Color Scheme
Even the most well planned holiday decor can get a little boring after a few years. For some of us, replacing our decor with a whole new color scheme isn't a feasible option, either for budget reasons or because we just don't approve of that kind of waste! The good news is, you can give your color scheme new life by just changing out a part of the scheme or adding to it! Add gold accents to your winter wonderland theme for added glam or add an unexpected color like black or pink for a pop of bold fun! Update a tired blue and silver scheme by replacing the blue with red for a "peppermint twist" theme! Sometimes, adding, subtracting or replacing a single color in your existing color scheme can completely change the look and feel of your holiday decor!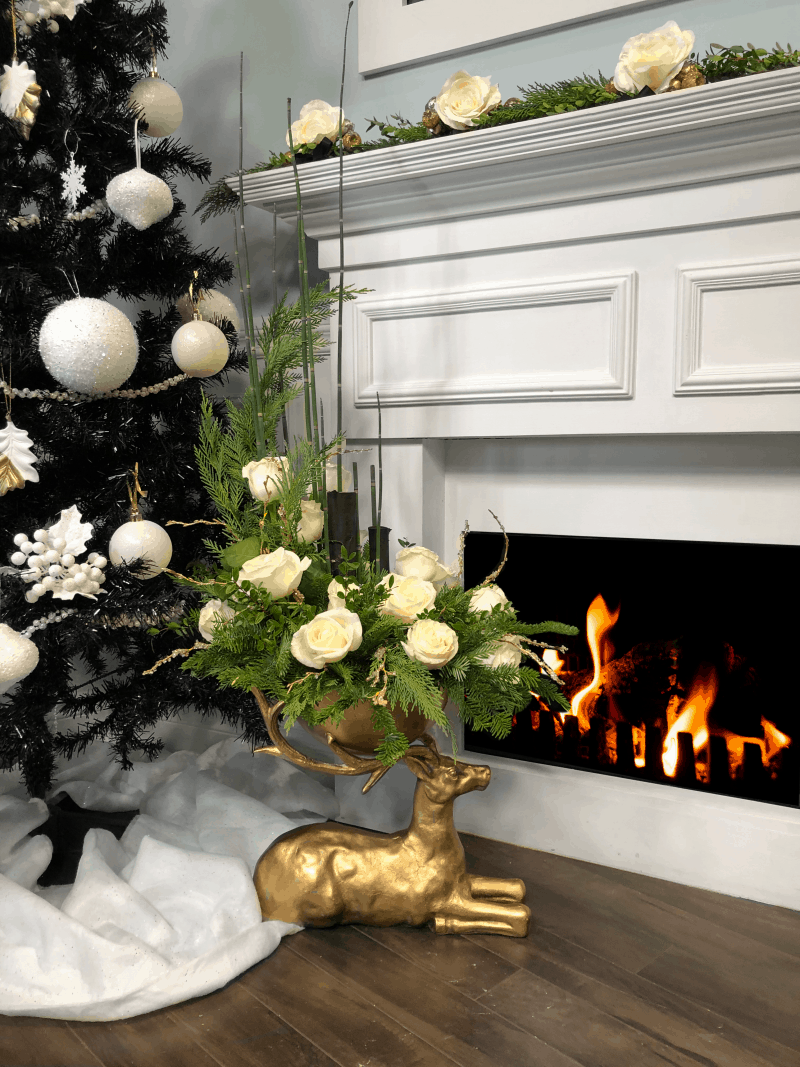 Bring In Fresh Flowers
Fresh flowers are a go-to for bringing life into any space, no matter what the season. Christmas is no exception! Fresh flowers are a great way to add something new to your holiday decor. Of course, there are the traditional holiday flowers like a Christmas cactus or a Poinsetta, but adding everyday flowers in a holiday setting is also a lovely touch. A great example is this rose display in a golden deer holder from The Little Flower Shop that we used to add fresh flowers into our holiday decor on set for the Marc & Mandy Show!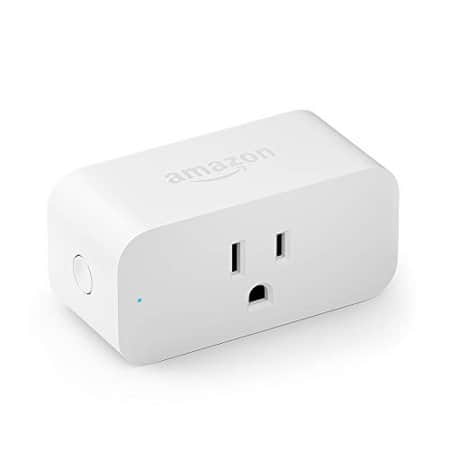 Connect with Alexa
In a recent interview with Designer Arren Williams, he mentioned that in his home, all of his Christmas decors, inside and out, are set up using smart plugs connected to his Alexa Echo. These are set into a grouping so when he says "Alexa, Christmas On", all of his Christmas decor turns on automatically! He suggested you could even take it one step further and have it set to play Christmas music in the background at the same time! The good news is, it doesn't have to be hard to set up. Smart Plugs are what Amazon refers to as "Certified for Humans" devices, meaning they are very simple to set up and easy to use! Imagine curling up on the couch after a long day and with one simple voice command, your lights dim, your tree lights up and soft Christmas music fills the air! Just add a cup of warm cocoa and a favorite book, and you're ready for a relaxing evening!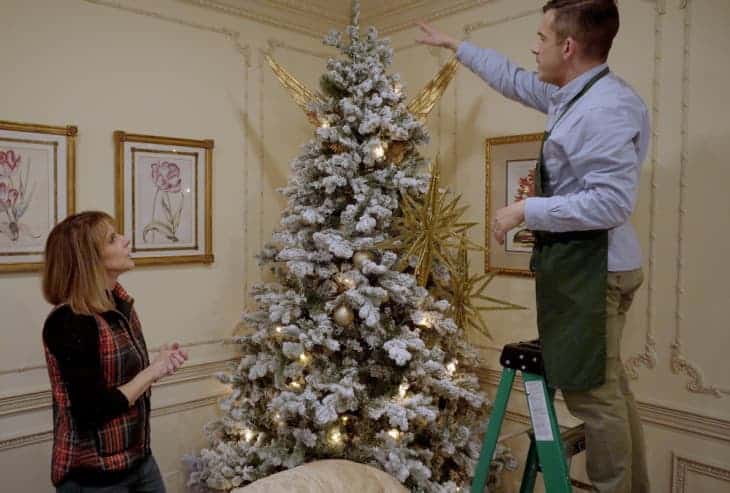 Rethink Your Existing Pieces
A recent guilty pleasure of mine has been the show "Holiday Home Makeover with Mr. Christmas" on Netflix. What I found particularly interesting was how he would take existing decor items, some of them outdated or vintage, and give them new life. Sometimes this involved re-imagining how the pieces were displayed. For example, an old nativity set became part of the updated mantel decor with the pieces displayed in among the garland along the mantel instead of in the traditional manger setting! In other cases, pieces were given new life with a bit of a makeover. An old, artificial Christmas tree that had been relegated to the basement become a focal point on the main floor after being flocked for a fresh, snowy wonderland look! A little creativity can allow you to look at the pieces you already have with fresh eyes and give your home a brand new holiday style without having to purchase completely new decor pieces!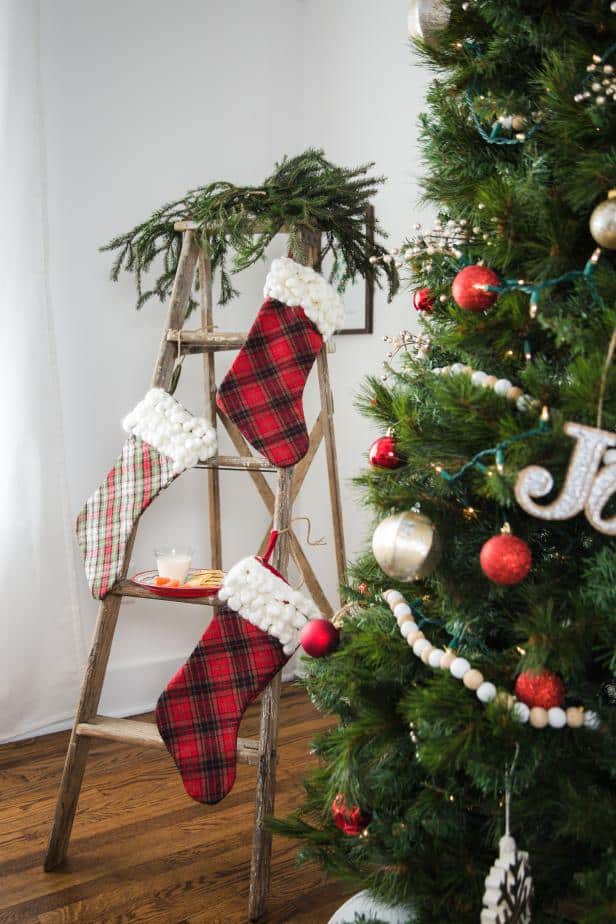 Unexpected Placement
Sometimes the best way to freshen up your holiday decor is to place items in unexpected places. Hang a wreath in a window, over a mirror, or in front of a bookcase instead of on the door. Display stockings hanging from a vintage ladder or off the banister of an open staircase instead of over the fireplace. Adding traditional pieces in unexpected places gives an instant feeling of whimsy and Christmas magic!
For more great gift ideas, click here.
For more entertaining ideas, click here.
The following two tabs change content below.

Crystal Williams
As Online Editor for Canadian Home Trends Magazine, Crystal has a passion for design and decor. She enjoys browsing the web to find new, exciting decor ideas, DIY projects and unique products to share with her readers. With formal training in graphic design and a background in the event planning/design business, Crystal looks at design from all angles to give readers a fresh perspective.

Latest posts by Crystal Williams (see all)