October is Breast Cancer Awareness month! Breast Cancer is an issue that has touch the lives of many of the staff, advertisers and readers here at Canadian Home Trends Magazine.  In honor of the brave woman how have fought this battle and in memory of the loved ones that have been taken to soon, Canadian Home Trends Magazine made the decision to go PINK for October.
As October comes to an end, we thought we would end our PINK month by sharing some PINK home decor inspiration along with some great ideas to help you join the fight against Breast Cancer.
PINK Home Decor Inspiration
Pink is a common colour in little girls' rooms and nurseries but it can be a gorgeous colour at any age. We asked some of our designers to share projects they have done recently using pink and we received a great selection of bedrooms for every age group with either a pink colour scheme or pink accents.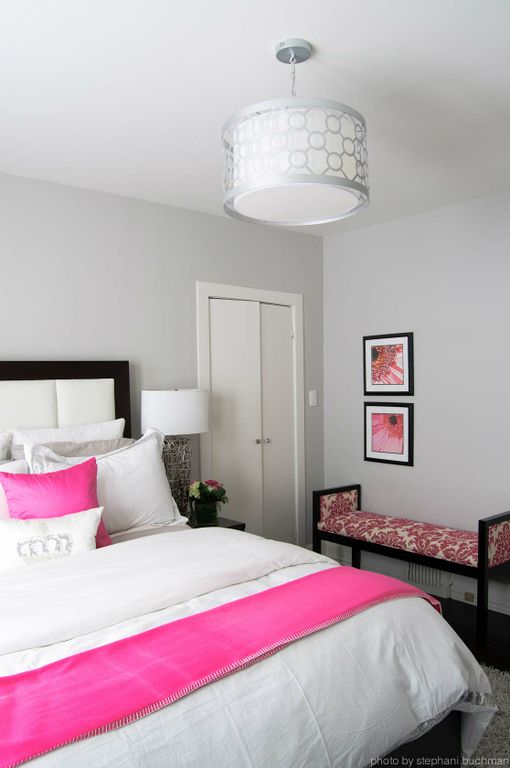 I have always loved working with pink as a designer. I find that the colour gives an edge to the design when working with neutrals. It is the pop of colour that the room craves making the grey, white and pink palette look fresh modern and interesting. The eye draws to it in an unexpected manner which is a pleasant surprise in this otherwise neutral backdrop. Perfect for this bedroom space. Fresh, modern and edgy… – Submitted by Kim Bartley, Direct Design Company
This is a fun place to relax for overnight guests. The neutral tones of the walls enhance the pop of pink for a spicy flare.  It's sophisticated with a flash of play with the art and hot pink accents. – Submitted by Tina Marie Singh, Lionsgate Design
This room is the 2nd bedroom in a condo that was staged by SpaceStyle Home Staging recently. When we arrived, we were not really sure what the room was being used for. Was it a spare room, and would you want guests staying there? Was it an office and could you be productive in it? Was it a storage space for any and all extra furniture the owner had? Regardless, for only $230, we turned this 2nd bedroom into the functioning, bright, inviting space that it should be by bringing in a double bed, and using a beautiful pink and white bedding set designed by Cynthia Rowley. Normally I use more gender neutral colours in bedding for staging purposes, but I just couldn't resist! The feminine ruching of the fabric, and fabulous pink sequined pillow were the icing on the cake! Here is the before and after!
Submitted by Erin Lazer at SpaceStyle Home Staging & Organizing based in the Toronto Area. www.SpaceStyle.ca
This is property which was just staged last week and is currently on the market. The home owners invested a lot of time and money giving this older property a facelift and we brought in the furnishings in this space to dress up this smaller bedroom and make it appeal to either a child or a teen. The color palette with dramatic black and pink toned accents makes this space both welcoming and sophisticated. – Submitted by Heather Cook for Rooms In Bloom Home Staging
Beautiful bedroom in a gorgeously remodeled older home which we staged as a 'tween' bedroom. Using black and pink accents we created a fun and inviting space that buyers loved.  We wanted this space to be bright, cheerful and memorable and we definitely feel we achieved that goal in this unique space. This home sold in just over a week for significantly above list price. – Submitted by Heather Cook for Rooms In Bloom Home Staging
We worked with the home owners to have the entire house painted a soft, warm buttery hue on the walls before we staged the home. The walls were previously builder white with no definition between mouldings and wall color. By infusing the room with warmth, we made it inviting and then we chose a soft palette of silvery grays and silvery pinks to dress up the space. This home was a high end century home and is one of our all time favourite properties – it got a full price offer in under 30 days and sold firm within 45 days. – Submitted by Heather Cook for Rooms In Bloom Home Staging
This girl's bedroom offers a light, airy feel with lots of white accented in pretty pastel colours including pink, purple, green, yellow and blue. The design is fresh and timeless! Submitted by Ginny Truyens of Feels Like Home 2 Me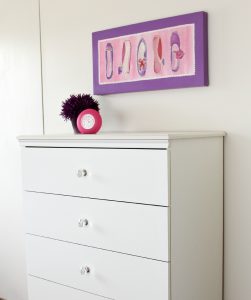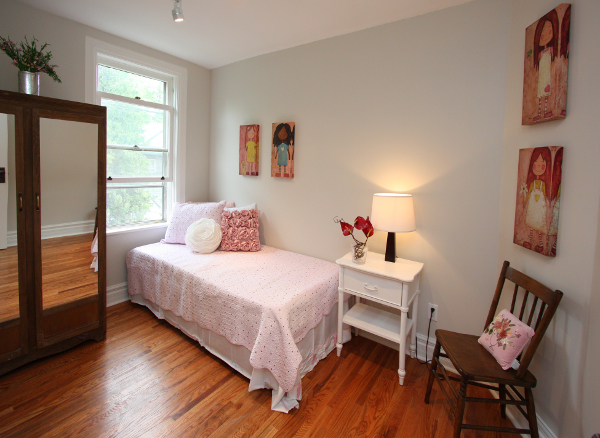 A sweet girl's room in soft pinks. Submitted by Monica Stanciu of Staged 2 Sell.
Get Involved & Make A Difference
Products That Support – Show your support with these great products that add style to your home/wardrobe and help fund breast cancer research and support programs.
Volunteer, Donate and Participate to help raise funds and awareness with these Canadian Breast Cancer organizations!
Take Care Of Yourself. Visit these websites for information on self-exams, mammograms, breast cancer prevention and early detection.
The following two tabs change content below.

Crystal Williams
As Online Editor for Canadian Home Trends Magazine, Crystal has a passion for design and decor. She enjoys browsing the web to find new, exciting decor ideas, DIY projects and unique products to share with her readers. With formal training in graphic design and a background in the event planning/design business, Crystal looks at design from all angles to give readers a fresh perspective.

Latest posts by Crystal Williams (see all)