Nicholas Rosaci shares some designer secrets to create a safer and more youthful bathroom that's not just skin deep.
Part of the fun and the expense in renovating a bathroom is choosing the correct hardware and bathroom fixtures from a vast array of stylish and functional choices. For Granny, a 100 year old savvy senior, everything needed to be simple to use, reliable and safe while looking very chic and not "clinical".
THE BIG SHOP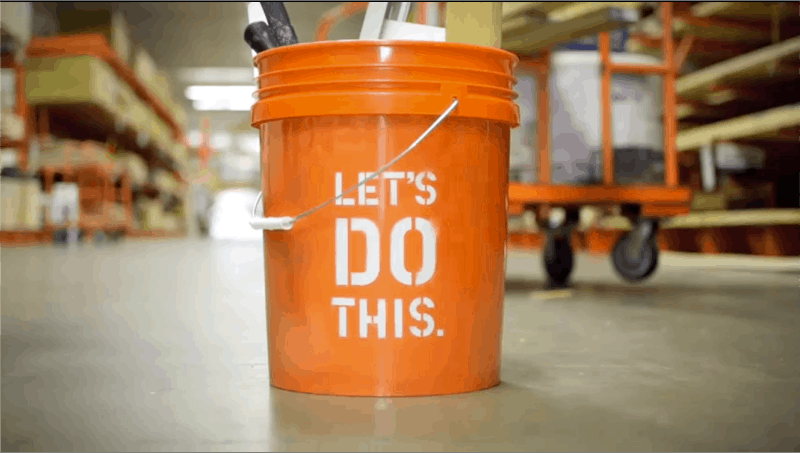 It was so easy to visit the Home Depot and simply choose the items needed for this renovation. The Home Depot has everything needed all in one place for a first class affordable bathroom renovation. Our final purchases included a Cutler bathroom vanity, Moen bathroom sink and shower hardware, a Schluter Kerdi waterproof membrane system, beautiful floor and shower tiles, lighting fixtures and other renovation supplies.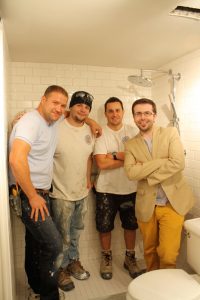 TO DIY or NOT TO DIY
Bathrooms can be complicated and this bathroom had odd 1968 plaster wall construction and  presented us with several plumbing challenges. Carefully deciding early on what was, and wasn't, within my DIY skill set really helped. We decided to sabe money and do most of the demo ourselves with a few basic tools from the Home Depot.
We realized that there were plumbing and bathroom construction skills required that were beyond our DIY comfort zone. Building codes, whether for residential, condo or commercial spaces, can also be complicated so we left much of the technical aspects to the professionals.
Hiring trades individually to deal with plumbing, framing, waterproofing, tiling and dry-walling can be an absolute nightmare to coordinate. Experts really need to be certified, licensed, insured, and most importantly, need to show up on time, complete the project on time, and provide guaranteed quality workmanship. We interviewed several companies and checked references.
The Home Improvement People was our top choice and a dream to work with because they offered everything under one roof and finished the entire bathroom with stellar service and installation in two weeks. They offered multiple expert trades and were large enough to have all the resources to finish the project the right way, on time and on budget. This most certainly helped to keep Granny's stress levels down to a minimum.
TIP: Make sure to book early for a renovation, obtain a quote and a firm start and reasonable finish date. Choose a company large enough to handle multiple projects and trades for the best flexibility in meeting your time frames.
MORE THAN SKIN DEEP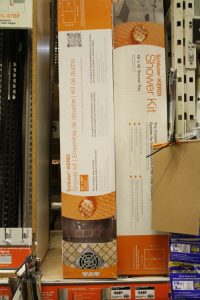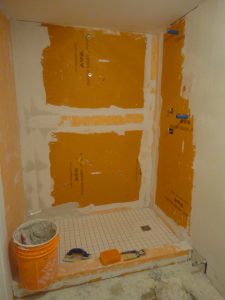 As Granny would say; it's what's on the inside that counts. A lot of people get caught up in selecting beautiful tiles and finishes, right down to specific designer shades of grout but neglect what is never seen beneath it all.
One feature of this bathroom that is absolutely key for health and safety is the Schluter Kerdi Membrane System. We installed easy to use lightweight Kedi board on the walls and a Kerdi pre-sloped prefabricated shower base behind the tiles as an extra waterproof line of defense. Using the Kerdi System also helped avoid the labour intensive job of creating a typical sloped mudpack shower base.
TIP: Shower tiles, grout, and cement backerboards are not waterproof and typical shower construction and other substrates often used behind them can lead to unhealthy mold and mildew growth. Use a Schluter Kerdi waterproof vapor retardant membrane system for the best protection.
GO BIG AND GO SMALL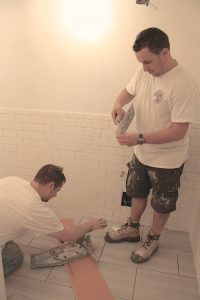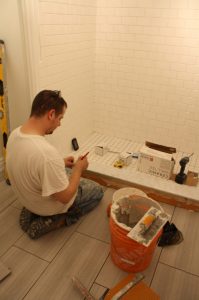 The Home depot has a great selection of beautiful affordable tiles and we chose a larger, matte, porcelain 12" x 24" linear tile on the floor for a clean modern look. In the shower, we opted for smaller, matte, 2" x 2" mosaic floor tiles with more grout lines to help minimize the chance of Granny accidentally slipping. The smaller tiles are easier to install and keep the shower floor smooth and discreetly sloped with minimal tile lippage.
The brilliant white subway tiles used for the shower walls looked fabulous and I can't wait to reveal the entire finished bathroom, with the tiles wrapped around as wainscoting into the main bathroom area.
STAY TUNED FOR THE SAVVY SENIOR SHOWER / BATHROOM REVEAL COMING SOON!
SOURCES:
All Products available at The Home Depot
Bathroom / Shower Tiles – The Home Depot
Membrane – Schluter Kerdi and Kerdi Board
Shower Tray – Schluter Kerdi ST
Plumbing Hardware – Moen Arris Collection
Trades – The Home Improvement People
The following two tabs change content below.
Nicholas is the DIY Editor for Canadian Home Trends Magazine, an award-winning Designer Decorator, and appears as a guest expert on City TV's CityLine. As Principal Designer, Interior Decorator and Stylist for
Nicholas Rosaci Interiors
, Nicholas creates chic, confident and glamorous spaces that cross the divide between Modern and Traditional.
Latest posts by Nicholas Rosaci (see all)