"Women think of all colours except the absence of colour. I have said that black has it all. White too. Their beauty is absolute. It is the perfect harmony." – Coco Chanel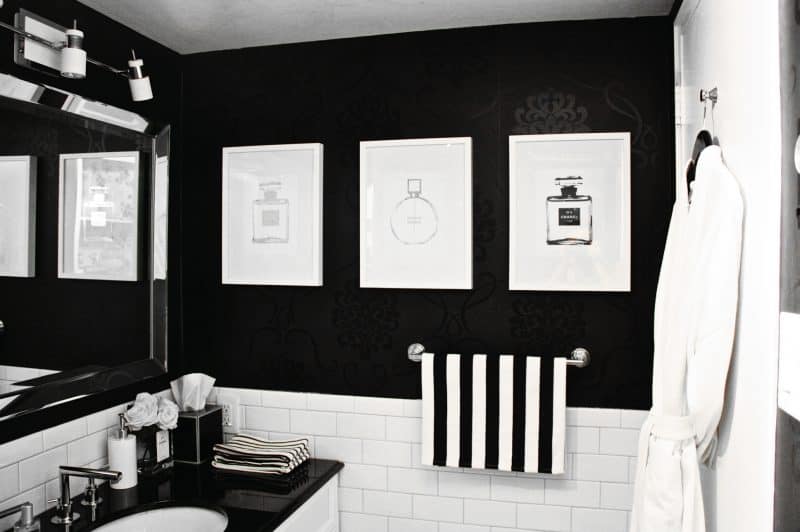 This year, my amazing grandmother turned 100 years old. Like many seniors in good health, she is choosing to age in place and renovate her home to meet her changing needs. My first priority when renovating her dangerously outdated 1960s bathroom was to create a space that was safe and senior savvy without sacrificing style.
We decided that a freestanding shower with a low curb was much easier to get in and out of compared to a traditional tub. We selected beautiful matte porcelain bathroom tiles and smaller matte shower floor mosaics with added grout lines for better traction. A matte tile is better than a shinny tile for minimizing slips and falls. Behind the gleaming subway tile and shower floor mosaics, is a complete Schluter Kerdi membrane that waterproofs the space and prevents mold and mildew growth. These aspects are often overlooked in bathroom renovations but are vital for a senior-friendly design where health and wellness are paramount. One of my grandmother's favourite features in the shower is the Moen Arris collection with its architectural tubular clean lines that are easy to maintain. The lever style faucet handles, with a quarter turn, require minimal effort to operate and meets the American Disabilities Act specifications. The collection also offers stunning matching grab bars to prevent slips and falls. Custom glass doors on a barn door style roller system ensures a smooth and effortless glide while keeping the room open and allowing light to filter in easily.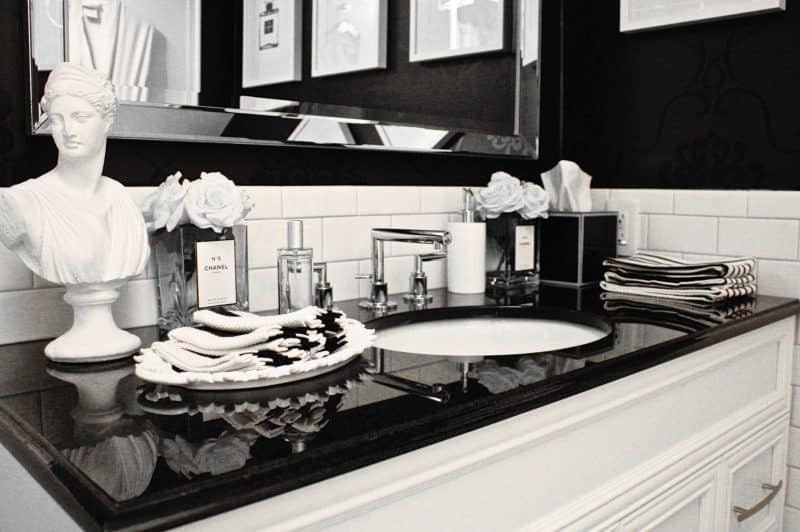 We chose a colour combination of black and white. This high contrast combination helps to easily distinguish one surface from another. We used vintage style black baroque wallpaper paired with dazzling porcelain white subway tiles to create a dramatic first impression. We also removed the closet doors on the bathroom storage closet and used a beautiful black, grey and white floral print wallpaper to create a display area that is functional but still pretty. We chose a clean, white vanity with ample closed storage and topped it with a black granite counter top. The vanity's classic details, European quality hardware and traditional style make it appear both handsome and feminine at the same time.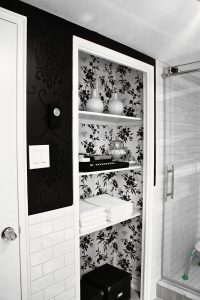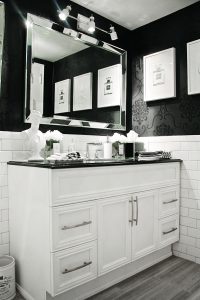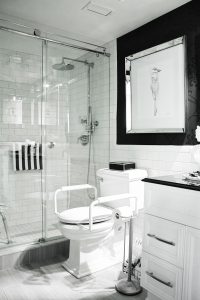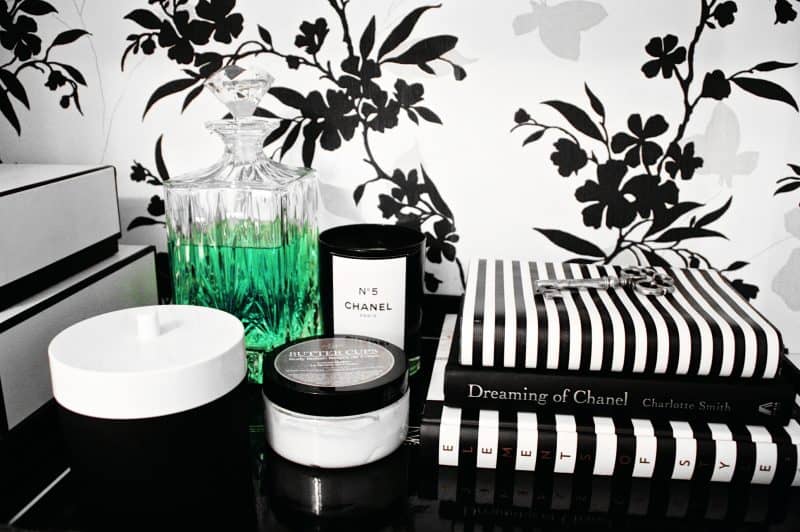 My grandmother's favourite fragrance and style icon is Coco Chanel which was the inspiration for much of the décor. Three silver foil Chanel bottle prints from Canadian artist Randa Salloum of I See Noise fame look edgy and really tie the whole space together. The finished space surpassed our expectations of what a savvy senior bathroom could be and has restored my grandmother's independence and ability to age in place.
Sources:
Lighting, Toilet, Tile and Wallpaper in Closet, Home Depot, www.homedepot.ca;
Shower Base, Schluter Kerdi, www.schulter.com;
Shower Door, Doors & More, www.doorsandmore.ca;
Vanity and Sink, Cutler Kitchen & Bath, www.cutlerkitchenandbath.com;
Faucets, Shower Head and Grab Bars, Moen, www.moen.ca;
Wallpaper, Bathroom Mirror and Artwork, Bouclair, www.bouclair.com;
Chanel Prints, Randa Salloum, www.the-unprecedented.ca;
70 Bust, HomeSense, www.homesense.ca;
Vase, IKEA, www.ikea.ca
The following two tabs change content below.
Nicholas is the DIY Editor for Canadian Home Trends Magazine, an award-winning Designer Decorator, and appears as a guest expert on City TV's CityLine. As Principal Designer, Interior Decorator and Stylist for
Nicholas Rosaci Interiors
, Nicholas creates chic, confident and glamorous spaces that cross the divide between Modern and Traditional.
Latest posts by Nicholas Rosaci (see all)