Nicholas Rosaci makes a stylish bird sanctuary using a dinner plate and easy big box store materials.
Materials Needed:
1" x 8" board Rope (length required for hanging)
Plastic melamine outdoor Plate (8 ½" in diameter)
½" x 14" threaded steel rod
Three ½" nuts
½" coupling nut
Large eye bolt with ½" thread
Two 1 ½" wood screws or finishing nails
Lepage No More Nails Construction Adhesive
Circular saw or hand saw
Drill with ½" drill bit for wood
Hammer
Screw driver
Scissors
Pencil and ruler
Paint (colour of your choice) and paint brush
120 grit sanding block
Dust mask and protective eye glasses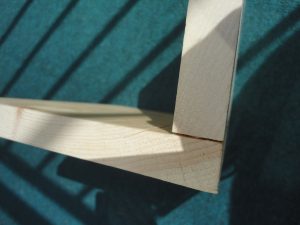 ROOF DESIGN Measure, mark with pencil and cut two sections of wood in 9 inch lengths. Trim the width of one section by ¾ of an inch. This section should measure 6 ½" x 9". The second section measures 7 ¼" x 9". Sand the edges smooth. Use a dust mask and shop glasses for protection.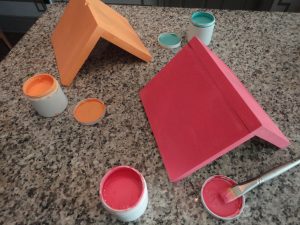 PERFECT PITCH Use Lepage No More Nails construction adhesive to affix the long side of the narrow panel to the long side of the wide panel, forming a "butt joint" (90 degree corner angle where two sections join). Let the glue dry overnight and reinforce it with two finishing nails. Paint the finished roof in the colour of your choice.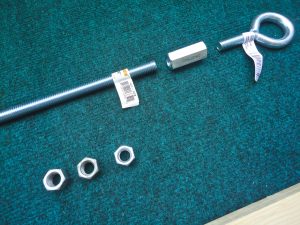 NUTS AND BOLTS Carefully drill a small hole at the very top center of the roof using a ½" wood drill bit. Thread a nut onto the top of the rod then the roof structure and position in place. Lastly, thread the coupling nut onto the eye bolt and the other end to the top of the rod, ensuring that the roof is stable and snug against the nuts.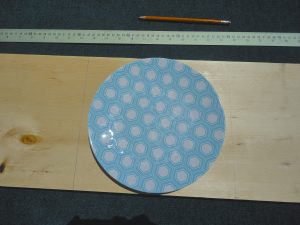 PLATED GOLD Drill a small ½" hole in the center of a plastic outdoor dinner plate. Thread the bottom of the rod into a nut, then add the plate and another nut. Hand tighten the nuts on each side of the plate to secure it firmly in place.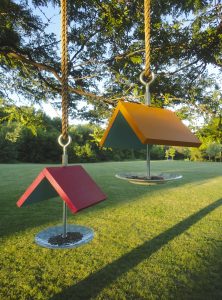 ROPE SHOW Cut the rope into the length desired for hanging the bird pad and thread the rope through the eye bolt at the top. Hang over a tree branch and secure it with a marine knot.
FINISHING TWEETS Add birdseed and voilà, you've just created a beautiful bird pad!

Project designed by Nicholas Rosaci, As Seen In Canadian Home Trends Magazine Summer 2014
The following two tabs change content below.
Nicholas is the DIY Editor for Canadian Home Trends Magazine, an award-winning Designer Decorator, and appears as a guest expert on City TV's CityLine. As Principal Designer, Interior Decorator and Stylist for
Nicholas Rosaci Interiors
, Nicholas creates chic, confident and glamorous spaces that cross the divide between Modern and Traditional.
Latest posts by Nicholas Rosaci (see all)